Fitting a Pattern: Downloadable Measurement Tables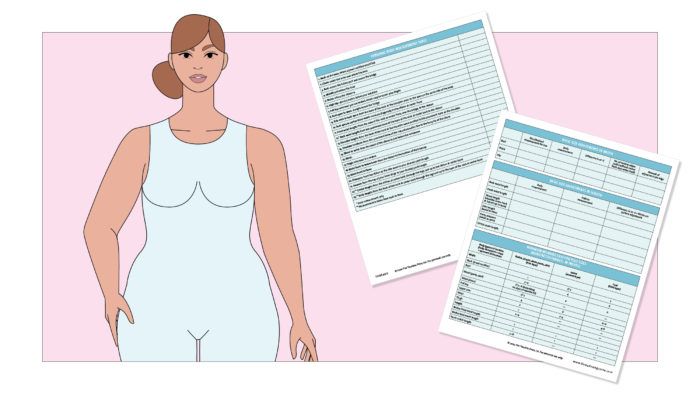 Measurement tables can help when you're fitting a pattern to your figure because you need to start with a complete and accurate set of body measurements. Then compare these to the pattern's dimensions, and factor in wearing and design ease as well.
In Threads #208 (April/May 2020), author Barbara Deckert offers essential fitting guidance for curvy figures, but her advice is helpful for anyone wishing to adjust patterns for a custom fit.
Download the tables provided to record your body measurements and to calculate the width and length changes you'll need to make to your patterns.
Once you've made the basic changes, evaluate the amount of ease in the patterns, and how much you prefer for the type of garment you're making. Barbara points out that fuller figures generally require more ease than more angular body types, so garments drape attractively and move comfortably on the body. Follow the downloadable table "Minimum wearing ease for plus sizes" to plan for the minimum amount of ease; add more if you desire.
Insiders can find out more in "How to Choose Your Preferred Ease."
This article is part of the Fit and Sew Tops project guide. While this installment focuses on taking measurements, additional articles and videos in this first chapter include lessons on learning to fit the bust, the waist and hips, and the arms. We hope you will continue to follow along with the rest of the chapter to keep developing your skills.
---
Barbara Deckert is the author of Sewing for Plus Sizes: Creating Clothes that Fit and Flatter (The Taunton Press, 1999), from which this article and downloadable table are adapted. Barbara Deckert draws on years of custom dressmaking and her own experience as a large individual when writing and teaching how to fit and flatter.