For Flair and Finesse, Turn Facings Face Out
To add embellishment and finish edges at the same time, cut facings in contrasting fabric and turn them to the right side of your garment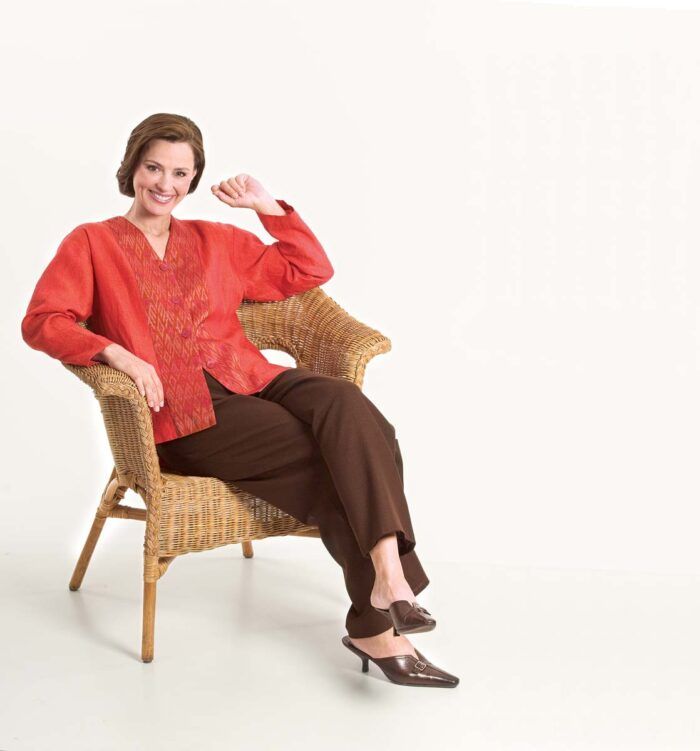 For many of us, learning to apply a facing was one of our earliest garment-sewing lessons. We stitched, trimmed, graded, pressed, understitched, and pressed again, hoping for a neat, clean finish at the neckline or armhole. The goal was for this facing to be invisible when the garment was worn. But there's no reason, beyond garment-construction convention, for hiding facings. In fact, if you think about reversing your facings and turning them to the outside, you'll realize they offer terrific opportunities for decorative design. So let your facings do double duty: finish garment edges while adding style.
Facings have a job to do
Facings are a classic element in garment construction, used to finish edges at necklines, armholes, front and back openings, hems, vents, and slits. Whether a facing is drafted separately to echo the precise shape of the opening it finishes, made from a fold-over fabric extension (often used on straight edges and called a self-facing), or cut from a straight strip of bias fabric, its role is to create a crisp edge while also providing stability and support.
If you're working with a very soft or unstable fabric, interfaced facings will add body where you need it most, without altering the hand of the outer fabric. Facings can increase the opacity of a sheer fabric, or serve as a stabilizer for surface embellishment applied to a lightweight garment. And they can do all of these things without ever being in direct view.
Facings can look great doing their job
On the other hand, why not spotlight these helpful structural pieces by moving them to the public side of your garment? Making this change can be as simple as reversing the application of an existing facing: sew it with its right side against the wrong side…
Start your 14-day FREE trial to access this story.
Start your FREE trial today and get instant access to this article plus access to all Threads Insider content.
Start Your Free Trial
Already an Insider? Log in