How to Add Embellishments to Make Any Garment Special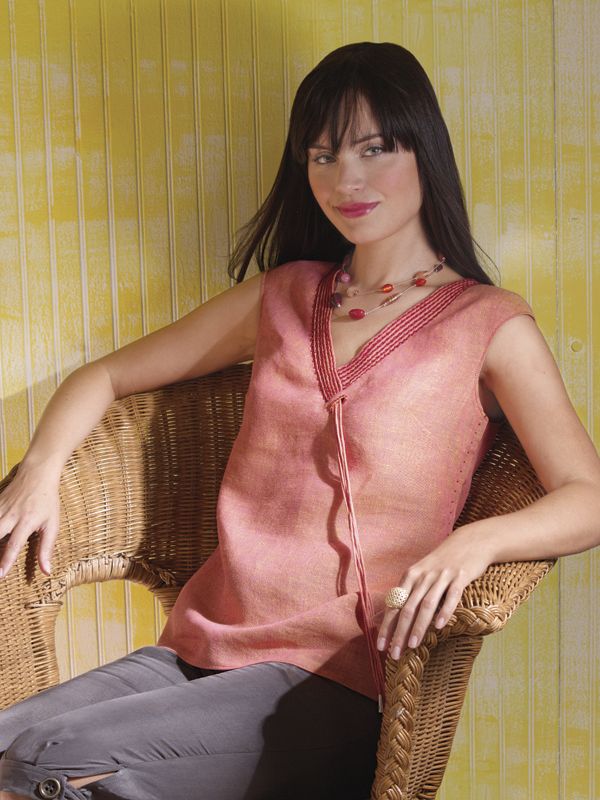 In this article from Threads #149, Anna Mazur shares four simple embellishments that make any garment special.
Summer is a time for paring down, shedding layers, and simplifying. But who says you have to forgo the kind of unique details that turn a basic garment into a head-turner? To create a wardrobe of easy-to-wear summer pieces that are anything but boring, add intricate-looking edge and surface embellishments. Start with well- fitting patterns and delicious, cool fabrics, and then indulge your craving for adornment. You'll have fun learning the techniques and love wearing the finished results.
Echo an edge with fagoted cording
This elegant edging takes a little time to do but isn't hard to master. Narrow bias tubes are attached along a garment edge with delicate fagot or cretan stitches so they appear to float almost independently. Use heavy thread, pearl cotton, or embroidery floss or floche (a five-ply, non-separating, soft, twisted cotton embroidery thread) for fagot stitching.
1 Prepare the garment and cords. From 3⁄4-inch-wide bias strips, create cords long enough to follow the garment's edge. Make as many as you plan to attach to the garment plus one for spacing. Then set the cords aside. Finish the edge to be embellished with either a lining or a 1⁄8-inch-wide bias binding. It's best to use a very lightweight fabric such as silk gauze or chiffon for either one. Next, baste the garment edge to a backing of heavy, sew-in interfacing, such as Pellon 50 heavyweight. If the garment edge will drape over the body, e.g., around a neckline or over the shoulder, drape the stabilizer over a shaped surface such as a sleeve roll, sleeve board, or dress form.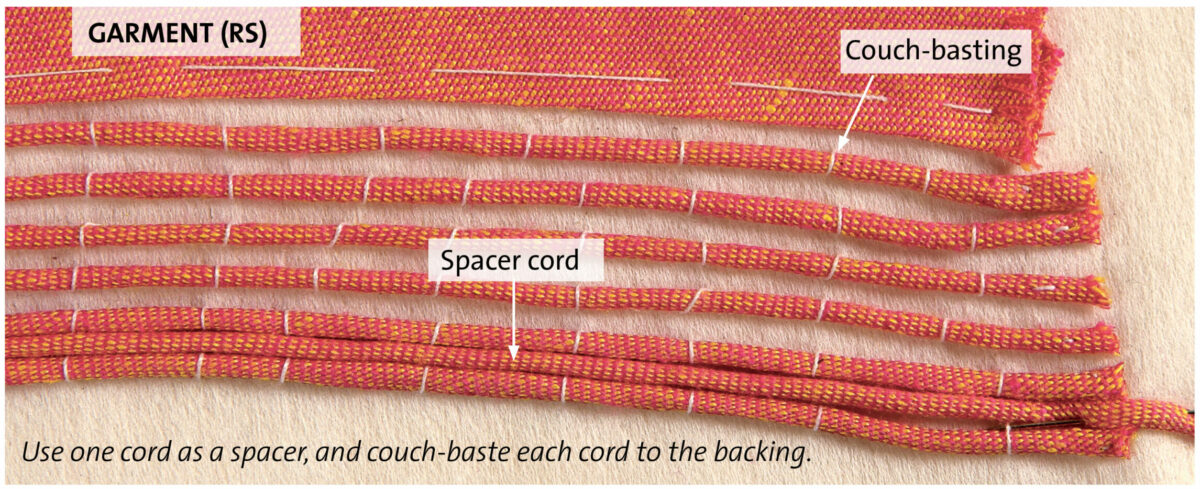 2 Baste the cords in place. Align one cord so it touches the…
Start your 14-day FREE trial to access this story.
Start your FREE trial today and get instant access to this article plus access to all Threads Insider content.
Start Your Free Trial
Already an Insider? Log in