Pattern Adjustments to Fit a Small Bust
Work from a muslin or pattern to reduce width and length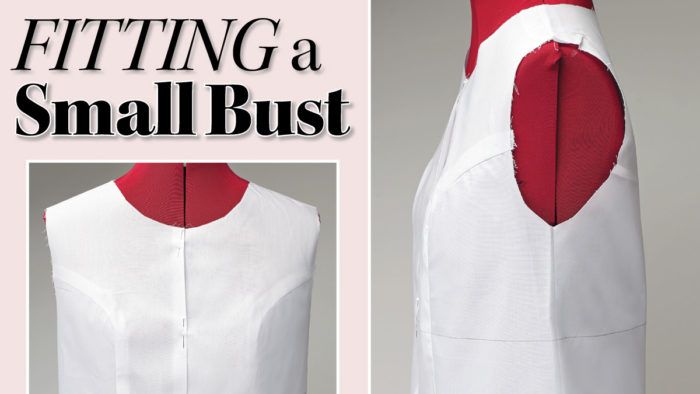 If you typically find that garments are too loose over and around the bust, you may need to make a small-bust adjustment. Commercial patterns are drafted for a B-cup bust, where the full-bust circumference is 2 inches larger than the upper chest circumference (above the bust). If the difference in your measurements is less, there's a chance the front bodice pattern includes too much length and width.
Current demographics show that more individuals are full-busted, and there's a lot of information available on making full-bust adjustments. A proportional fit is best on any figure, though, and it can be difficult to determine when a design incorporates too much volume for a small-busted person. I'll show you how to diagnose a small-bust fitting issue on a muslin, and how to adjust a pattern to produce a better fit, whether with darts or princess seams. It can be empowering to know several ways to adapt different styles.
You'll start by trying on a muslin test garment, and analyzing the fit. By comparing what you see to the following images and descriptions, you can decide where and how much excess fullness exists in the original pattern. Then, based on any adjustments you marked or pinned on the muslin, you can adjust the pattern to remove the length, width, or shaping you don't need. It's important to remember that fitting a bodice involves getting the right overall circumference around the bust and the correct amount of shaping to accommodate the chest and bust projection (the distance the bust apex projects forward from the surface of the chest wall). The standard darts or princess seam curves included in a pattern may be too large, or even too small, for your figure, even if you are small-busted. While this article might appear to be…
Start your 14-day FREE trial to access this story.
Start your FREE trial today and get instant access to this article plus access to all Threads Insider content.
Start Your Free Trial
Already an Insider? Log in