Three Vintage Blouse Details to Try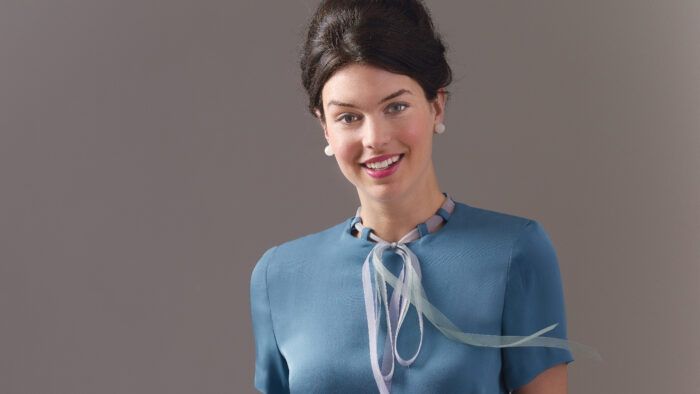 Wonderful tops from the 1940s often featured intriguing and beautiful decorative details. While visiting the historic garment section of the Western Costume Company in Los Angeles, I found three techniques you'll enjoy: a multicolored ribbon necktie tethered by fabric loops; fabric disks suspended in cutaway circles; and parallel rows of skinny bias tubes anchored around a neckline by fabric petal shapes. You can use these techniques on various projects, but I'm showing them the way I first saw them.
All three blouses can use a similar pattern-I selected one with a simple jewel neckline that opens at the back. Spend the extra time to fit the pattern. Sew a muslin and fine-tune the neckline, shoulders, bustline, hemline, and the sleeve fit and length. If you love the blouse's fit, you will want to make it several times, and these fabulous details change the look of every version you make. Alternatively, use these methods to update an existing blouse for fresh style.
Loops for a ribbon tie
Construct the blouse without sewing the neckline facing. Add strategically placed self-fabric loops into the neckline seam. Then, finish the facing and thread two different-colored ribbons through the loops.
1 Purchase two coordinating ribbons 78 inches long and 5⁄8inch wide. Make the blouse, but stop before attaching the neckline facing.
2 From leftover fabric, cut a bias strip 11⁄4 inches wide and 16 inches long. Fold the strip in half lengthwise, right sides together, and sew 1⁄2 inch from the fold. Turn the tube right side out and press flat with the seam centered. Cut the strip into eight 2-inch-long segments. Fold them in half across the width, aligning the cut ends.

3 Position the loops evenly around the neckline. Place two loops close to the center-back closure, and two…
Start your 14-day FREE trial to access this story.
Start your FREE trial today and get instant access to this article plus access to all Threads Insider content.
Start Your Free Trial
Already an Insider? Log in