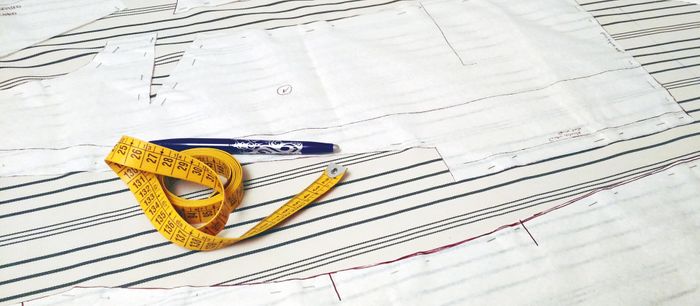 Threads Project Guides
Fit & Sew Tops
Sew beautiful tops with tips from the experts
Whether you want to make a simple knit T-shirt or an exquisite silk blouse, you can sew a custom top with creative touches. The articles and videos in this guide lead you through the process and stretch your sewing skills. Learn how to measure your torso and create or alter patterns to fit your bust, arms, and shoulders. Follow step-by-step tutorials for smart construction techniques that go into a quality garment. Discover ways to make any style your own with unique embellishments. Then apply your new skills to one of our dozens of projects and create something special.
Basic Torso Adjustments

Nearly every sewer needs to make a few fitting adjustments when sewing tops. Learn to take your torso measurements accurately, create a sloper, adjust a pattern, and find your preferred ease. Tips for subtle shaping elevate your garment further and give it that professional-looking finish.

Bust Fitting

One area of constructing a top that can be a challenge is in fitting the bust. This chapter addresses those challenges and teaches you how to get the fit you desire. You will learn how to add darts, adjust fit for smaller or larger cup sizes, and get a perfect custom bust fit.

Sleeves and Shoulders

Start with the anatomy of the arm and the basics of fitting sleeves. You'll learn essential details from Threads contributing editors. Kenneth D. King teaches you how to balance mobility and appearance. Judith Neukam explains the principles of fitting the shoulders. Louise Cutting demonstrates key pattern adjustments for the correct sleeve length.

Construction Secrets: Collars, Yokes, Cuffs, Vents, Plackets

Creating a beautifully sewn top is an opportunity to discover exciting new methods and revisit classic techniques. In this chapter, learn how to sew better seams and edges. Plus, see tutorials for finishing precise buttonholes, sharp collars, and crisp cuffs.

Make It Your Own

Special details bring personality to the garments you create. This chapter shows you how to turn ordinary tops into extraordinary custom looks. Discover applied embellishments and surface-design ideas. Find projects (with free patterns) for making fashionable and fun tops from scratch. Each project gives you a chance to practice your skills while you create pieces that bring you joy.