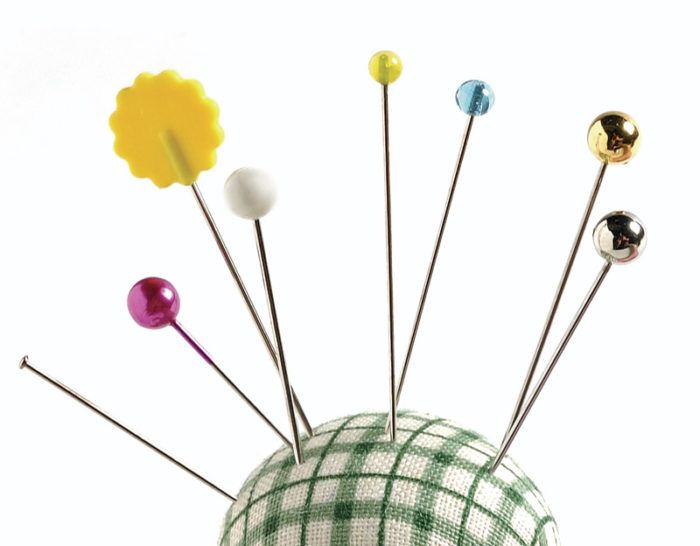 Pins may be the tiniest of sewing tools, but they take on big, important jobs. They hold pattern pieces in place, anchor seam allowances as you sew, fit fabric on the body, and secure all sorts of squirmy trims, delicate sequins, and miniscule beads. If, like many of us, you take for granted the pins that pepper your pincushion, I urge you to take a good hard look—from head to point—at each of those little bits of metal. There are many, many pins on the market-some are quite unusual and wonderful. What is the reason for all of these choices? One pin can't successfully tackle all fabrics and sewing tasks. Simply stated, different jobs require different pins.

Any pin is just the sum of its parts
The seemingly endless variety of straight pins can be daunting, unless you break each pin down into its five main components: head, point, thickness, length, and metal content. Just figure out what your needs are in each of the five areas, then seek out a pin with those qualities.
I suggest that you buy a few basic styles for the kinds of sewing you do most, such as dressmaker, extra-fine, and quilting, and then think of the other pins as problem solvers. In other words, if you come across a situation where your stash of basic pins can't handle a particular project, such as appliqué, supplement with appliqué pins. And with every pin you purchase, it's a good idea to keep a portion of the packaging somewhere in your sewing room, and tape one sample pin onto the label as a…
Start your 14-day FREE trial to access this story.
Start your FREE trial today and get instant access to this article plus access to all Threads Insider content.
Start Your Free Trial
Already an Insider? Log in