Blind Hems by Machine
Tools and methods for a speedy, nearly invisible finish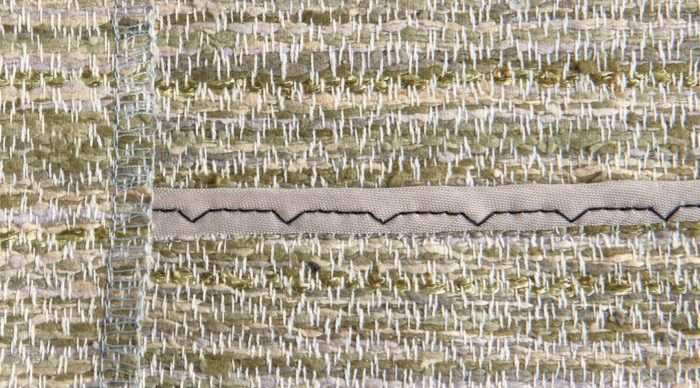 Any contemporary sewing machine that can sew a zigzag stitch also offers a blind-hem option. This stitch's pattern has three or four straight stitches, followed by one zigzag stitch. It helps you sew blind hems quickly and with a minimum of visible stitches. The concept is easy to understand, even for a beginner. However, getting truly polished results—smooth, nearly invisible stitching—can take finesse.
A successful machine-sewn blind hem comprises three elements: an appropriate finish at the hem's cut edge, a properly prepared hem allowance, and stitch settings that suit the fabric. These factors differ for every project, so you need to test each on scrap fabric before sewing the real hem. Once you establish the settings, the actual hemming is fast to complete.
An additional factor in successful blind hemming is the presser foot you use. Most sewing machines come with a special foot for this purpose, so read the machine's manual and familiarize yourself with the provided foot. There's a range of foot types, and I'll show you some of them. Each features a component that guides the fabric for precision stitching. If you don't get great results with the foot you have, try a different style. Practice, and soon you'll be blind-hemming like a pro.
Presser-foot variations
All presser feet intended for sewing blind hems include some sort of guide to ensure that you apply the stitches evenly, for a consistent hem.
Lowered toe
These feet are similar to a standard zigzag presser foot, with a wide opening for the needle to travel within. The right toe is wider than the left, and its sole is slightly lower than the left toe's sole. The left toe sits on the folded fabric, and the right toe's inner edge runs…
Start your 14-day FREE trial to access this story.
Start your FREE trial today and get instant access to this article plus access to all Threads Insider content.
Start Your Free Trial
Already an Insider? Log in