The Best Tools for Marking Fabric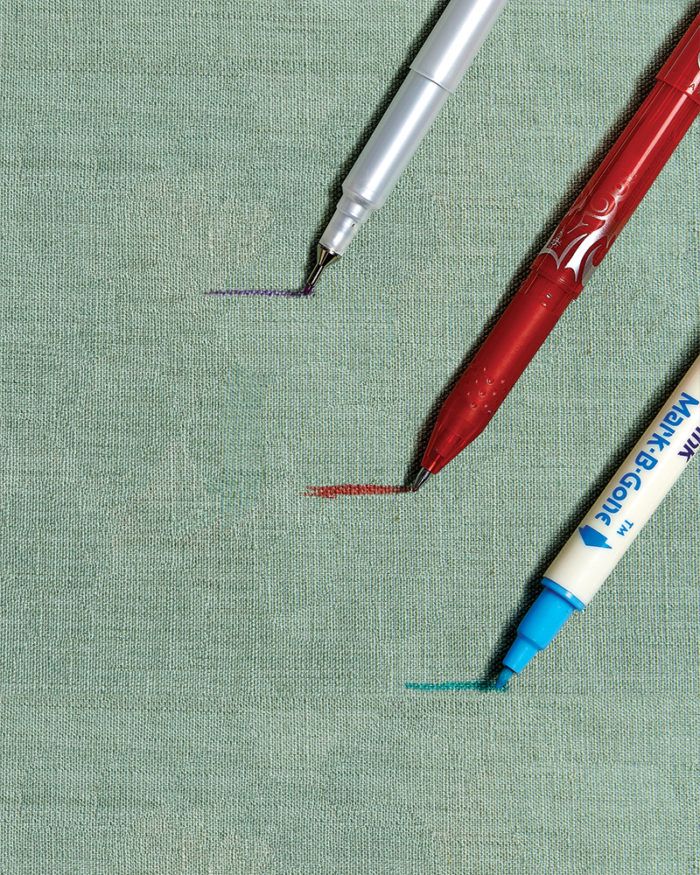 Marking tools are a staple in the sewing room. The right one makes it easy to transfer pattern markings to fabric, so your sewing is more accurate.
Patterns are full of marks that are essential matching or stitching guides. To assemble a garment successfully, you need to transfer these marks to the fabric so they are clearly visible, last as long as you need them, and then depart completely when the garment is done.
There's no single tool that works for every textile and every type of mark. It's important to consider the fabric's texture, weight, stability (or stretch), color, and care requirements, as well as the mark location and function.
I've tested tools and techniques to discover the most effective ways to mark a variety of fabric types. You have to balance convenience, accuracy, and removability (or permanence).
However, there's one rule that applies to every situation: Test marking tools on a fabric scrap before marking garment pieces.
Survey the Options
Consider the fabric characteristics and the type of mark you need to make when selecting a marking method. It's best to mark the fabric's wrong side. If you must mark the right side, be sure the marks you make can be removed.
Chalks, pencils, and carbon paper
This category includes many types of chalks, wax- or clay-based, and solid or powdered; pencils; and wax or nonwax tracing papers. All these tools make a dry line that remains mostly on the fabric surface. A mark made on the fabric's wrong side is unlikely to show on the right side.
Pencils draw fine, accurate lines, but the points are hard and not suited to delicate, spongy, or highly textured fabrics. Solid chalks draw well, and typically are easy to brush off or…
Start your 14-day FREE trial to access this story.
Start your FREE trial today and get instant access to this article plus access to all Threads Insider content.
Start Your Free Trial
Already an Insider? Log in