Fitting a Curvy Figure
First steps to garments that complement your shape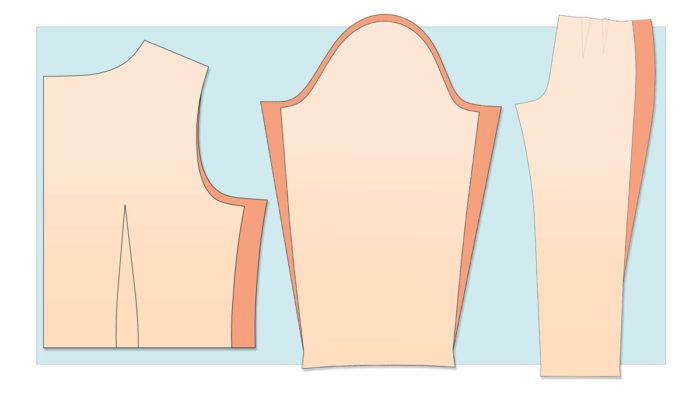 Few sewers have an easy time of getting an ideal garment fit. If your measurements aren't represented in the patterns you like, you may feel defeated before you begin. However, scaling standard-size patterns up to fit a curvy shape is possible, and it's well worth the effort. With simple pattern adjustments, you can have clothes that fit you comfortably and reflect your personal style.
You'll start by taking a set of body measurements, which you'll then compare to the pattern you'd like to sew. Add—or subtract—width and length to make the pattern echo your dimensions. Then consider your ease needs and preferences to ensure that the garment fits and drapes as intended.
These changes bring a pattern into conformity with your overall size: You'll be able to fit into the garment and have room to breathe and move. However, every body shape is unique, and you may want to fine-tune the pattern after making a test garment.
Once you've made the initial adjustments, feel free to tweak the fit  and refine the details. In the upcoming Threads #209, June/July 2020  issue, I'll share construction techniques to make plus-size garments that last longer and are more comfortable. With information on fitting and sewing for plus sizes, you can have a wardrobe you love to wear.
Take your measurements
Work from easy-to-locate anatomical points, without marking the body. These measurements are useful for adjusting commercial patterns but not necessarily for drafting patterns. You can download tables for recording your measurements here.

Prepare for accuracy
Dress right. Wear the undergarments and heel height you'll wear with the garment you plan to sew.
Stand naturally. Don't lock your knees or suck in your stomach.
Mark your waist. Tie a narrow ribbon around your…
Start your 14-day FREE trial to access this story.
Start your FREE trial today and get instant access to this article plus access to all Threads Insider content.
Start Your Free Trial
Already an Insider? Log in