Learn to Pin a Pattern for Best Results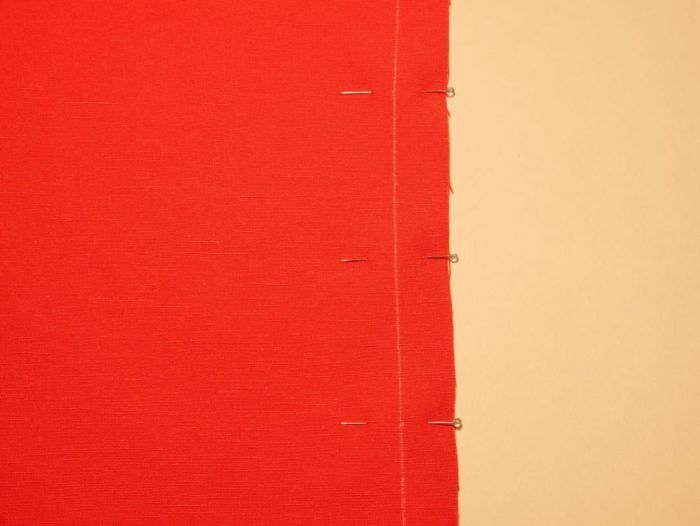 When I think of pinning, the first thing that comes to mind is my college professor. It has been years, but I can still hear her saying, "Don't put the pins in your mouth!" I must have had a bad habit of doing that. Let's start with some basic pin information and then review some good pinning habits.
Straight pins come in different lengths, weights, metal content, and point types. In "A Pin for Every Purpose," Threads #120 Aug./Sep. 2005, Carol Laflin Ahles provides pin specifics. If you are a home sewer, you really only need pins that work for the type of sewing you are doing. Crafters and quilters might need an assortment of pins. I rely on 1 3/8-inch, extrasharp, glass-head pins. They can pin through most anything and do not melt under the heat of an iron. If you are sewing knit fabrics, you will need ballpoint pins. It is a good practice to keep your pins separated by type.
Pin perpendicular to the seamline
Always use clean, sharp, unbent pins. If you grab a bent one, immediately throw it in the garbage. (Why do we put those bent pins back in the pincushion?) Bent pins can cause a pull in fabric or otherwise leave a mark.
There are two basic styles of pinning: perpendicular to the seamline and parallel to the seamline. Place pins about 2 inches apart and, as you pin, pick up fabric about one-third of the pin's length. Too much fabric on the pin may not secure the fabric layers adequately and too little may cause the pin to fall out.
Proper pinning may vary based on whether you are right- or left-handed. I am right-handed and was taught to pin perpendicular as follows: Place the pinhead along the cut edge of the fabric and the point toward the stitching line. This way you can grab the pinhead and remove the pin with your right hand as you sew.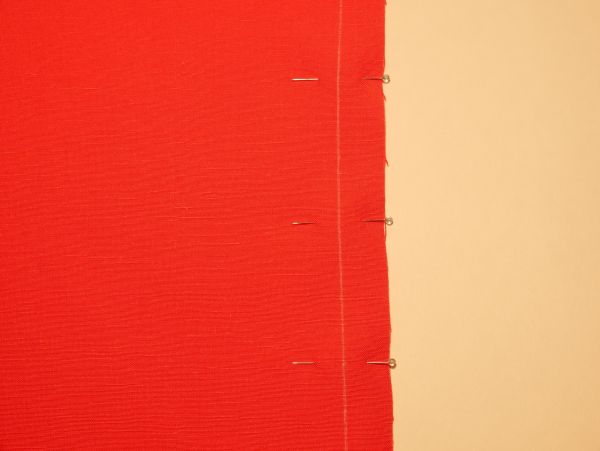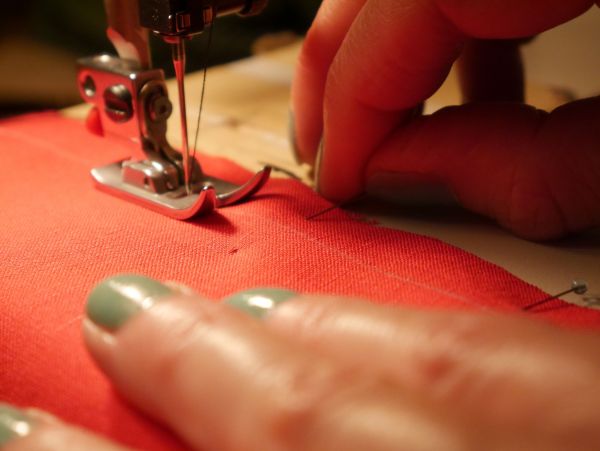 A left-handed sewer, however, may prefer to place pins pointing in the opposite direction. That way, she can use her left hand to remove the pins. Herein lies a problem: It's best to pin only in the seam allowance to protect your fabric from damage. A left-hander can't avoid pinning beyond the seam allowance. The reality is that on most fabric, you can pin beyond the seam allowance without permanently marking the fabric. Use care if you are working with delicate fabric and are pinning on the garment side.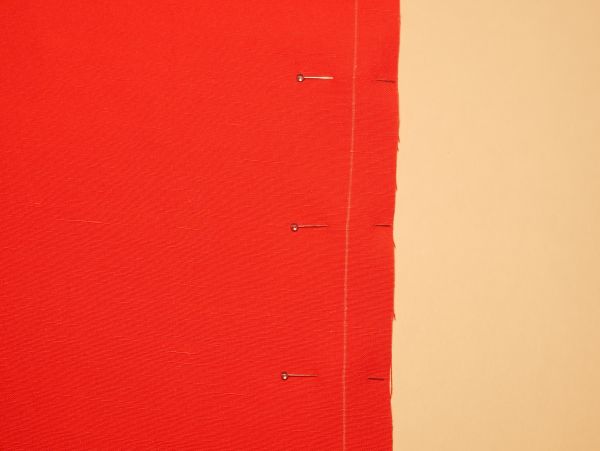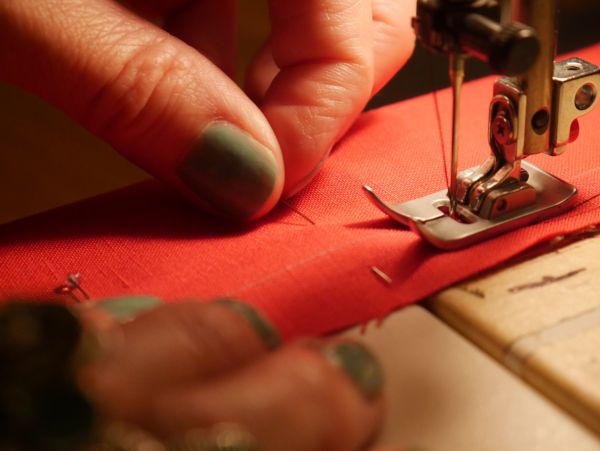 Pin parallel to the seamline
Pinning parallel to the seamline works well when you are sewing with lots of layers that may shift or when working with a fabric that will show pin marks.
To pin parallel, place the pins along the stitching line. You can also place the pins parallel to the stitching line within the seam allowance, but this does not keep the fabric layers from moving as effectively as placing the pins along the stitching line can. Always place the pinheads toward you so you can remove them easily as you stitch.
Note: No matter which pinning style you prefer, be sure to remove pins before they reach the machine needle when sewing. This prevents pulled threads and broken machine needles.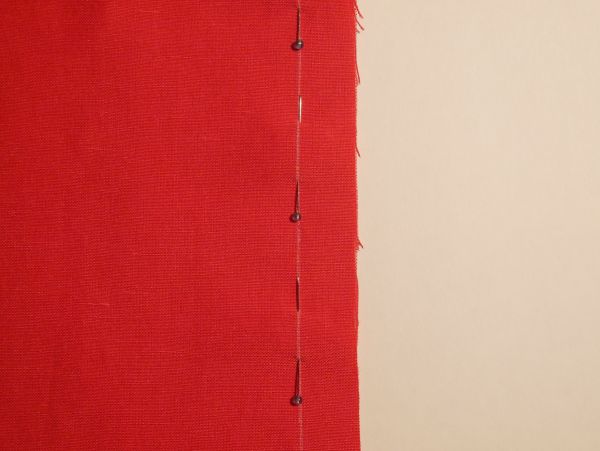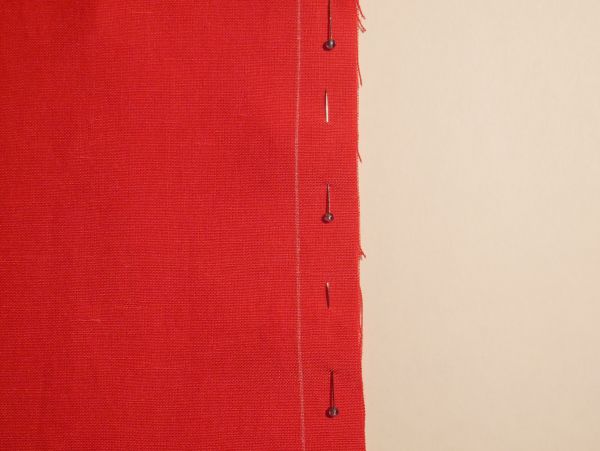 Pinning confessions
I think pinning style is personal. Your pinning method has to work for you and for your project. Two of my children are left-handed, and I have realized in the process of teaching them, that we can't all do things exactly the same way. I have pinned in the wrong direction, sewn over my pins, and used quilting pins on garment projects. My garments survived, although some of my sewing machine needles paid the price. Here's a tip for those of you who are like me and occasionally stick yourself instead of your garment but do not want to bleed on your newest sewing endeavor: Always keep a bandage nearby. By the way, I am still working on kicking the habit of holding pins in my mouth.
Do you have any pinning stories or questions or habits to share? Tell us in the comments or send us your pinning tips at [email protected].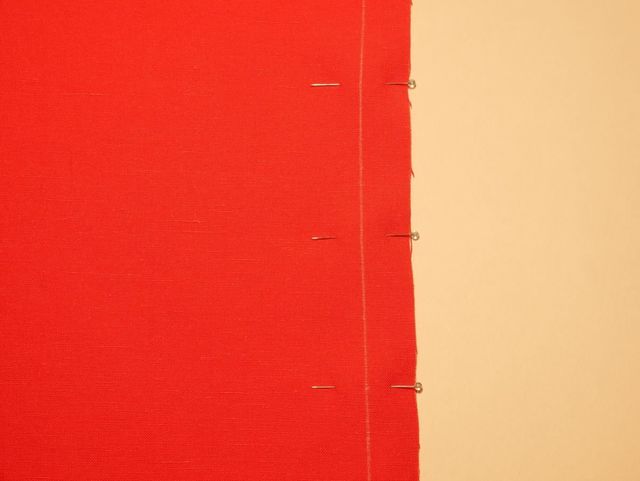 Pin position for right-handers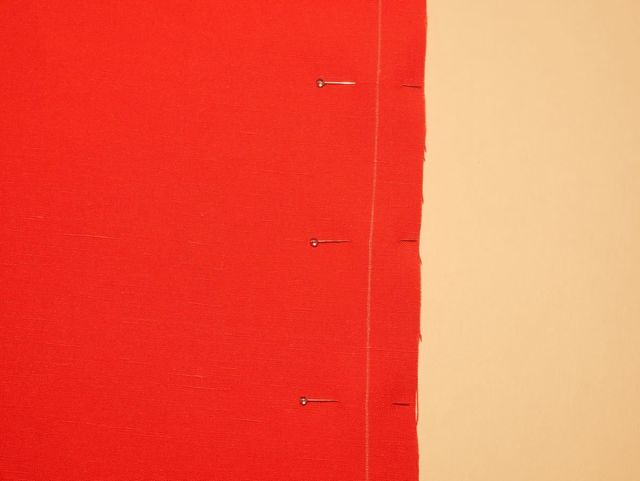 Pin position for left-handers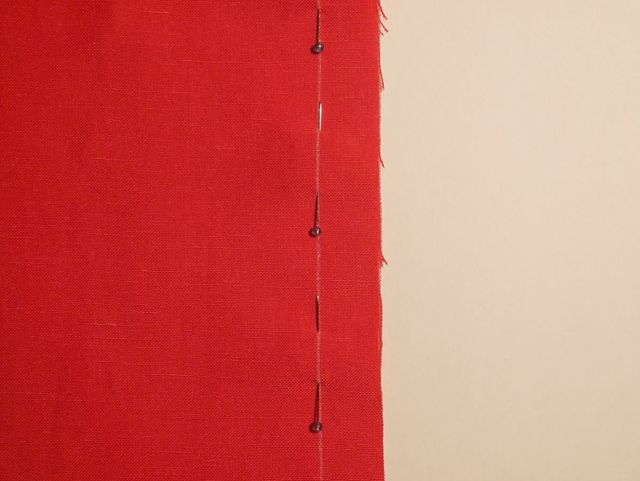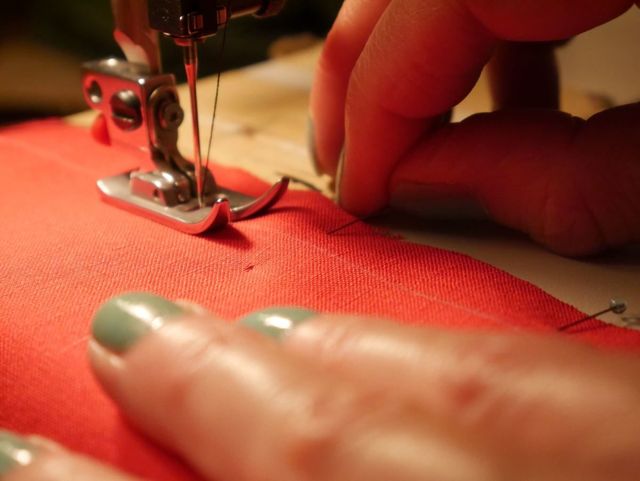 Pulling pins from the right side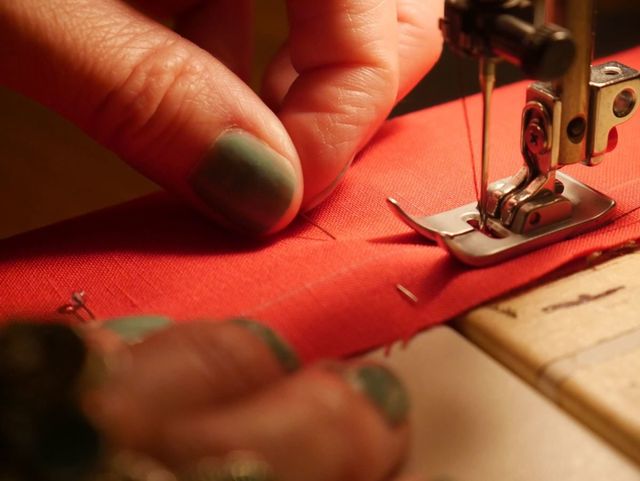 Pulling pins from the left side