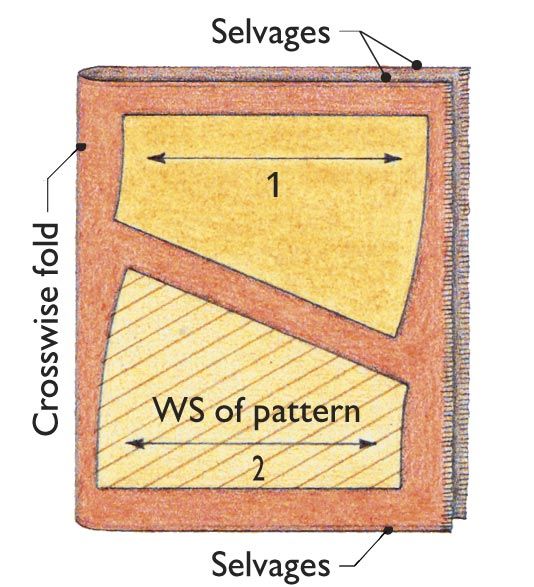 A well-sewn garment starts at the cutting table. Laying out your pattern on the fabric to prepare for cutting is an important step that must be done carefully and accurately for great-looking results. Here are some tips on layout and some ideas on pinning or using weights to anchor your pattern pieces in place.
Pattern preliminaries
Be sure you have all the necessary pattern pieces. Most instruction sheets list pieces by letter or number next to the layout diagrams.
Make any changes or fitting alterations to the pattern. If you significantly alter a garment's length, you may need extra yardage to make sure you have a workable layout. Press the pattern pieces with a dry iron set to a low-temperature so that they're easier to work with.
Preshrink your fabric if necessary, and make sure the grain is straight. Do this by tearing across the grain at the ends of your fabric piece (if it's firmly woven). Alternatively, you can pull a thread across the width of the fabric at the ends, or cutting along a dominant line in the pattern or weave. Fold lengthwise, matching selvages, to see whether the ends now match. If they don't and the fabric needs to be straightened, gently pull on the fabric's length from opposite corners.
Spread out fabric carefully

In preparation for cutting, fabric is usually folded. The instruction sheet gives alternatives for folding that are determined by the fabric's width, the garment's size, and the size of the pattern pieces. You may need a crosswise layout for wide pieces. Sometimes a layout shows a double fold, in which both selvages are brought to the center (see the drawings below). In all cases, fold fabric right sides out to view designs that must be centered or matched and when cutting pile fabrics like velvet or corduroy, because there's less sliding.
Choose a layout from the appropriate instruction sheet, or invent your own. When working with a plaid fabric, lay out your pattern pieces on a single thickness for easier matching, regardless of suggested layout. When laying out soft sheers and slippery fabrics, tightly cover your cutting surface with a muslin-like fabric to help prevent sliding, and use a single-thickness layout.
Whether you fold or cut singly, always keep the entire length of fabric on top of the cutting surface while pinning and cutting to prevent distortion or stretching caused by the weight of the fabric hanging over the table's edge. For large fabric pieces, fold or roll up the end that's not being cut, and unroll as your layout progresses. Be sure that all of your pattern pieces fit on your fabric before you begin cutting.
Choose a cutting layout
Pattern instructions provide layout diagrams for various fabric widths. Find the best layout in the instructions for your pattern, size, and fabric width.

With-nap layout, lengthwise fold
A with-nap layout has all pattern pieces placed in the same direction, so any designs or nap on the fabric will be consistently positioned on the garment.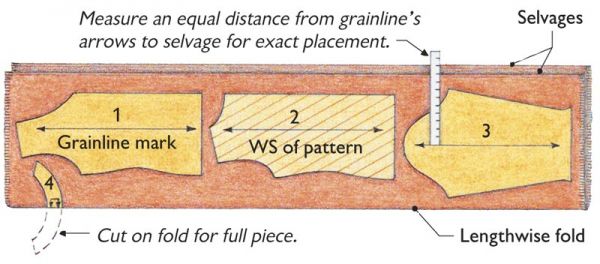 Without-nap layout, crosswise fold
In a without-nap layout, you can place the pattern pieces in opposing directions.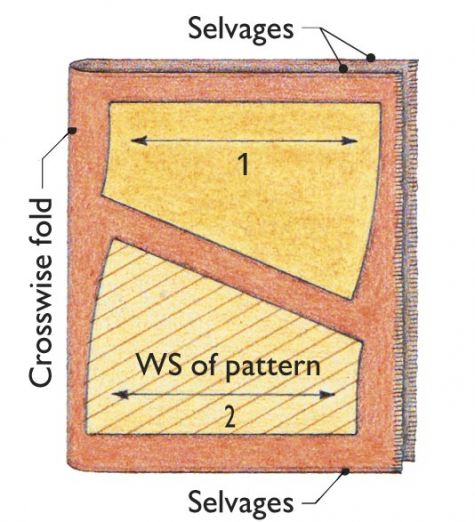 Lengthwise double fold
Use this layout when cutting two pieces that fit side by side on the fabric, but need to be placed on the fold for cutting.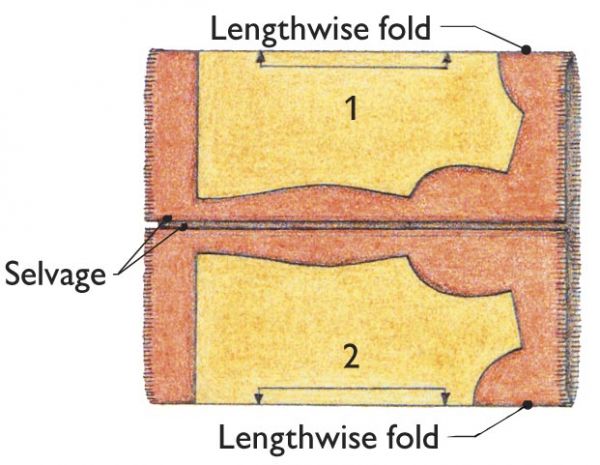 Grainline and layout
A grainline mark on a pattern piece is the long straight line with arrows at each end. It shows how to position the piece accurately on the fabric's grain. Pin one of the arrows in place, and measure from it to the fabric's selvage. Then measure and adjust the other arrow so that it's the same distance from the selvage.
The phrase with-nap on a layout sheet indicates that you should place all pattern pieces on the fabric going in the same direction, top to bottom. Use a with-nap layout for pile fabrics, like velvet and corduroy, and for satin and fabrics with a definite one-way design. Choose a without-nap layout when pattern pieces can be laid in both directions.
When you have properly aligned the pattern pieces on the fabric, (see Anchor the pattern to the fabric) anchor them with pins, as most sewers do, or use weights, like Weight Mates (available from Clotilde or Joanne). Then get out your scissors. You're ready to cut.
Anchor the pattern to the fabric
| | |
| --- | --- |
| Choose pins suitable to fabric; place them perpendicular to cutting lines and pointed into corners. To keep pattern and fabric flat, catch as little of each as possible. | Weights are a fast, easy way to anchor a pattern. You can use weights designed for this purpose, or raid your cupboard for soup cans or something smooth and heavy enough to hold your pattern in place. |
Jan Bones
sews in Winnipeg, Manitoba, Canada, and teaches at sewing festivals across Canada and the United States.
Drawings: Christine Erikson
by Jan Bones
From Threads #81, pp. 20, 22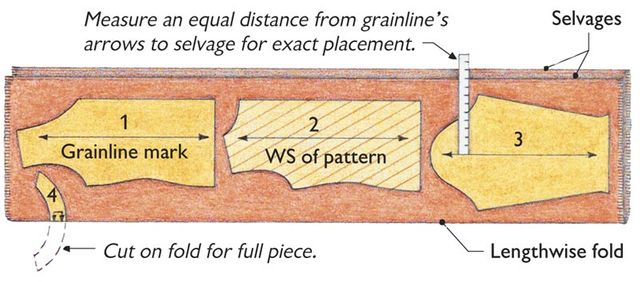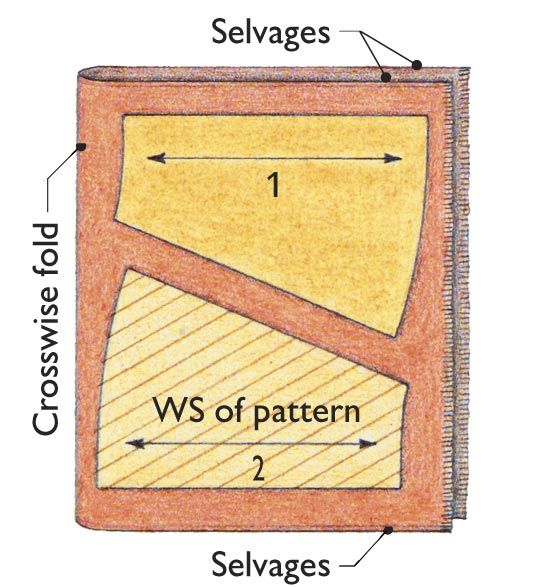 Laying out your pattern on the fabric to prepare for cutting is an important step that must be done carefully and accurately for great-looking results.