How to Use Rotary Cutters to Cut Fabric with Ease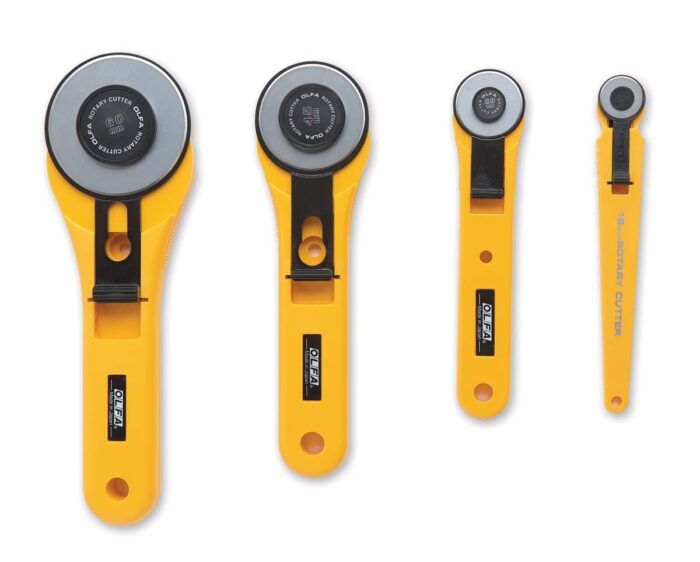 In 1979, Yoshio Okada, founder of the Olfa Corporation, introduced a cutting tool that revolutionized the sewing and quilting worlds. His invention, the rotary cutter, made cutting fabrics more efficient with its single rolling blade. Since then, blades, handles, and other tools have been developed to enhance rotary cutters' speed and accuracy.
Today, companies worldwide have improved blade sharpness and made a variety of sizes available for different uses. They have added easier and safer ways to change blades and protect fingers. The handles also have been improved for ergonomics, with blade-locking features and a variety of handle materials. The addition of cutting mats and companion devices make rotary-cutting narrow strips and circles foolproof for sewers.
Remember, however, that a rotary cutter does not replace scissors (and vice versa). Each is a tool with its own specific purpose. Any well-appointed sewing room has both tools.
Accessories
Rulers and mats are necessary for working with rotary cutters. Rulers offer a guiding edge, and mats protect surfaces from the sharp blade. Here are some recent updates to these companion products.
Visibly Different
Dark and light gray rotary cutting mats are designed for maximum legibility without eye-strain. The mats are reversible, so that you can work on a dark gray ground with light gray measurement grid and bias lines, or the reverse, dark gray markings on a light gray ground. Both sides are self-healing, which means blade cuts in the surface reseal after use.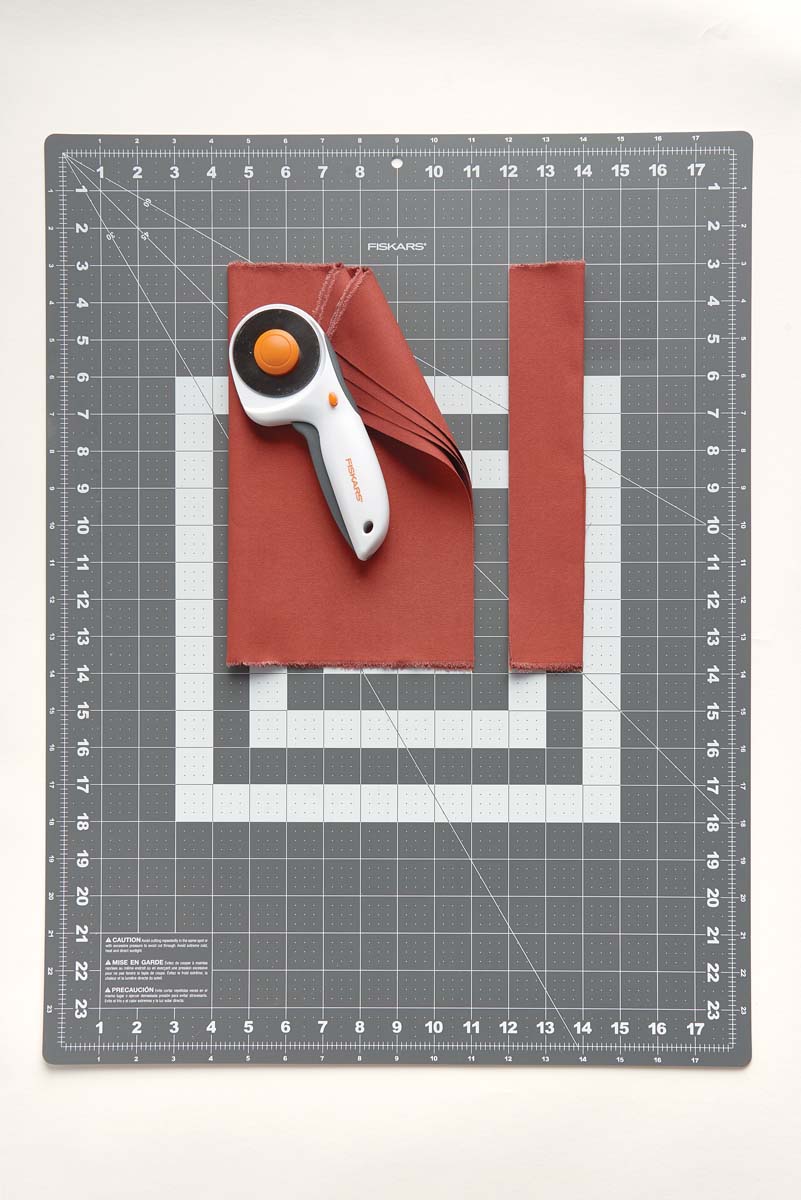 More portability
Folding mats: Expend less effort and devote less space to transporting and storing rotary cutter accessories. Large mats are cumbersome to carry and store. Rolling or leaning them against a wall can damage them and cause a permanent curve. A folding cutting mat (below) takes up half the space and is more rigid when folded. The edges at the center fold are corresponding serpentine waves that connect the board into a single plane, without a discernible crease. I find a folding mat convenient for photo shoots, sewing classes, and my small home sewing space.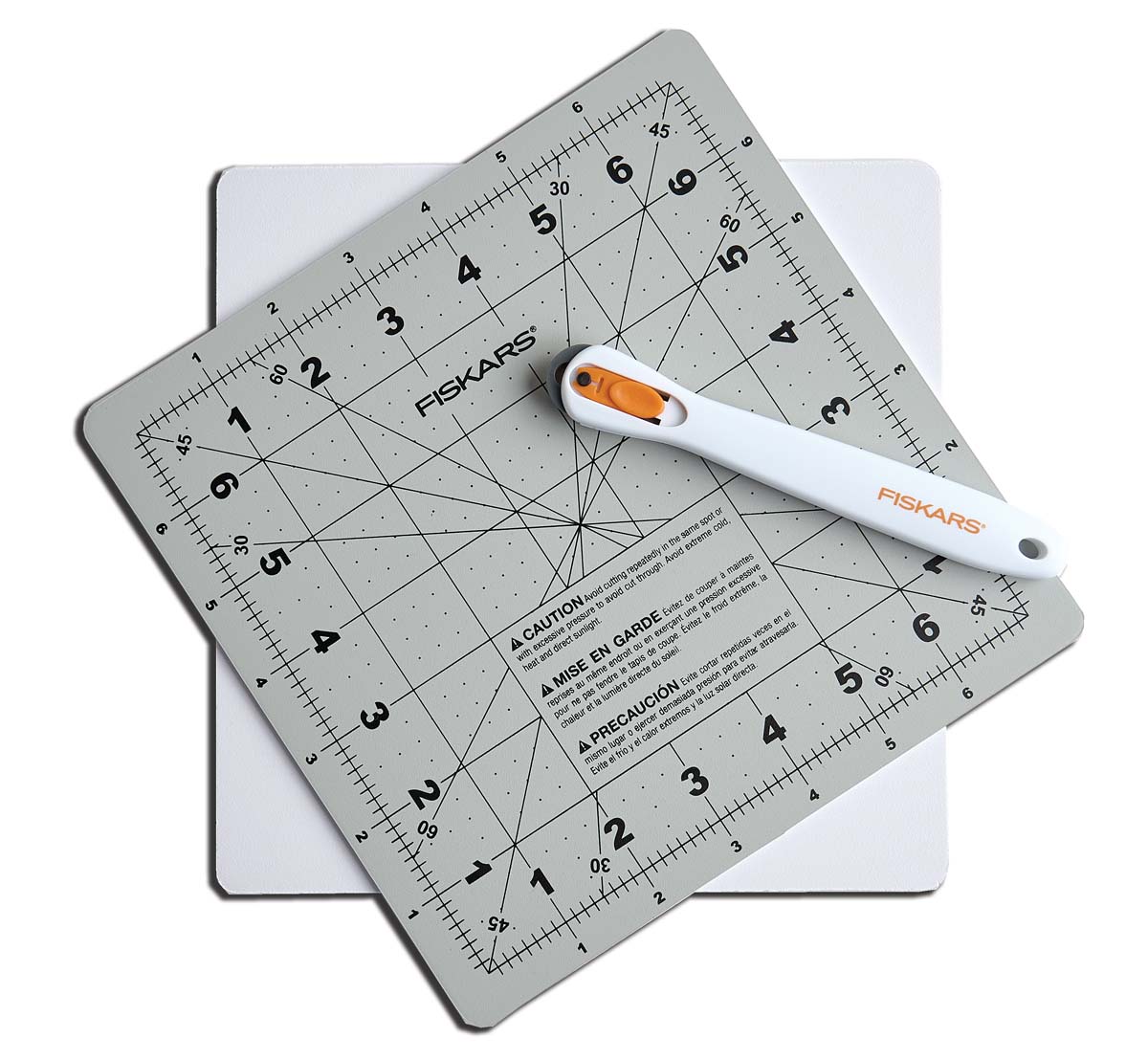 Rotating mats: A mat that can turn enables you to cut small pieces at the proper angle for accuracy and ergonomics. I first heard praise for these small, handy mats from author Anna Mazur when we worked on a handbag story. The bag required hundreds of small leather shapes. Anna used a mat like this to cut them without shifting her position or materials.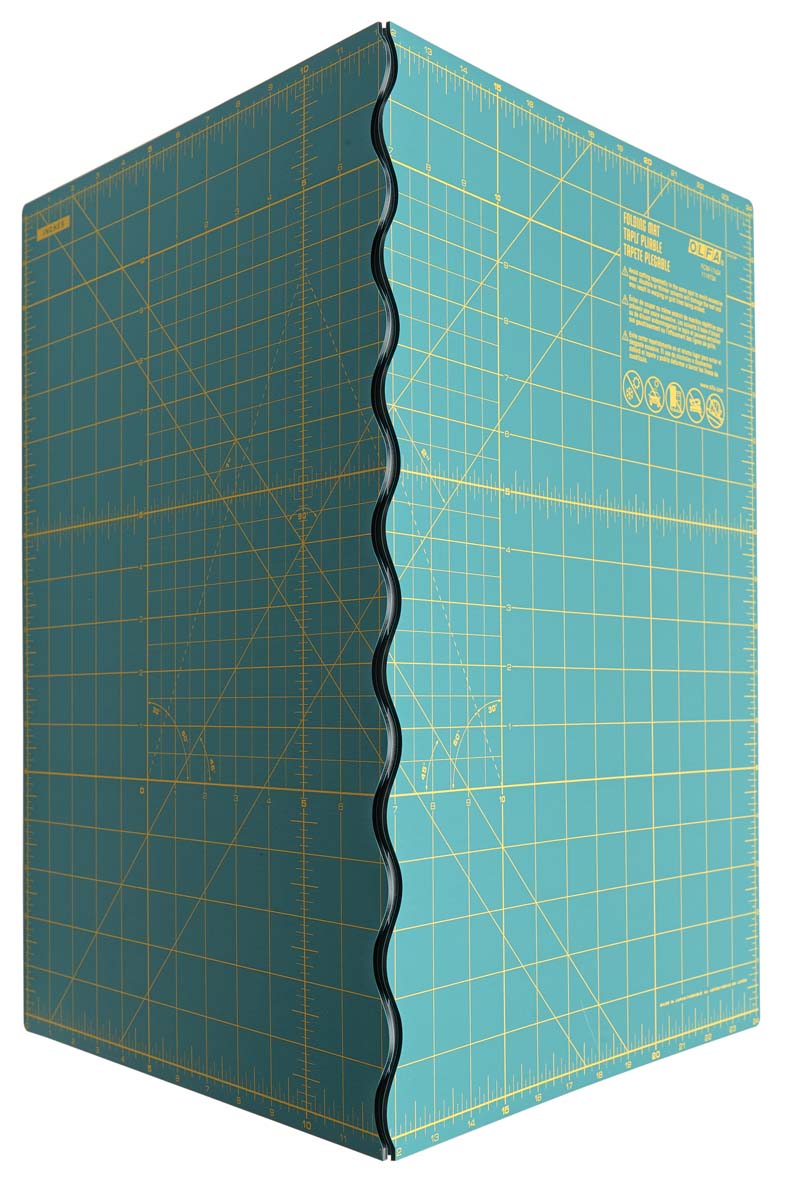 Collapsing rulers: When cutting a straight edge or a square, it's best to use a ruler that's longer than the desired cut length. For a large ruler that fits in a bag or binder, look for a folding version.
Fiskars 6-inch-by-24-inch ruler folds in thirds to occupy just 6 inches by 8 inches. The clear ruler folds in an accordion fashion, the wrong sides hinged by a durable plastic film. The black markings are outlined in white, for visibility over light or dark fabrics.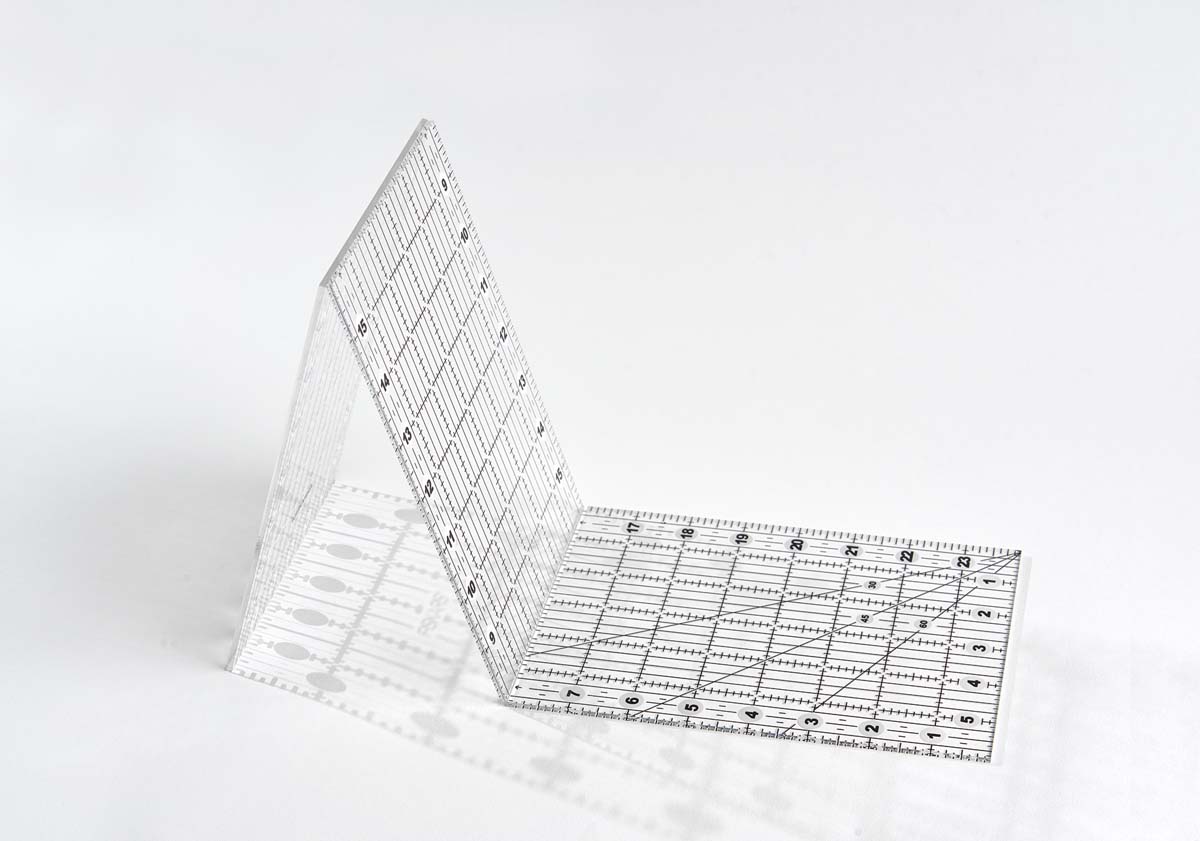 Handle and Blade Options
Depending on the frequency with which you use a rotary cutter, the thickness of the fabrics, and your comfort, you should check out ergonomic versions. Enhancements include softer grips, ridged thumb rests, and angled handles. The project determines the blade size.
Custom handling
The original rotary cutters featured straight handles, which required bending the wrist to exert the necessary pressure to cut. A newer bent-handle design can be used with a straight wrist and causes less stress to the joint. Martelli has a rotary cutter with the handle perpendicular to the blade. The handle shifts the weight to the arm and body instead of the wrist for a stronger smooth cut.
Some sewers prefer the familiarity and perceived accuracy of the classic straight handle. However, if you like the option of holding the rotary cutter either straight or with a bent handle, there are adjustable rotary cutters. The Fiskars Three-position Rotary Cutter has a rotating handle that clicks into position. The first position is straight, the second clicks into place beneath the handle for a bent or "power" position, and the third handle position swings horizontally to a 45-degree angle from the blade for reduced wrist pressure.
​
Martelli ErgoCutters, left-handed versions, $29.99- $22.99(Shop.MartelliNotions.com).

My Comfort Cutter, 45 mm,
$32.95 (GraceFrame.com).
Fiskars three-position rotary cutter, $35.99 (Fiskars.com).
Variations on a blade
Circle cutting: There are several circle-cutting methods available. One is Olfa's Rotary Circle Cutter (not shown). It comes with an 18-mm cutter on an adjustable pivot point with a ratchet wheel handle that has a compass-action turn. Once around the circle gives you perfectly cut inside and outside circles.
A cutting ruler: If you believe sewing strips is only for quilters, give it a second thought. The rotary cutter-ruler combination saves so much time cutting bias fabric strips. The cutter is mounted on a metal strip on the heavy-duty, gridded ruler. Push down on the cutter with your palm and slide the cutter along the edge to cut strips as fast as your hand can move.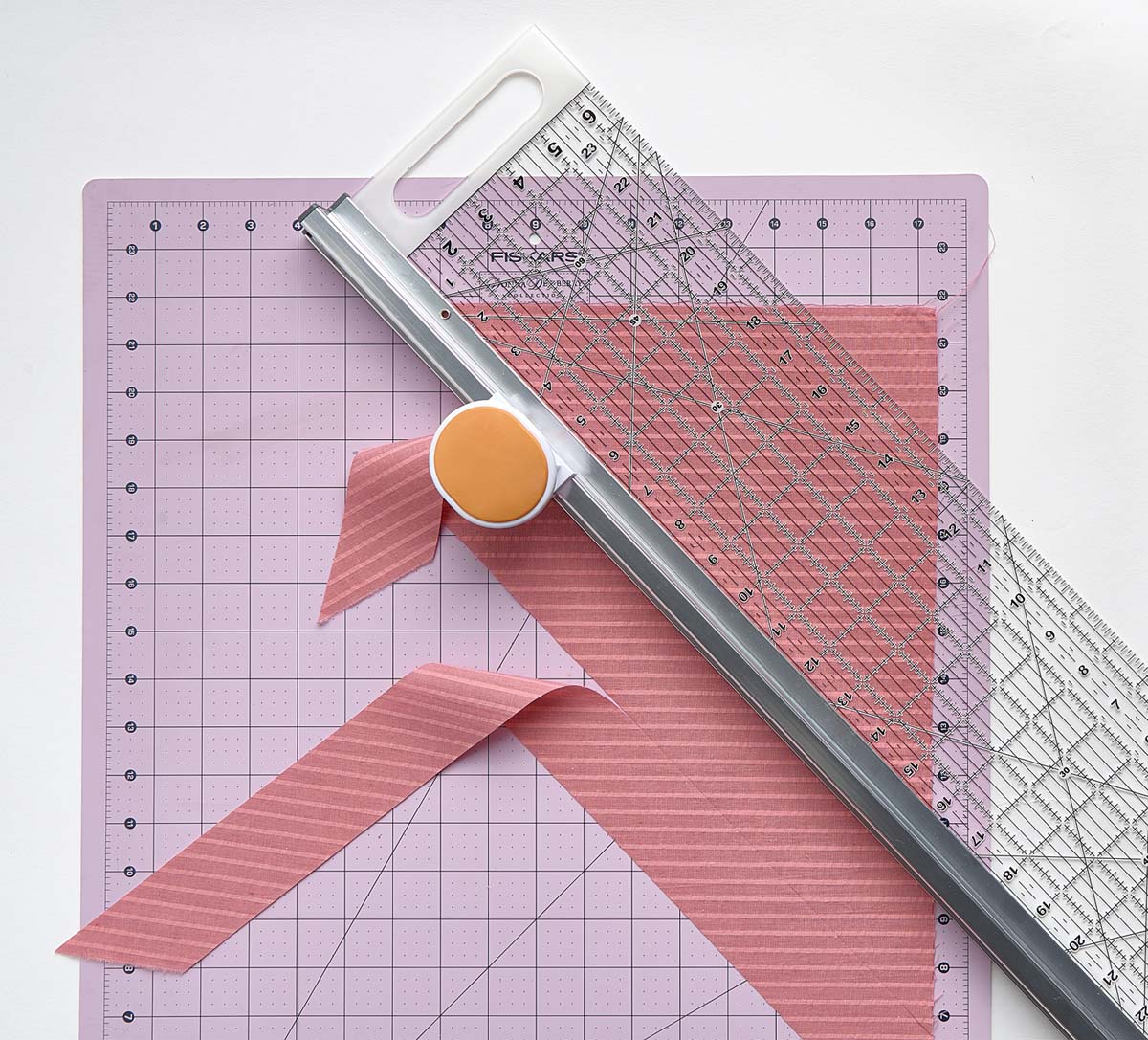 Size choices: Always cut extra layers and lofty fabrics with a larger cutter and tight curves with smaller cutters.
A 60-mm cutter is ideal for power cutting through many layers of fabric along a ruler.
Use a 45-mm cutter for general cutting and up to eight layers of fabric at a time.
A 28-mm blade originally was the most available size. It cuts straight lines and medium to large curves well through two layers of fabric.
The 18-mm blade is designed for intricate cutting, such as fussy cutting with tight curves. It is a specialized tool.