Essential Sewing Tools: Hand-Sewing Needles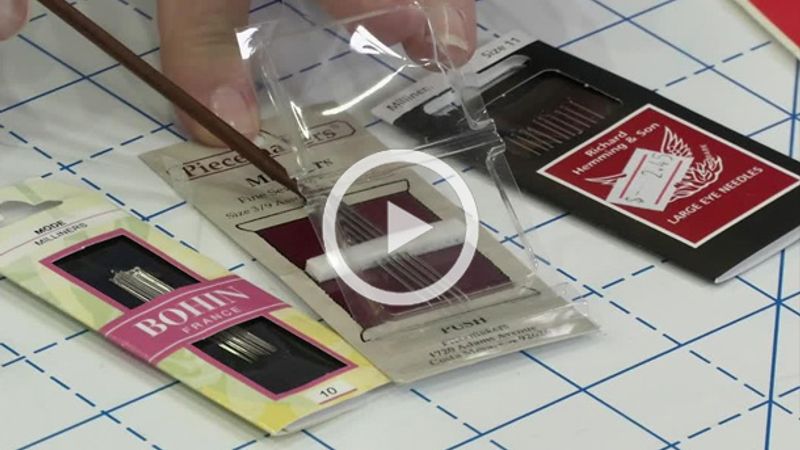 Evamarie Gomez-Bostic and Carol Fresia; Videographer: Jeff Roos
Hand sewing is an essential part of garment construction. Some sewers try to avoid stitching by hand, but Threads Contributing Editor Judith Neukam contends that having the right needle gives you unparalleled control when you're making a fine garment. Learn which needle to choose for various types of hand-sewing tasks.
Needles often come in packages with assorted sizes and styles; sometimes a needle threader is included, too. Judith suggests finding the particular size and type the works best for you and order packages with only that kind. Then you'll always have a fresh needle ready for use.
Needle types
Betweens: These short needles are often used for quilting. If your hands are large, or you like to grip the needle with several fingers, you may find these too small.
Milliners' (also called straw needles): These are longer needles, and have a narrow eye. Better for those with larger hands.
Easy-to-thread needles: Designed for sewers with visual impairments, these needles have a small opening on the eye portion, so you can slip the thread in through the side or top of the eye, rather than having to see the eye. Even if you can see the needle's eye easily, these needles make thread extra speedy, and are handy when you're doing a lot of basting and need to rethread the needle frequently.
Upholstery needles: These needles are large, up to 12 inches long, and can be used to pass heavy thread through thick cushions for tufting. There are curved versions as well, which enable you to stitch easily when you can't access the fabric's wrong side.
Beading needles: Designed to slide through tiny beads, these needles are very fine and have a narrow eye. You'll probably want to use a threader with beading needles.
Doll-making or soft-sculpture needles: These large needles are useful for stuffing, shaping, and stitching fabric toys and dolls. They are available in lengths from 3 inches to 6 inches.
Tips for hand sewing
Keep a number of your preferred needles on a small pincushion, so you'll have one at hand when you need it.
If the needle feels rough after hours of sewing, its outer metal cladding may have become corroded from skin oils. Wash needles every hour or so to remove these oils, and the needles will last longer and stitch more smoothly.