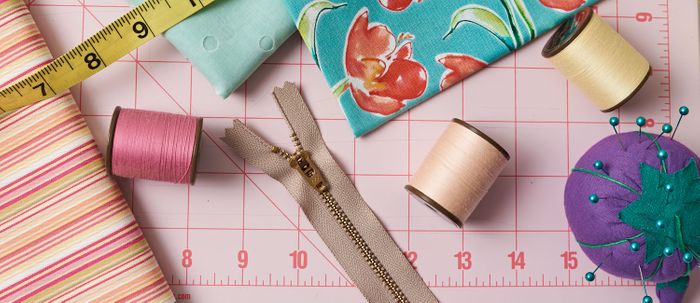 Threads Project Guides
Learn to Sew
Discover the tools and techniques for successful results.
Around the world, people enjoy the fun and satisfaction of creating their own clothes, accessories, and home décor items. You can join in—it's easy to learn to sew. This guide leads you through the process of choosing tools, equipment, patterns, and materials. Plus, you'll get step-by-step instruction for many sewing techniques. You'll find out how to sew any style you like and discover tips for fitting your individual figure. You can try out your skills with dozens of our tested DIY projects for adding self-made clothes to your wardrobe, decorating your home, or gifting to family and friends.
Getting Started

Sewing calls for tools and materials, but if you choose thoughtfully, you can outfit a sewing area easily and inexpensively. Learn about the options for purchasing a sewing machine—your most important investment, but one that needn't break the bank. Find out which notions are essential for great results, from needles and pins to scissors, measuring and marking tools, thread, and irons. Get up to date on fabric choices, and then become familiar with patterns and how to use them.

Construction Basics

Most sewn items call for only basic techniques: seams (straight or curved); shaping elements such as darts; and edge finishes. You can start with the easiest versions, then move on to more complex methods. In this chapter, learn how to sew conventional seams and how and why to clip and trim the seam allowances. There are tutorials for several different seam-allowance finishes, so you can make the interior of any garment beautiful and long-lasting. Our expert contributors share methods for marking and sewing darts, attaching facings, and hemming. We also introduce you to the key elements of skirts and pants.

Garment Details

As your skills progress, you'll want to explore a wider range of garment features. This chapter guides you in inserting sleeves, fine-tuning an elastic waistband, adding gathers and ruffles, and creating all-important pockets. You will learn several techniques for sewing a zipper, as well as how to sew buttons, snaps, and hooks. Finally, if your garment calls for buttonholes, we've got the information you need to make them sturdy, good-looking, and the right size every time.

Fitting Fundamentals

You're unique, and you deserve clothes that fit your figure.

We'll show you how to measure your body accurately and how to choose a pattern that comes closest to the right size. Nearly every sewer needs to make a few fitting adjustments, and you can learn to do so easily. From shoulder-slope adjustments to length and circumference fixes, it's worth the time to do some preliminary fitting and adjust a pattern before cutting your fabric.

Easy Projects

Join in as we share loads of fun and easy projects you can sew. If you can sew a straight seam, you can make a summer skirt and a bohemian blouse. You'll also find tutorials for jackets, cute cover-ups, and simple-to-sew pants. Give your bedroom a new look with one of our duvet- or pillow-cover projects, or a set of pretty curtains. Jazz up your existing wardrobe with accessories such as bags and scarves. There's more, too, and each project gives you a chance to practice your new skills while you create pieces that spark joy for yourself and others.