Repurpose Jeans into a Denim Jacket
Reinterpret the beauty of well-worn denim.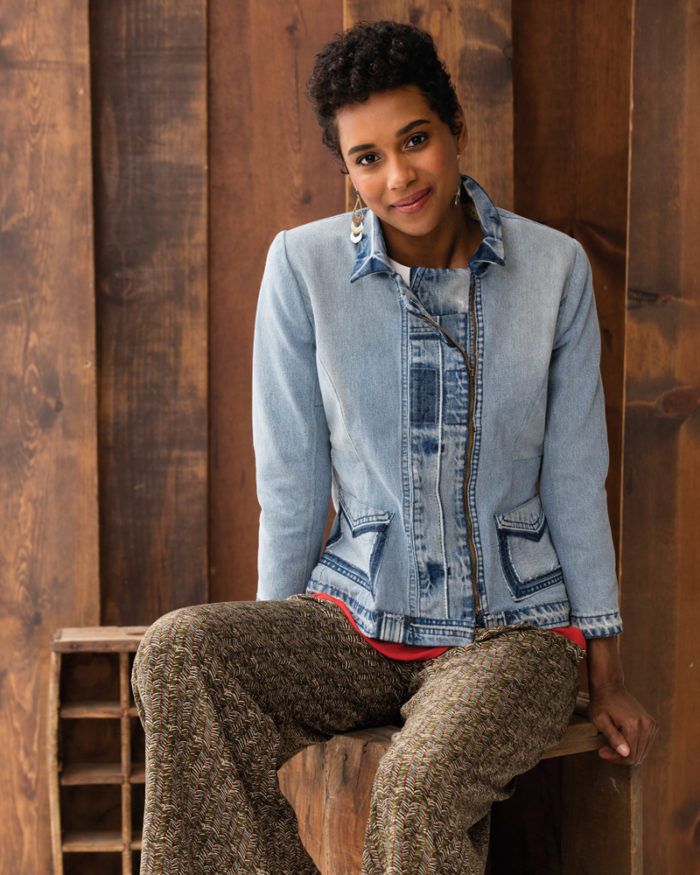 Synopsis: Here's a unique, eco-friendly sewing project to turn a couple pairs of jeans into a jacket. Author Mary Ray shows how she started with two pairs of men's Levi's that were well worn and faded. She knew she wanted to make a jacket and considered how to use various parts of the jeans. She let the project evolve by designing as she went along. Her article was first published in Threads #191, June/July 2017. Click on the View PDF link below to view the article.
---
Besides encouraging sustainability in fashion—an idea that sewers have always upheld—upcycling is just plain fun. It's challenging to think beyond the pattern, work with limited fabric, and figure out design and construction details as you go. Repurposing is an interesting way to develop your sewing and planning skills and to see unique projects unfold before you. I was inspired by two pairs of men's Levi's that were well worn and faded, qualities we've come to appreciate in denim. Using them to make something new seemed like a good idea. I knew I wanted to make a jacket and considered how I might use various parts of the jeans before I started, but I also let the project evolve, designing as I went along. As I took the jeans apart, I discovered designs naturally created by the contrasts of faded, worn edges and darker indigo where the fabric had never been exposed. For the new garment, I chose a jacket style with princess seams and let my reclaimed fabric lead the way. Each upcycling project is different, but I'll share helpful strategies for breathing new life into old jeans.
Deconstruct and discover
In most cases, you'll need at least two pairs of jeans to make a…
Start your 14-day FREE trial to access this story.
Start your FREE trial today and get instant access to this article plus access to all Threads Insider content.
Start Your Free Trial
Already an Insider? Log in