Learn to Draft and Construct Men's Jeans
How to draft and construct a pair of authentic jeans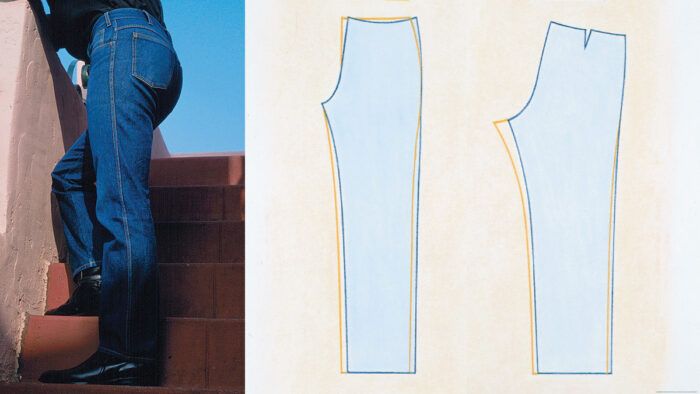 Updated May 2022
I had been looking for a week and finally found them: burgundy denim bell-bottoms. But my visit to the fitting room was a flop; I returned the pants to the salesclerk. I was walking away when he asked, "What was wrong with them?"
"They didn't fit," I answered. His voice rising, he said to my back, "What do you expect? They're jeans."
Designing and making my own clothes has been a consuming hobby for many years (dating back, more or less, to my encounter with the salesclerk in 1969), so by now I 'm spoiled by the luxury of a custom fit. The clothes I make are the clothes I really live in. About half my waking hours, that includes jeans.
My jeans fit well because I draft my own pattern; I derived the method and the basic shape from a tailor's patternmaking method that I discovered in Jane Rhinehart's How to Make Men's Clothes (1975) , which is unfortunately out of print. It's an invaluable book for anyone, male or female, who is serious about clothesmaking. A draft is an ingenious and accurate way of communicating a pattern without having to print it full-scale, which allows for variations based on different body measurements. Drafts don't eliminate the need for muslin test garments, because they don't automatically deal with posture problems; they simply provide a carefully length-and-width adjusted version of whatever pattern the draft is for. You'll find my jeans draft and instructions for using it below.
The draft is for men's jeans, so women who can comfortably (or almost) wear men's jeans will also find it useful. If your measurements include a big difference (more than 10 in.) between waist and hips, and you like jeans that are fitted in the…
Start your 14-day FREE trial to access this story.
Start your FREE trial today and get instant access to this article plus access to all Threads Insider content.
Start Your Free Trial
Already an Insider? Log in