Drape a Knit Bodice Block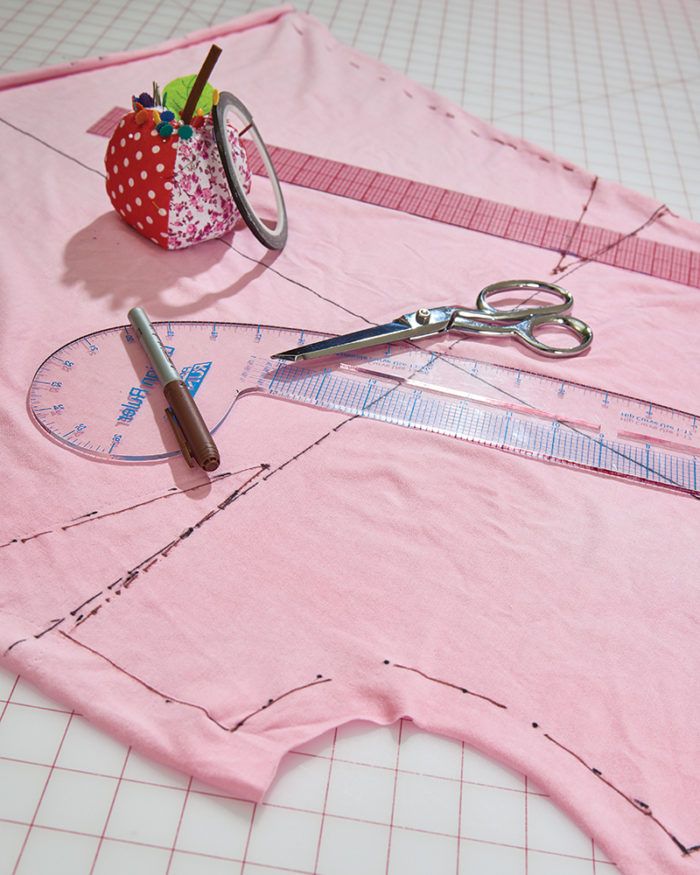 Comfortable, well-fitting knit garments are the go-to choice for many people because of the freedom of movement they offer. Despite the forgiving nature of knit fabrics, good fit can be as challenging to achieve in knit garments as in wovens. The ambitious sewer intent on creating a wardrobe of polished knits should consider developing a personalized knit block.
I'll show you how to drape a knit bodice block that serves as a foundation for designing T-shirts, camisoles, tanks, and other stylish tops that fit and flatter. There are other ways to develop a knit block, but draping one is easy and fun, and you'll gain a new set of skills while you do it.
Draping your own knit bodice block also means you can incorporate extra fitting details that you might not expect in a knit top, such as bust darts, back waist darts, or a shaped center-back seam. Even in a knit garment, darts may be necessary for the best shaping and fit. Darts are included in the draped block because the fabric used has minimal stretch. We will transfer them out later.
Draping a knit bodice block is best done with a partner. Find a friend who also wants a personalized knit block, and spend a day fitting each other.
Developing the knit bodice block is the first step toward designing your own perfectly fitting knit tops. Next, you'll need to draft a knit sleeve block, which will be explained in Threads no. 189, Feb./March 2017.
Mark the draping lines
The subject should wear a well-fitting, supportive bra made from smooth fabric, under a close-fitting, high-neck tank top or lightweight, short-sleeve T-shirt. Mark the subject's key body lines using 1⁄8-inch-wide fashion draping tape. Follow the body's landmarks, not the top's seamlines.
Start your 14-day FREE trial to access this story.
Start your FREE trial today and get instant access to this article plus access to all Threads Insider content.
Start Your Free Trial
Already an Insider? Log in