Know Your Knit Fabrics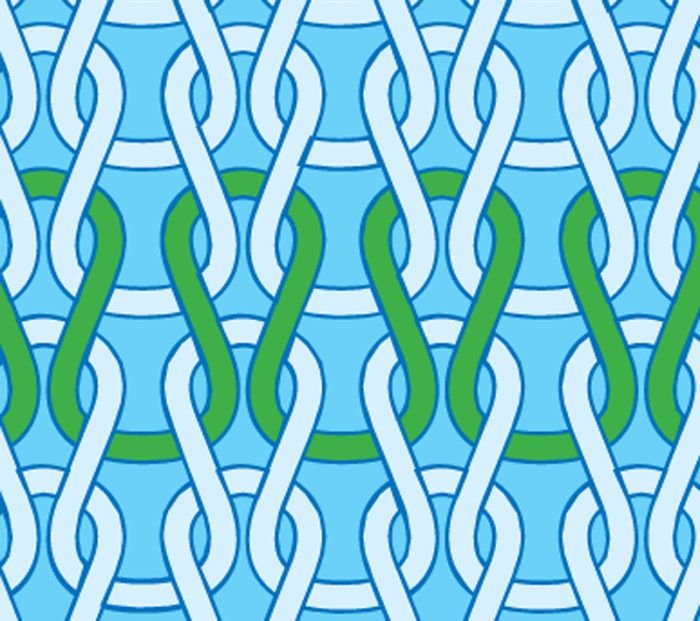 I've found that many sewers shy away from knit fabrics, perhaps confused by the wide variety available (take a look at the samples in this article alone) or unsure of what kind of garment to construct from a particular knit. I believe the more you know about a fabric, the easier it is to evaluate how to use it. And knits are definitely worth getting to know-they are much easier to fit than wovens; resist wrinkles; in most cases, are wonderful to handle; and are extremely comfortable to wear. And these days you can find a remarkable range of knits in various fibers, among them, linen, silk, wool, Tencel, polyester, cotton, and cotton blends.
When asked how I know if a pattern will work with a certain knit, I say that the answer is ingrained in my fingers. Handling the fabric triggers knowledge derived from years of sewing with knits. Here are some basic facts about knit fabrics to help you develop your own cache of knowledge. This knowledge will soon find its way into your fingertips.
Anatomy of a knit fabric:
There are two basic types of knit fabrics – weft knits and warp knits – and it's the direction in which the yarns making up the fabric are looped that determines which type of knit the fabric is.
| | | |
| --- | --- | --- |
| Weft knit: A weft knit is made with a single yarn looped horizontally to form a row, or course, with each row building on the previous one. | Warp knit: A warp knit is made with numerous parallel yarns that are looped vertically at the same time. | In a knit fabric, a vertical column of stitches is called a wale, and a horizontal row, a course. |
Knit fabrics are made in one of two basic ways
Understanding the ways in which knit fabrics are manufactured will help you see why the topic of knits is so complex. You'll see why different knit fabrics behave in such dissimilar ways. Unlike a woven fabric, which is composed of a series of warp (lengthwise) yarns interlaced with a series of weft (crosswise) yarns, a knit fabric is made up of one or more yarns formed into a series of loops that create rows and columns of vertically and horizontally interconnected stitches. A vertical column of stitches is called a wale, and a horizontal row of stitches, a course.
Although, in a woven fabric, the terms warp and weft refer to the direction of the two sets of yarns making up the fabric, in a knit fabric, these terms describe the direction in which the fabric is produced: A weft knit—which is what hand-knitted fabric is—is one made with a single yarn that's looped to create horizontal rows, or courses, with each row built on the previous row.
A warp knit is made with multiple parallel yarns that are simultaneously looped vertically to form the fabric (see the drawings above). Both warp and weft knits can be made on a circular knitting machine, which produces a tube of fabric, or on a flat-bed  machine, which delivers flat yardage.
Four basic stitches-All knit fabrics, even exotic novelty knits like laces and jacquards, are composed of four basic stitches: a knit, or plain, stitch; a purl, or reverse-knit, stitch; a missed stitch, which produces a float of yarn on the fabric's wrong side; and a tuck stitch, which creates an open space in the fabric (see the drawings below).
Four stitches make up all knit fabrics
| | |
| --- | --- |
| Knit stitch | Purl stitch |
| Missed-stitch | Tuck stitch |
Stretch is the bottom line
All knits stretch to a greater or lesser degree. This inherent give makes these fabrics comfortable and helps with fit. It is a big reason for choosing a knit over a woven. While the degree of stretch varies among knits, even within a given category. For example, a double-knit, known for its stability, can sometimes have more crosswise stretch than usual and not be stable enough for a given project. Hence, it's imperative to assess the inherent stretch in a particular knit. THis helps you make a good match between fabric and pattern. Always test-stretch a knit in the store (here's where your fingers get into the act). Here's how I do it:
Since the greatest amount of stretch is usually in the crossgrain, I check this first. To assess the amount of stretch in the crossgrain, I grasp a single layer of the fabric between my left thumb and forefinger. Then I hold the fabric in the same way with my right hand about 4 in. away on the crossgrain. With my hands and the fabric on a ruler and my left hand at zero, I start gently pulling the fabric along the ruler with my right hand. I stop pulling just at the point that I have to exert any effort. If I have to grip the fabric in my left hand more tightly, I know I'm over-stretching.
By doing the test several times with the same knit, I get a feel for the fabric's inherent stretch. Then I can either use a pattern designed for a knit with that amount of stretch or alter my pattern.
Altering patterns for knits

Select your fabric and determine its stretch, before trying to alter your pattern. The alteration will depend on the fabric's stretch. Below are some general rules for altering patterns for knits:
• If the fabric has no stretch, as with a firm jersey or rugby-type knit, pattern alterations are usually unnecessary.
• The following are good starting points for alteration: If the fabric has only a little stretch (1/2 in.), take a total of 1/4 in. out of the pattern at both center front (CF) and center back (CB). If it has moderate stretch (1 in.), take a total of 1/2 in. out at both CF and CB. if it has generous stretch (2 in.), take a total of 1 in. out at both CF and CB. You can usually make any additional fitting adjustments at the side seams or darts/princess seams.
• Always make a muslin to fine-tune the necessary fitting adjustments. Make the test garment an inexpensive knit fabric with similar stretch to that of your fashion fabric.
Warp knits vs. weft knits
Warp knits generally have a flat, smooth surface (though they can also be made with a pile). They have little or no vertical stretch and varying degrees of crosswise stretch. Produced in a large variety of weights in a wide range of fiber types, warp knits are run-resistant and don't ravel.
With a few exceptions, weft knits have moderate to great amounts of crosswise stretch and some lengthwise stretch. Some jerseys, however, have little or no crosswise or lengthwise stretch. On many weft knits, the edges may curl. As with warp knits, weft knits are made from many different fibers and come in many weights. If a stitch in a weft knit is broken, the fabric tends to run, but a weft knit ravels only from the yarn end knitted last.
Lots of knits are now being produced with the addition of spandex fiber to add stretch to the fabric. Garments made from fabrics with spandex can be comfortably fitted closer to the body. Spandex imparts increased stretch and give to knits. Its the ability to "recover" that spandex adds that's prized by sewers , since the resulting garments retain their shape.
Now that you know some of the basic facts about knit fabrics, take a look at a few of common types of readily available knits in the samplings photos. Look for some of these knits in your fabric store, and try them out. As you gain a solid background of knit fabric facts through direct experimentation, you'll relish sewing with these remarkable fabrics.
Continue to: Samplings of Weft Knit and Warp Knit Fabrics
Photos: Sloan Howard; illustrations: Glee Barre