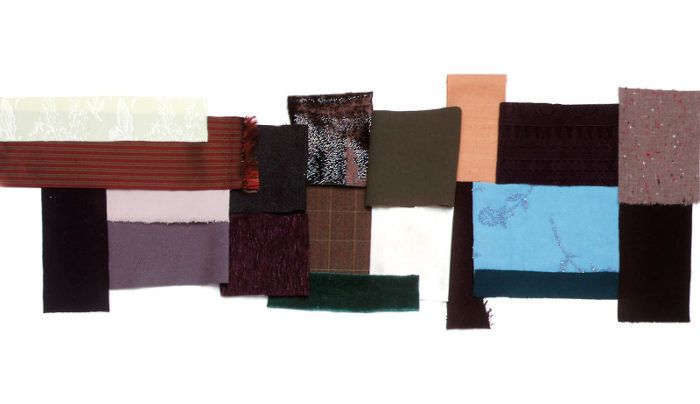 If you've been to a fabric store lately or have been perusing your mail-order swatches, you're sure to have noticed the word Lycra creeping into more and more fabric labels, frequently in fabrics you'd least expect. That's because Lycra, a stretchy fiber most famous for putting the spring into nylon exercise wear, swimwear, and foundation garments, is turning up blended in tiny amounts with natural fibers, such as wool, linen, cotton, and silk, not to mention paired with rayon and polyester microfiber. Lycra's expansion into the fashion-fabric arena includes both knits and wovens, so these days you're just as likely to see a woven wool suiting blended with 1% Lycra fiber as you are wool or silk jersey given more resilience by 3 to 5% Lycra.
These samples include Lycra-blend silk, wool, linen, cotton, and man-made fibers, such as rayon and polyester microfiber, which all look like their single-fiber counterparts but shake off wrinkles when Lycra is added.
These fabrics look just like their all-natural counterparts, so they're suitable for a wide range of garments, from career- and daywear to special-occasion dressing. But Lycra-blend fabrics have two significant differences from all-natural fibers: a degree of stretch not present in the natural fiber and greater resistance to wrinkling. The advantage of sewing with Lycra-blended natural fibers is obvious: The tiny bit of synthetic added to a natural-fiber yarn means a wool-and-Lycra or linen-and-Lycra jacket can shake off creases and still offer the warm or cool comfort you'd expect from plain wool or linen. Woven Lycra blends have the additional advantage of allowing sewers to more closely fit a pattern than would be comfortable in a fabric without Lycra. Tailored or close-fitting pants sewn in Lycra blends have less tendency to bag out in the seat or knees. And sewing with the fabric is surprisingly easy, too. Just a few minor adjustments to the usual sewing process for all-natural fiber fabrics will have you sewing Lycra blends like a professional.
Preparing the fabric
The common-sense rules that apply to preparing fabrics for cutting, whether knit or woven, still apply when Lycra is added to the mixture. Knits that can be machine-washed should be preshrunk in a warm-water machine wash on the gentle cycle, using a mild detergent, and then dried on low heat. Machine-washable Lycra wovens, such as linen, microfiber, and cotton blends, take a regular cycle for both washing and drying. When hand-washing is appropriate, as for some silks, use cool water and hang to dry, or if you prefer, have the fabric dry-cleaned. Garments made of wool and Lycra blends, both knit and woven, will need to be dry-cleaned, but yardage can be preshrunk by holding a steam iron 1/2 in. above the fabric's surface.
A few ground rules
Lycra-blend knits and wovens also share some special needs in terms of layout directions, cutting implements, thread, and zipper treatments. After the fabric is preshrunk, even out the cross-grain ends with a T-square, and layout the pattern with the greatest amount of stretch going around the body, whether cross-grain or lengthwise.
Sharp tools are a must with this fabric because you don't want to stretch it as you cut. So use your best scissors or a rotary cutter, and sharp, fine pins to avoid snags.
You won't need special presser feet for sewing Lycra blends, but a good-quality, all-purpose polyester thread is your best bet because the thread itself has some stretch built-in. When threading the bobbin, be sure not to wind it too fast, or the thread will be stretched and the seams puckered. Resist the urge to stretch seams as you sew; using a narrow zigzag (of the lengths specified below for knits or wovens) will add all the stretch your seams need.
An invisible zipper is most compatible with Lycra blends. Stabilizing the seam allowances with lightweight 1/2-in. fusible strips cut in the fusible's nonstretch direction will prevent zippers from bulging.
Handling Lycra-blend knits
Before laying out your pattern and cutting a Lycra knit, check the fabric for defects and snags, so you can work around them. Crease marks where the fabric was folded on the bolt can be permanent, so you may have to refold the yardage for pattern layout. Consider simplifying your pattern to make sewing with Lycra-blend knits easier. For example, eliminate neck and armhole facings by binding the raw edges with self-fabric cut in the direction of the fabric's greatest stretch (you can use the bias-binder attachment to apply this). It's also best to mark the pattern's notches using 1/8-in. snips into the seam allowance because fabric markers can leave stains.
For sewing nylon-Lycra knits, use a 70/10 SUK ballpoint needle; for all other Lycra-blend knits, a 75/11 HS stretch needle is appropriate. Areas of stress, like crotch and underarm seams, need a 2.5mm triple stitch; other seams, such as those at the side, inner leg, and casings, take a narrow, .05mm- to 1.5mm-long zigzag. Test seams after sewing by stretching as much as possible. If stitches break, loosen the top thread tension, and test again until there's no breakage.
For seam-edge finishes, serge together with a three- or four-thread overlock stitch, using woolly nylon in both loopers. Don't use a five-thread overlock stitch because it has no elasticity. Topstitching on Lycra knits is done with a ZWI HS stretch twin-needle, using woolly nylon hand-wrapped onto the bobbin and in the loopers. Using the stretch twin needle (identified by its blue band) is important, or skipped stitches will result. To flatten out the ridge that sometimes appears between rows of topstitching, loosen the top thread tension.
Options for hems include the cover hem on the serger, which produces two stitch lines on top and a serged stitch on the underside, or a flat-lock stitch, which looks like a three-thread serged stitch on top and a ladder stitch on the back.
As with many knits, Lycra-blend knits rarely support buttonholes well, but if you dare to try, test first, being sure to cord the buttonholes to prevent their stretching out of shape from use.
Sewing Lycra-blend wovens
Woven Lycra blends can be used with any pattern where a woven is recommended or where Lycra's slight stretch would add to the garment's comfort and resistance to wrinklings, such as tailored pants, straight skirts, or fitted jackets. They can also be used for pull-on pants and straight or tube skirts if the garment is not fitted too snugly–these fabrics typically have 10% or less stretch. It's often best to treat your pattern as though it's to be cut from fabric with no stretch at all; then reduce the ease during fitting to get the look you want.
The one caveat when choosing patterns for your Lycra-blend woven is that the inherent springiness of Lycra means the edges of welts, facings, collars, and other tailored trademarks don't flatten under steam and pressure as all-natural fibers do. So choose or adapt your pattern to avoid these areas accordingly, either flattening edges with topstitching (a great decorative touch for sporty Lycra-blends) or eliminating these details from your design.
Where interfacing is needed, as, in collars, plackets, pockets, and waistbands, a fusible such as Fusi-Knit (by HTC) works well. You'll also want to interface behind all closures with strips cut in the fusible's nonstretch direction; for zippers, fuse 1/2-in. interfacing strips in the seam allowance.
An 80/12 H needle is suitable for most blends except silk, which calls for a finer 70/10 H needle, and denim, which needs a heavier, sharp 90/14 HJ needle. Give seams elasticity by sewing with a narrow zigzag .05mm to 1.5mm long. Stabilize neck and shoulder seams with twill tape or narrow selvage. Finish seams with a three- or four-thread overlock with woolly nylon in both loopers. Then press to one side, and topstitch 1/4 in. from the finished edge. Or serge the seam allowances separately with a two- or three-thread overlock stitch, sew a plain seam, and press open (see Glossary of finishes). All pressing can be done with a steam iron on the medium setting, using the standard precautions for the fibers blended with Lycra, namely a press cloth.
Glossary of finishes for Lycra-blends

Seams for knits and wovens: Hems for knits: Hems for wovens: Triple-stitched seam, Cover-hem stitch, Topstitched hem. Use a triple stitch to reinforce seams in stress areas like the crotch.  Use cover-hem serger stitch to produce topstitched look on the garment's RS. Finish raw edge, press hemline, and topstitch hem with a twin needle for a ready-to-wear look. Three-thread overlock, Four-thread overlock, Flatlock-hem stitch Hand-stitched hem. For knits, serge seams together; for wovens, serge seam allowances separately. Then press to one side and topstitch in place. Use serger flatlock-hem stitch to produce the look of a three-thread overlock on the garment's RS and ladder stitch on the back. If hand-stitching hem, stretch thread every fourth stitch, and knot to give a slight stretch to hem.
Zippers: Buttonholes for knits:
Use strips of fusible interfacing in seam allowances to stabilize fabric for zipper insertion. Work stitches by hand or machine over a heavy-duty thread or buttonhole twist.
Whatever you might use for closure in a woven Lycra blend's all-natural counterpart is fine: buttonholes, loops, snaps, and zippers all work well. Lycra-blended wovens can be hemmed by topstitching with a twin needle after finishing the raw edge or by hand-stitching, stretching the thread every fourth stitch and knotting to give a slight stretch to the hem. There's no reason to pass up a beautiful fabric just because the label says "Lycra." In fact, with all the advantages a touch of Lycra brings, you just might want to seek them out.
Sources for Lycra blends
Banksville Designer Fabrics
115 New Canaan Ave.
Norwalk, CT 06850
203-846-1333
Haberman Fabrics
117 W. Fourth St.
Royal Oak, MI 48067
248-541-0010
www.habermanfabrics.com
Josephine's Dry Goods
921 S.W. Morrison
Portland, OR 97205
503-224-4202
Stonemountain & Daughter Fabrics
2518 Shattuck Ave.
Berkeley, CA 94704
510-845-6106
www.stonemountainfabric.com
Tex-Styles
111 Trafalgar Road S.
Oakville, ON L6J 3G3
Canada
905-845-7441
800-771-7599
www.tex-styles.com
Sandra Betzina, host of HGTV's Sew Perfect, is the author of Fast Fit, Fabric Savvy, and , and Power Sewing Step-by-Step. She is also the creator of Vogue's Today's Fit patterns. For a free brochure, call 415-386-0440, or visit her Web site (www.sandrabetzina.com).
from Threads #86, pp. 46-49
Photo: Sloan Howard; drawings: Christine Erickson
---
More on fabric:

• Guide to Fibers
• Know Your Knits
• Video: How to Identify Fabrics with a Burn Test
• 19 Essential Fabric Tips & Tricks You Should Know