Three Capsule Wardrobes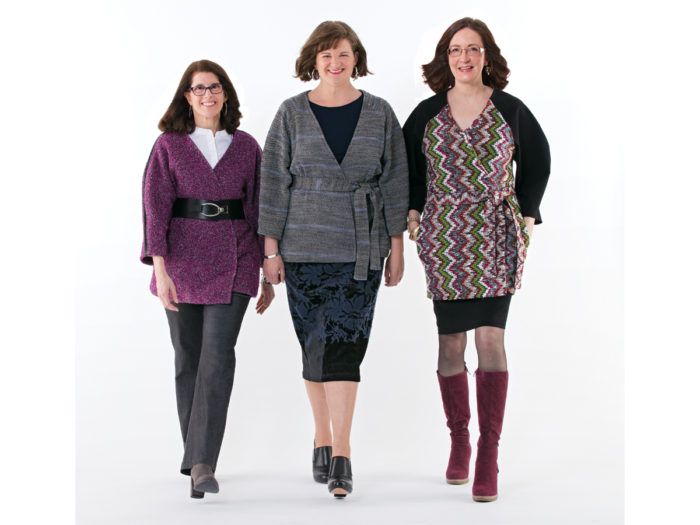 The challenge: to use one ensemble pattern and create separates that reflect personal style and yield many outfit combinations. The result: three capsule wardrobes sewn by Threads staff based on Simplicity Threads 8748. Each versatile wardrobe suits the woman who sewed it, and each has separates that mix easily.
Threads Senior Technical Editor Carol J. Fresia, Editorial Assistant and accomplished weaver Katie Strano, and Editor Sarah McFarland applied wardrobe preferences to their fabric selections, then chose techniques and modifications based on experience, appropriateness to the knit or woven fabrics, and individual style. They came up with 21 outfit variations.
---
Observe the differences three people make when they build personalized ensembles from the same pattern. No two sewing enthusiasts create the same garment designs, and fascinating details are found in the variations.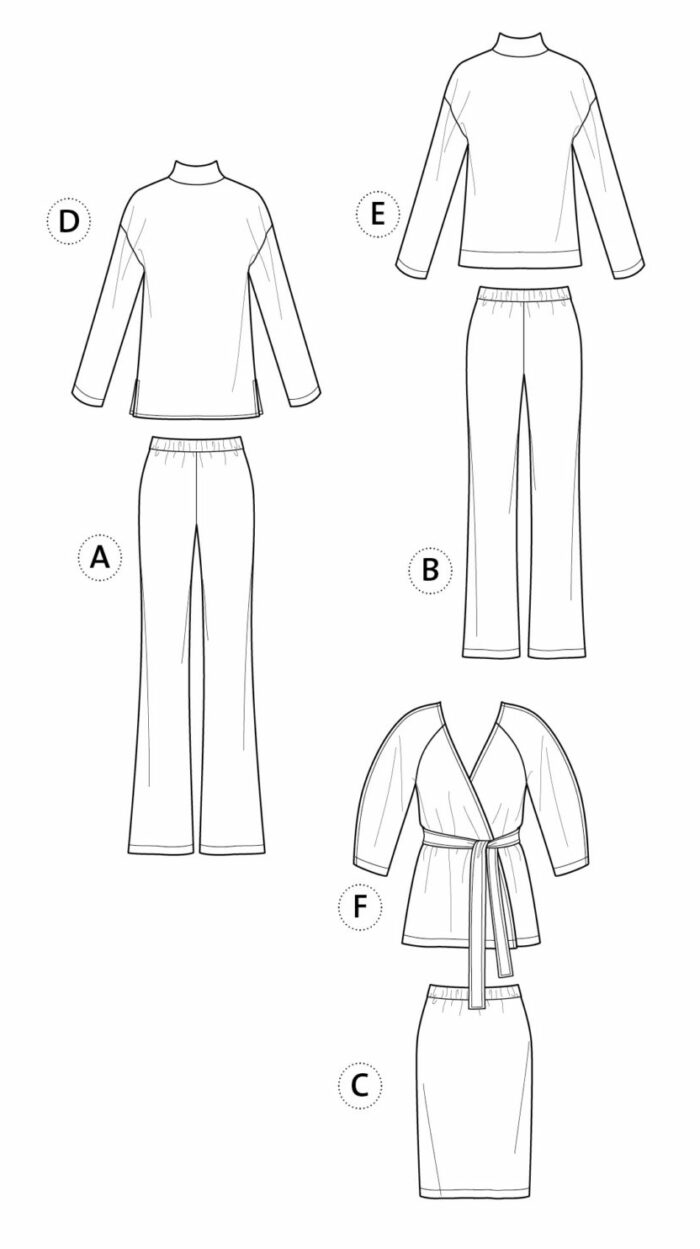 Threads editors come across great techniques, interesting new patterns, and exciting fabrics every day. To combine expertise with inspiration, we brainstormed three capsule wardrobes from Simplicity's ensemble pattern, Threads 8748, a collection of coordinates for knit fabrics with a pencil skirt, pull-on pants, mock-turtleneck top, and wrap jacket with shaped raglan sleeves. We paired knits with stretch wovens and found wonderful choices for their comfort and versatility. Many of these fabrics are easy-care and simple to sew, although, as you will see, you can expect even better results when you refine your techniques.
Making garments that intentionally mix and match is a great way to start building an integral wardrobe and fashioning amazing travel clothes.
Threads Senior Technical Editor Carol J. Fresia, Editorial Assistant and accomplished weaver Katie Strano, and I applied wardrobe preferences to the fabric selections, then chose techniques and modifications based on experience, appropriateness to the fabrics, and individual style.
Have fun with us and sew your own capsule wardrobe. We'd like to see what you made and hear what you learned. Post your creations in our online gallery at ThreadsMagazine.com.
Shine in textured metallics
| | |
| --- | --- |
| Carol is 5 feet, 6 inches tall. Her upper body is pattern size 10 and lower body is pattern size 12. All fabrics: EmmaOneSock.com. Separating zipper with herringbone tape: PacificTrimming.com. | On the striped fabric side, the skirt seams look sporty. On the dotted side, they are nearly invisible. |
I opted for a multitextured assortment of fabrics in black, silver, and gray, all of which coordinate with the centerpiece of the capsule, the jacket's lofty magenta bouclé. My adjustments to the garments' construction enabled me to take full advantage of each textile's characteristics. —Carol
Fabrications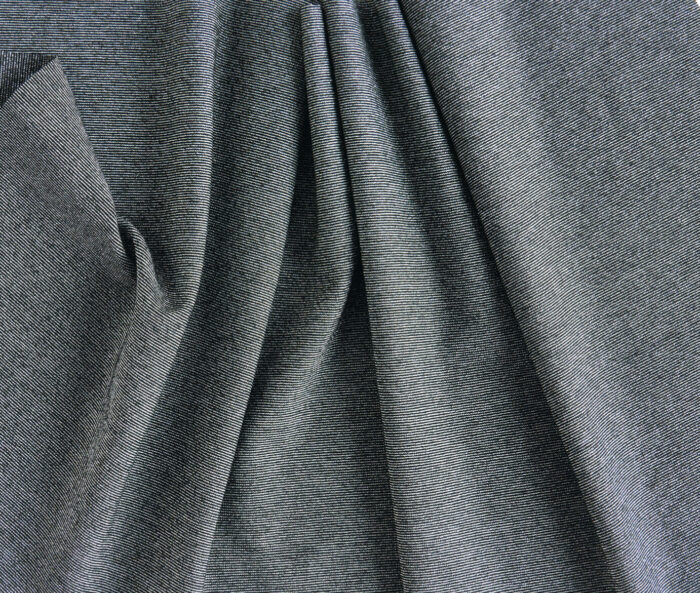 Silver metallic jersey
Boxy silhouettes easily overwhelm me, so I wanted a drapey fabric for the turtleneck top. This black and silver metallic is lightweight and fluid, with lots of stretch in both directions.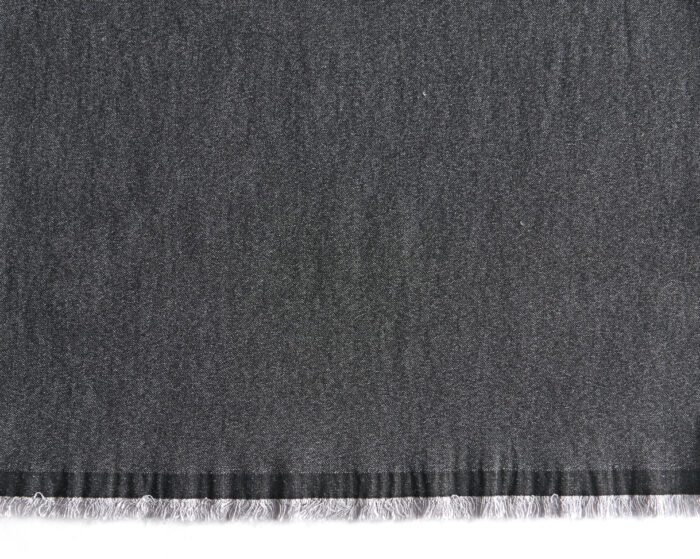 Gray stretch denim
Although the pattern calls for knits with 25-percent stretch across the grain, I wanted a crisp woven for the pants. I chose woven denim with 50-percent stretch on the lengthwise grain, and cut the pants on the cross-grain so the stretch travels around the body. Because the denim is stretchier than the prescribed knits, I took in the side seams by 1⁄2 inch, for a total reduction of 2 inches in circumference at the waist and hip.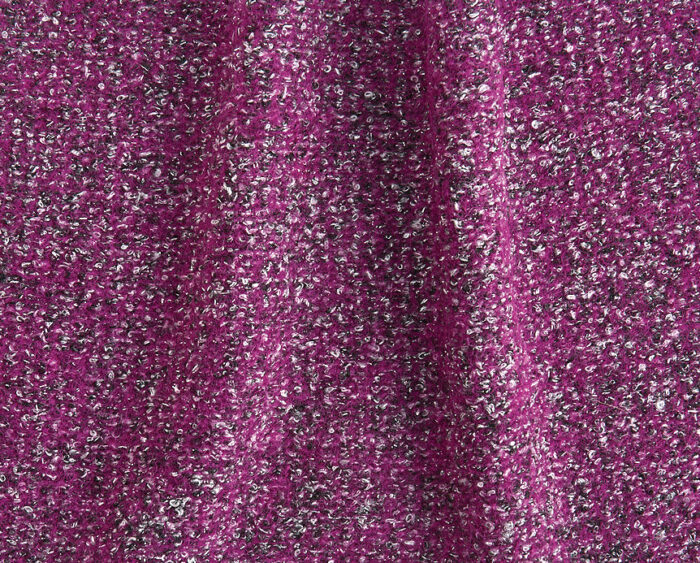 Magenta/metallic knit bouclé
This wool/polyester blend fabric was my starting point for the entire ensemble. I couldn't resist the rich color, silver accent yarn, and thick, cozy hand. It offers the look of a classic tweed but with 20-percent widthwise stretch and a lovely drape.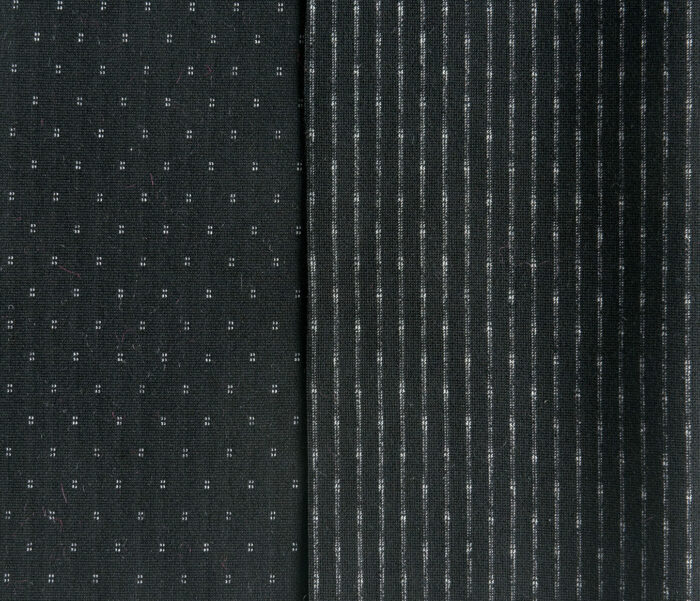 Black patterned reversible ponte knit
For a pencil skirt, I love stretch, so I selected a rayon/nylon/polyester/spandex ponte knit with 40-percent stretch lengthwise and widthwise. It has dots on one side and stripes on the other. I made the skirt reversible so I could enjoy both faces.
Techniques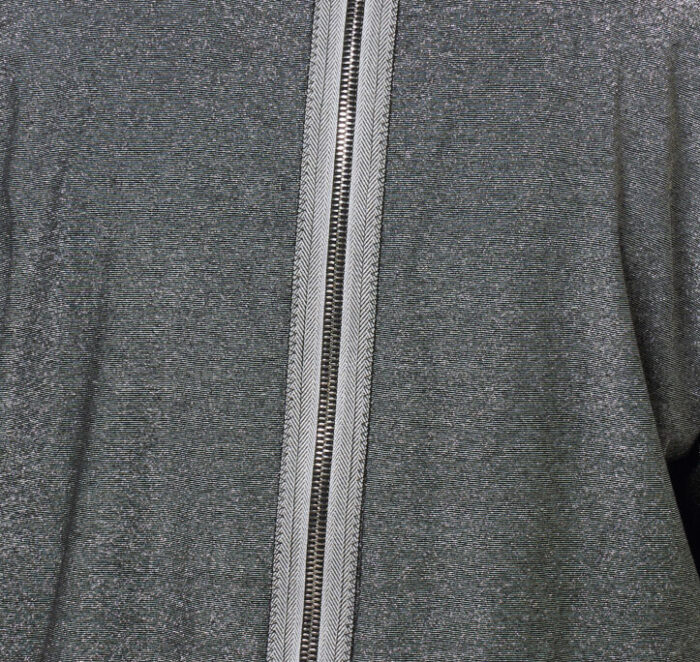 Exposed, separating zipper
Play up the back-neck zipper detail by extending it to the full length of the top and adding a decorative separating zipper in an exposed application. First, I cropped the top to fall just above waist level, and measured the center-back seam from the turtleneck's upper edge to the hem. I interfaced the wrong side of the center-back seam allowances for stability, pressed the allowances to the right side, and topstitched the zipper in place over them. A row of zigzag stitches secures the zipper tape edges.
Reversible skirt
My skirt fabric called out to be used in a reversible garment. Inspired by Becky Fulgoni's "Single-Layer & Reversible," p. 58, I constructed the skirt with seams that look good on both sides. The seam allowances are finished with contrast serging, and then topstitched flat with black zigzag stitches. The hem and waistband are finished similarly.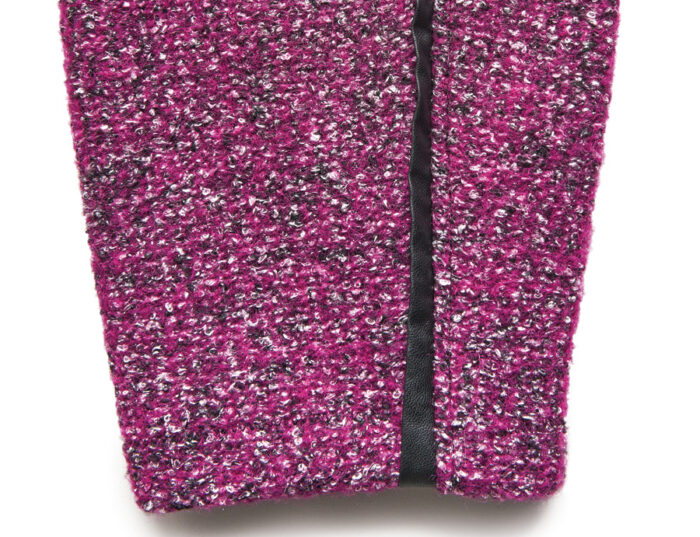 Piped sleeves
The Simplicity jacket is designed for fabrics with body, so the sleeves can maintain a modern, sculptural shape. To emphasize the silhouette, I added black, faux-leather flat piping in the overarm seams.
Boost a limited palette with prints
| | |
| --- | --- |
| Katie is 5 feet, 8 inches tall. She worked with pattern size 16, and lengthened the View C pencil skirt to midi length. Fabrics: ponte knit, denim (in-store only), and bonded wool: Mood Designer Fabrics, New York; cotton twill, woven by Katie Strano. | Extended side vents make it easier to access the added pants pockets. |
Pieces I choose to add to my wardrobe need to coordinate easily and transition from the office to kindergarten pickup. For this mini wardrobe, I decided to work with my core neutrals: black, blue, and white, and to sneak in a few prints. I made alterations to each piece to ensure the most use and wear from every garment. —Katie
Fabrications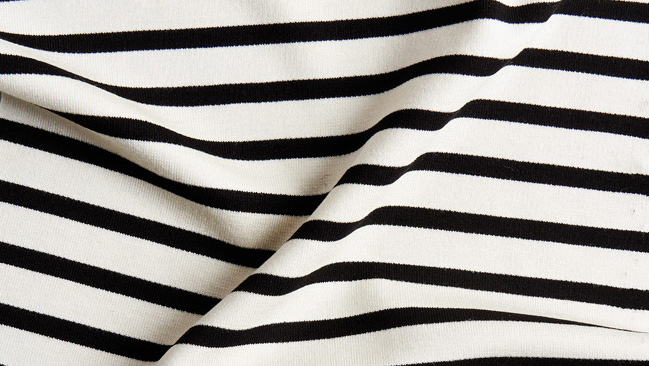 Ecru and black ponte knit
There is something about a black-and-white stripe that keeps me coming back. This top is a simple shape, so I wanted to use a classic fabric to make a timeless-looking wardrobe staple.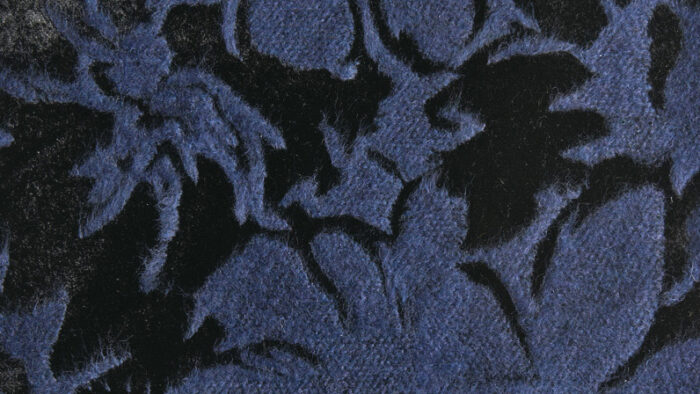 Navy and black bonded velour/knit
This floral-motif fabric looks elegant, yet it is warm and comfortable to wear; it's perfect for cold New England winters. I wanted the skirt to be a piece that I could dress up or down, and this knit wool paired with luxurious velour fit the bill.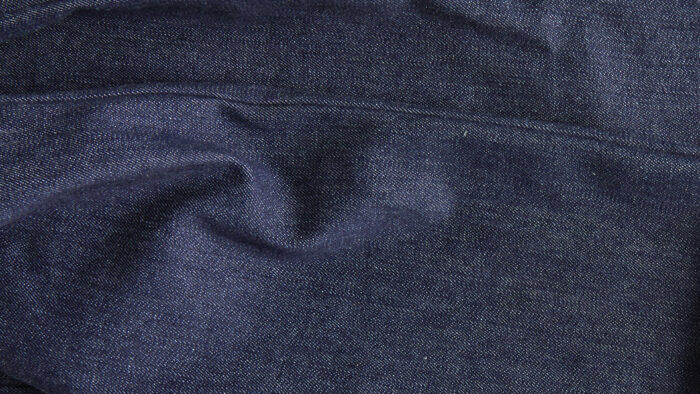 Dark blue stretch denim
The pattern calls for 25-percent stretch knits, but my choice of woven cotton/Lycra stretch denim fabric does not meet that criterion. On grain it has about 10-percent stretch, and on the cross-grain it has 20-percent stretch. I made a quick muslin with similar fabric to check whether I needed to add a zipper. There is only about a 1 inch difference between my hips and low waist, so I was able to get by without adding a zipper.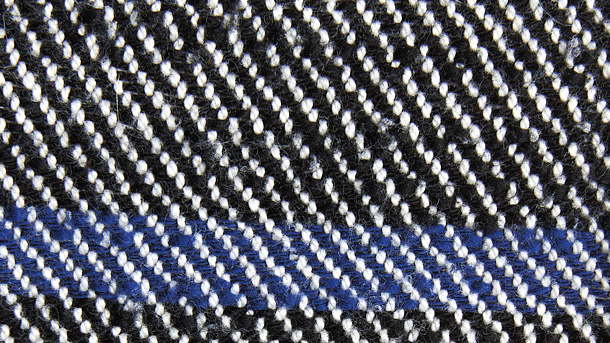 Handwoven cotton twill
For the jacket, I wanted to subtly mimic and play with the idea of denim. Classic denim is woven in a 2/1 twill with indigo yarn in the warp and natural white yarn in the weft. I flipped my yarns around and wove a warp of natural cotton with a weft of black and dark blue cotton slub yarns. The cloth is woven in a 1/3 twill, making the weft yarn the dominant color. This fabric only stretches on the bias. However, it worked with the lofty, structural cut of the jacket.
Techniques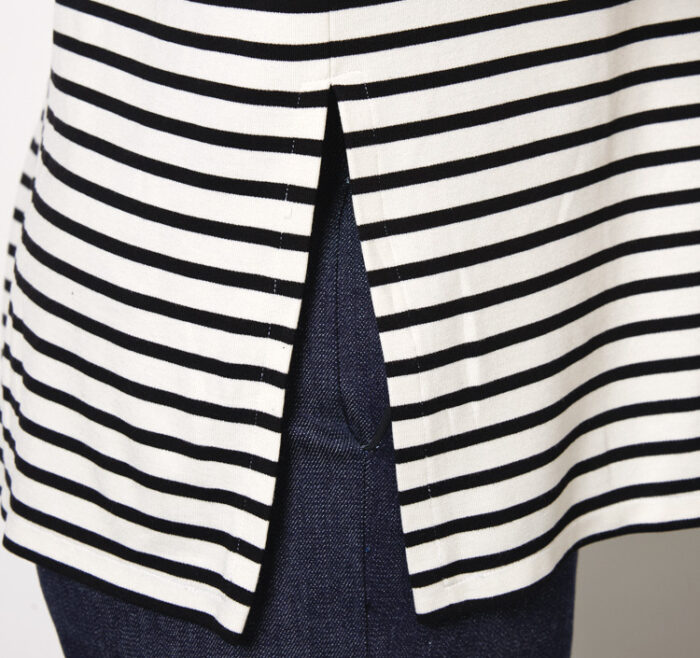 Top adjustments
I adjusted the top to suit my body and my choice of bold striped fabric. Because I am prone to pulling at mid to high turtlenecks, I reduced the turtleneck's height by 3⁄4 inch. To do this, I took 1-1⁄2 inches off the collar pattern's width. This shorter collar allowed me to eliminate the back-neck zipper. I made View D and lengthened the slide slits. My hips are about 5-1⁄2 inches wider than my chest so higher vents keep shirts with straight cuts from stretching across my tummy. I also made the sleeves three-quarter length to reduce the garment's visual width at hip level.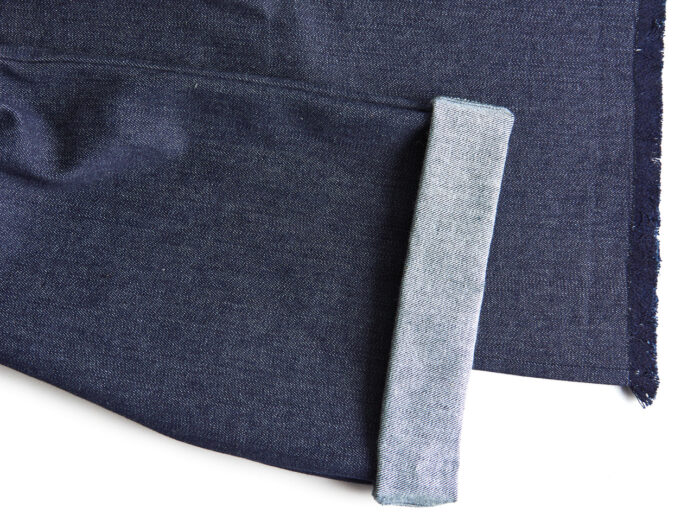 In-seam pockets
I love pockets and add them to pants, dresses, and skirts just about every chance I get. For these pants, I used Kathleen Cheetham's method of adding in-seam pockets from "The Low Profile Pocket," Threads #195 (Feb./March 2018). The top of the pocket pouch is sewn into the waistline to prevent the pocket from gaping. This technique was essential to a successful
in-seam pocket with the stretch denim.
The pants were cut 2 inches shorter than View A. I like to cuff my pants, and this length was perfect for a double-rolled cropped look. I chose to keep the edges raw but didn't want the pants to look messy. My solution was to put in a row of stitching 1⁄2 inch from the cut edge of each leg and then remove the weft yarn, row by row, up to the stitches.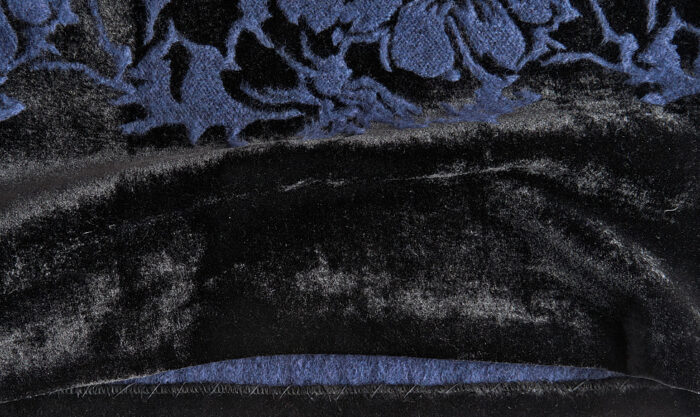 Catchstitched hem
The skirt hem was cut on the fabric's selvage to create a bold velvet border. I did not want a seamline showing on the velvet, so, after serging the cut edge, I used Kenneth D. King's quick method of hand-sewing a catchstitch, explained in "You Say Underlining, I Say Interlining," Threads #135 (Feb./March 2008). Each stitch takes a prick on the hem allowance and on the surface fabric to create a flat join that is invisible from the right side.
Build basics around a wild card
The centerpiece of my capsule wardrobe is a wool-blend flame-stitch knit. Its colors inspired the fabric choices for the rest of the pieces. Mix-and-match knit separates are a welcome addition to a winter wardrobe for the office, and the pencil skirt is my favorite skirt silhouette. Aside from a ponte, I worked with uncommon knits that were new sewing experiences for me. I made sure to plan and test needles and stitching techniques on swatches first. —Sarah
Fabrications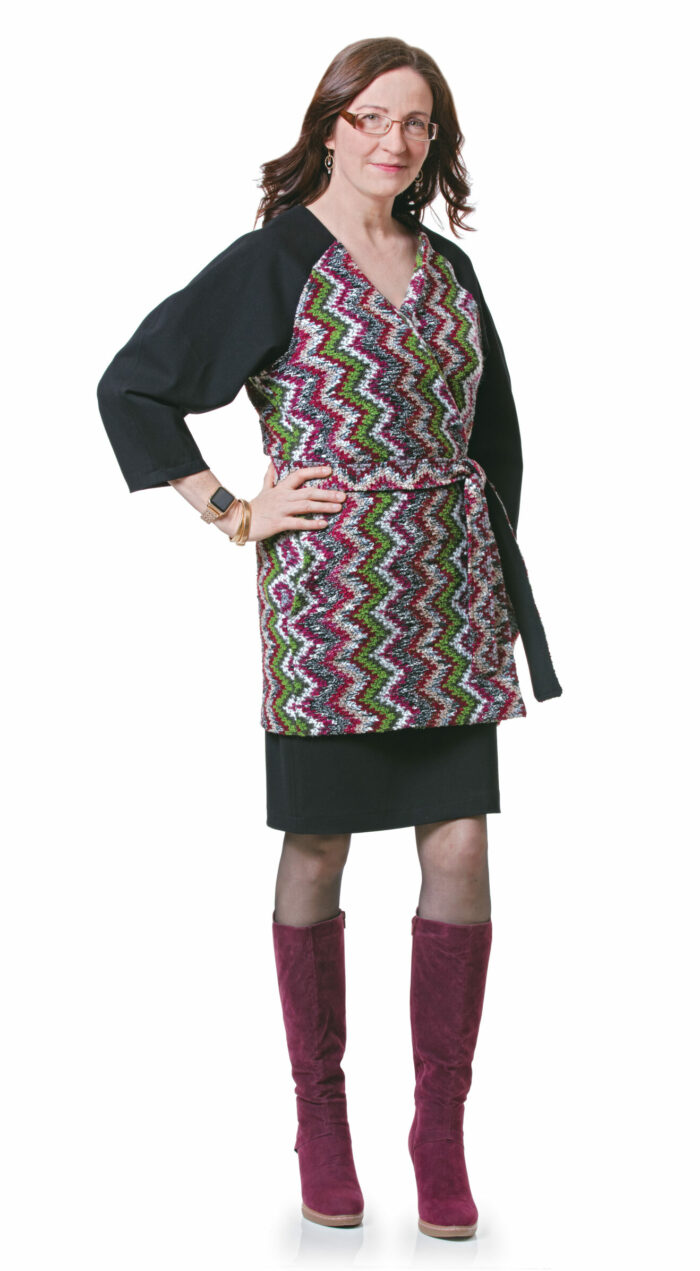 Wool-blend chevron knit
The strikingly colorful zigzag knit incorporates textured yarns held in place by black chain stitches. The chain stitches, clearly visible on the wrong side, run parallel to the selvage. Sold as a flame-stitch knit, this fabric has stretch on the lengthwise and crosswise grain; however, it ravels if you so much as look at it. Cut edges require serging or alternative finishing to stay stable.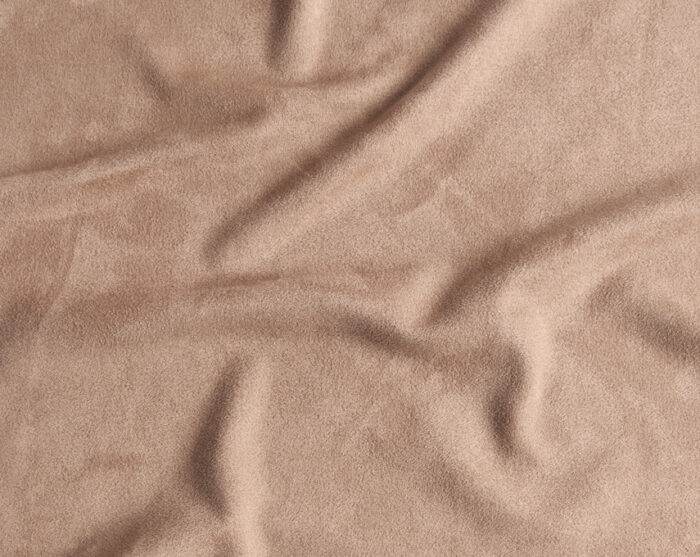 Taupe stretch faux suede
This polyester and spandex blend knit has a heavy drape and rich texture. It also has plentiful stretch, and both faces have a brushed, suede-like texture. Of course, it required a with-nap layout. Although the fabric did not stick to the presser foot or throat plate, it did "grip" the plastic sewing machine bed.
Black ponte knit
A straightforward cotton/polyester/spandex ponte knit with 40-percent stretch lengthwise and widthwise worked for the jacket sleeves, appliquéd top, and a pencil skirt. The ponte has wonderful body to hold the curved jacket sleeve shape. This dense knit required a stretch needle to avoid skipped stitches.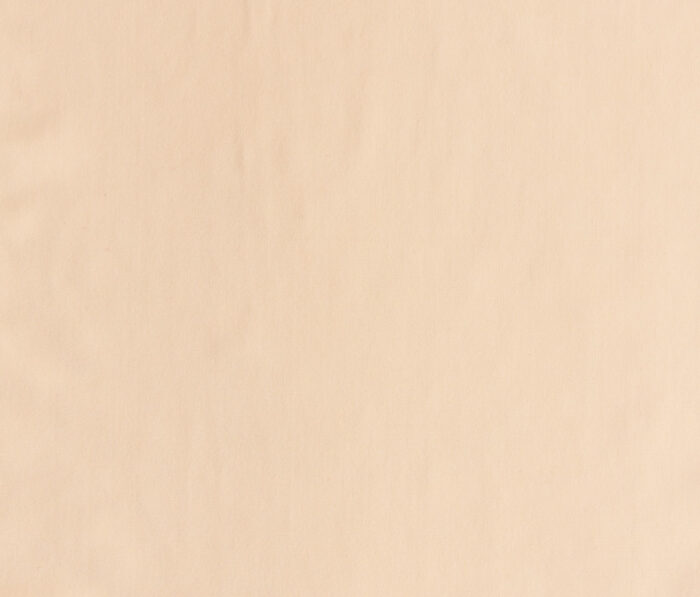 Nude swimsuit lining
To keep the double-faced stretch suede pencil skirt hanging smoothly over winter tights, add a stretch lining. Swimsuit lining fabric was the choice. It is inexpensive, easy to care for, and has two-way stretch.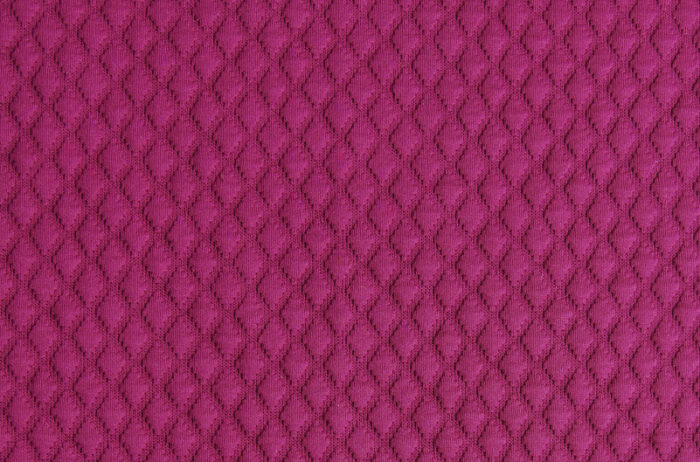 Raspberry double knit
Chosen to match the zigzag knit, this double knit has a texture and look like diamond matelassé. It was easy to cut and sew, as it did not ravel, and it pressed neatly on the iron's setting for synthetics.
Techniques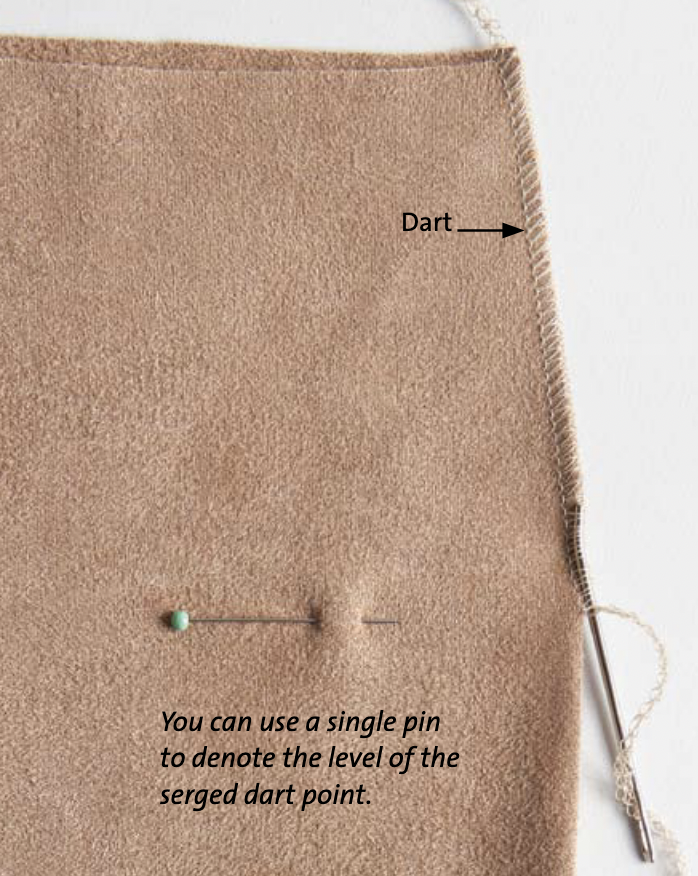 Serged darts
To reduce bulk in the stretch suede skirt, serge the darts. I was inspired by Pamela Leggett's "Serger Darts for Knits," a post on ThreadsMagazine.com. I used a narrow three-thread overlock stitch to serge from the waistline to the dart point. To finish the darts, tunnel the thread ends from the dart point into the serger stitches with a darning needle.
Stretch skirt lining
Cut the skirt front and back from swimsuit lining fabric, with a few adjustments. I narrowed the front and back lining pieces 1⁄2 inch by moving the cut-on-fold pattern edge 1⁄4 inch outside the folded fabric edge. I also shortened the skirt lining by 1-1⁄4 inches. This was to ensure the lining would not extend beyond the skirt hem.
After sewing the lining's side seams, sew the lining hem, with a 1-1⁄4-inch hem allowance and a zigzag or stretch stitch. Next, with wrong sides together, incorporate the lining into the seam between the skirt and waistband. The lining, cut slightly smaller, does a nice job of smoothing around the body.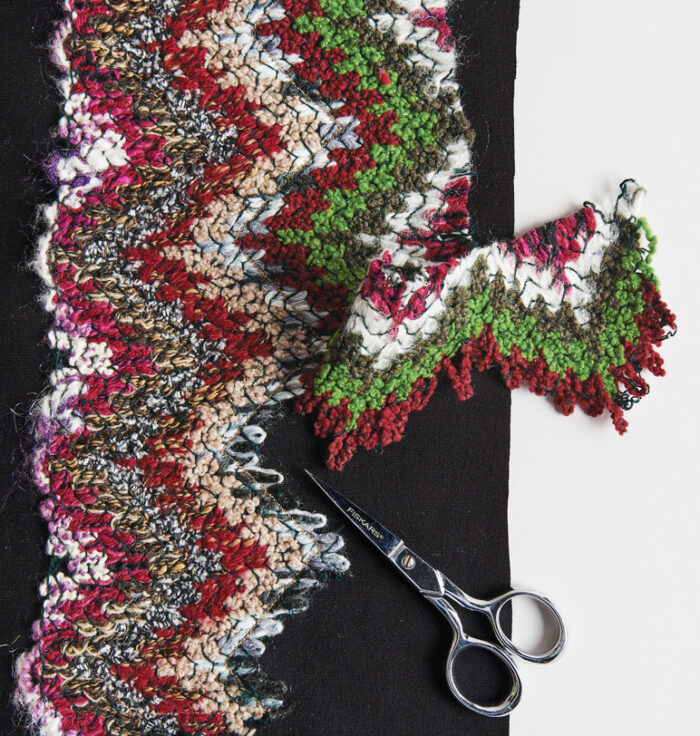 Knit appliqué
To add some pizzazz to my black ponte knit top, I appliquéd a length of the zigzag knit onto it before construction. First, rough-cut the knit, around the colors to highlight (taupe and raspberry). I used a narrow zigzag stitch and black thread to appliqué the chevron stripe to the ponte. Trim the excess zigzag knit yarns. I'll use this easy treatment again to connect knit coordinates.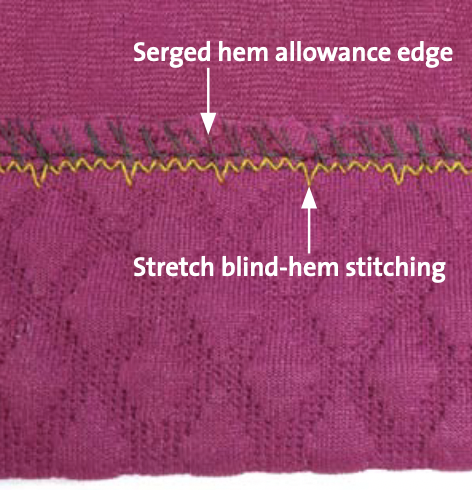 Stretch blind hem
It seemed a shame to mar the textured raspberry double knit with a topstitched hem. I adapted the pattern instructions slightly to sew a stretch blind hem by machine instead. The stretch version of the machine blind-hem stitch has narrow zigzag stitches instead of straight stitches. The results are secure, flexible and stretchy, and undetectable on the garment's right side. Mission accomplished.
Sarah McFarland is Threads' editor.
From Threads #199, Oct./Nov. 2018. Due to a production error some text was missing from the printed article. This PDF version restores the missing text to bring you the entire story.
---
See the full article by clicking "View PDF" below.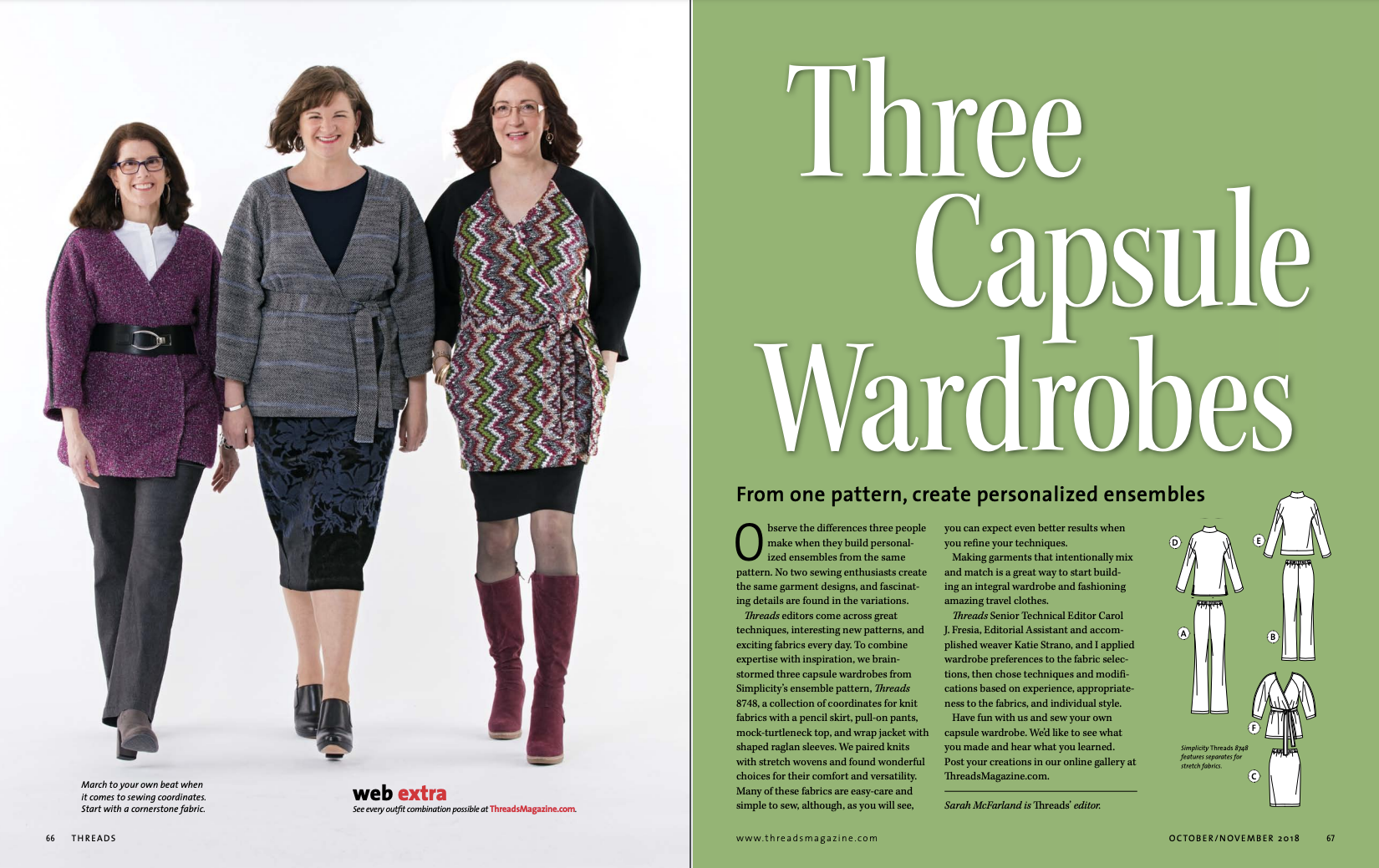 View PDF