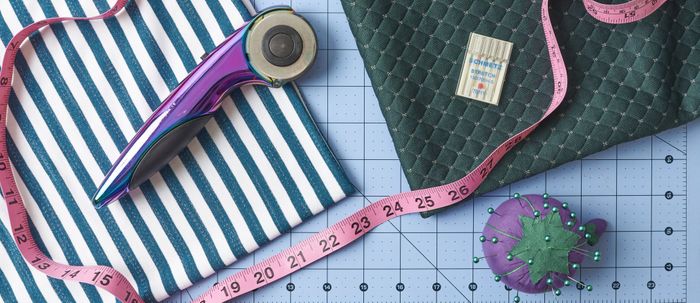 Threads Project Guides
Sewing With Knits
Create your own comfortable, stylish clothing in stretchy fabrics.
Don't you just love wearing knit garments? They're usually easy to care for, versatile, and so comfortable. Knit fabrics feature properties that truly make them wonderful to wear. In this project guide, you'll find out how to make appealing knit clothes with professional-looking finishes. Learn how to choose the correct knit fabrics for casual or dressy projects including activewear, tops, pants, skirts, dresses, and jackets. Then discover recommended notions and how to apply tested methods for fantastic results.
Get to Know Knit Fabrics

The range of knit fabrics available for home sewing is huge, from plain cotton jersey to luxe cashmere knits to spandex-blend textiles for activewear. Each fabric has distinct properties, based on the fiber or fibers it is made of and its knit structure. Learn how to identify different types of knits, and to match a textile to the pattern you plan to use, so your finished garment performs exactly as you want.

Construction Tips for Knits

Sewing knits is easy! Many of the construction methods you'll use are the same as for basic woven fabrics. For the most professional-looking results, though, you'll want to learn a few special techniques. Discover which seams to use, whether you're stitching with a regular sewing machine or a serger. Learn the best approaches to crafting stretchy, body-hugging necklines, from round or scoop styles to classic V-necks. Finally, find out how to make the finishing touches, such as closures--including zippers. 

Designing with Knits

Knits aren't just for T-shirts! Once you know the best sewing techniques for these comfy and forgiving fabrics, you can make just about anything. This chapter shares methods for designing patterns specifically for knit fabrics. You'll also discover creative ways to work with contemporary knit fabrics such as scuba, and learn to make a classic blazer-style jacket with stretch-knit comfort. Finally, discover some knit-friendly embellishment techniques that will take your self-sewn garments to the next level. 

Knit Projects

Sew fun, stylish knit garments based on our designer-inspired projects for sewists of any skill level. Many include original pattern templates and step-by-step tutorials. You can also check out our Pattern Reviews. Real sewing experts evaluate and troubleshoot independent and mainstream patterns to help you make informed choices about what to sew next. You're going to adore researching, sewing, and wearing your new knit wardrobe.