Textured Linen Vest and Pants

General description:
This is my new favorite summer outfit! The vest was made using Vogue pattern V8430, the pants are Vogue pattern V8499, view C.
The Vest
The inspiration for the vest was the September Threads' article – "Sew a Unique Textured Vest." Instead of sewing open seams on the outside of the vest, I opted for lapped seams with a ¼" overhang, 3/8" under, and a contrast bias-cut of 100% sheer viscose. The viscose does double-duty as an interior seam finish and as an exterior decorative contrast on the vest segments. To do all that, the viscose was cut 2″ wide.
Decorative and edge stitching on the vest was done in red, copper, and gold Sulky rayon thread. I used the viscose for a Hong Kong finish on the collar part of the vest shoulder seams. I used the black linen for contrast on the right collar.
The Pants
I will be wearing the pants with many other tops so I opted for a more finished look – seams and edges. Inside the pants, graded seams were pinked, non-graded seams were zig-zagged (this linen is very prone to raveling great distances), the back waistline and hems have Hong Kong edge finishes.
Decorative stitching in red, copper, and gold Sulky was done on the bottom right leg. Other more utilitarian top-stitching on the darts, leg seams, waistline was done using brown polyester thread for contrast.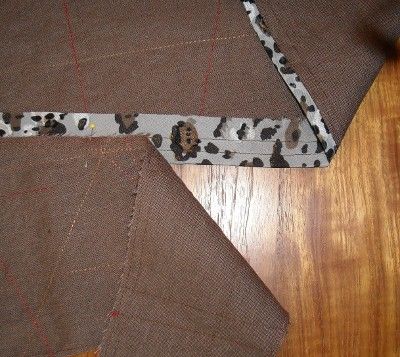 Decorative seam finish detail – in progress
The left side of the photo shows the lapped seam position. ¼" seam will be made between the red and copper edge-stitching.
The center shows the right-side of the fabric which will be lapped. The viscose is turned to the top, effectively finishing the inside of the seam in a Hong Kong finish. I left the viscose with a raw edge finish to echo the raw edge of the linen.
The line of stitching closest to the edge in the center is the "stitch-iin-the-ditch" stitching from the Hong Kong finish. The line of stitching above that is a long running stitch used as a guide for placement of the upper part of the lapped seam.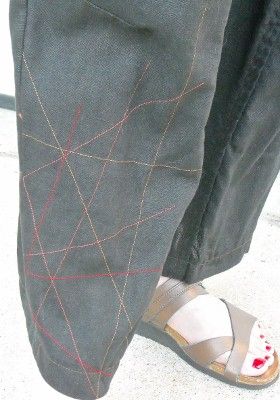 Decorative stitching, right leg.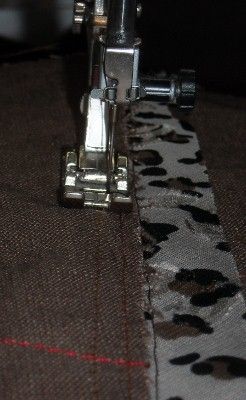 Sewing the Lapped Seam
My sewing foot is lined up on the left-most decorative edge-stitching, the needle position was moved to be centered between the two decorative stitching lines. The edge of the foot, the edge of the lapped seam are lined up on the long-running stitch guideline. Once the seam is made, I remove the long-running guide stitching.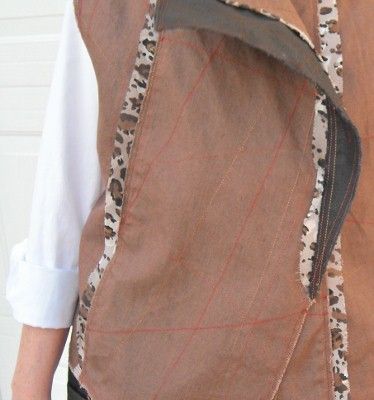 Decorative stitching on right front. When the collar flips open, the underside/inside sports a Hong Kong finish (seen at the very top of the photo). The inside of the vest is slightly more finished than the outside ...