Retro Wrap Dress in Green Plaid Silk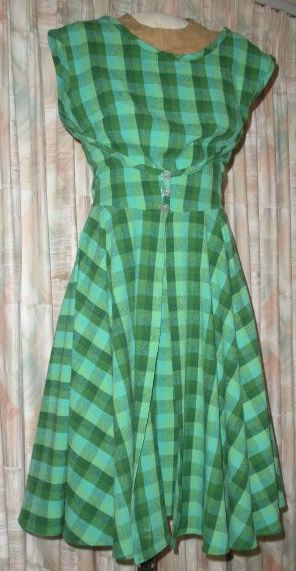 I chose this raw silk for my daughter Bethany, who has always loved green. The fabric cried out to be made into a retro fashion that would drape beautifully and show off its green plaid. I chose Butterick 4790, a retro 1952 pattern that the company reprinted. With just three pattern pieces, it shows off the plaid, with minimal matching hassles. Plus, I love swing of the full circle skirt.
Instead of packaged binding, I made self-bias from fabric remnants. Cutting the full skirt left more than enough fabric for this. The raw silk proved to be easy to handle as a binding, and it gave a dressier and more interesting edge than a solid binding. For wearing, the dress wraps from front to back and fastens with a button and loop in back. The back part wraps to the front and fastens with snaps at the midriff. Tiny butterfly buttons cover the front snaps–a trick the original pattern used for 1950s seamstresses who didn't have the luxury of today's machines and their built-in buttonholes.
I love working with different types of silk, but hadn't played around with a plaid like this before. It was a reasonably quick project, and my daughter got a great retro dress out of the deal.