Falling Leaves Patchwork Jacket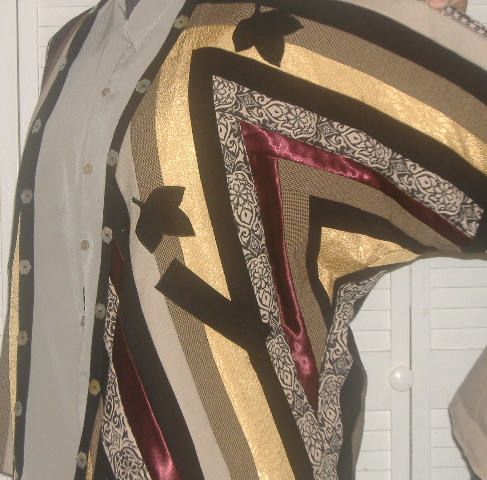 Please put my name in the hat for the rotary cutter giveaway. I'd love to win!
I loved the way these fabrics looked while they was in a pile on the floor. So I decided to make a jacket using the fabrics. I used the strip piecing method using 1 1/2 – 2 1/2 strips. But when I finished piecing the jacket it seemed that it wanted something more so I appliqued the falling leaves randomly on the jacket. It has two welted pockets on the outside and it also has an inside pocket. The soft fabrics makes the jacket easy to wear. I also sewed the strips to an underlining that is cotten flannel which gives it weight and makes it a great jacket for the cooler Fall weather. It is lined with black taffeta. I washed the taffeta which gave it a softer feel. The mother-of-pearl buttons around the front binding gave it that extra "it" I was looking for.