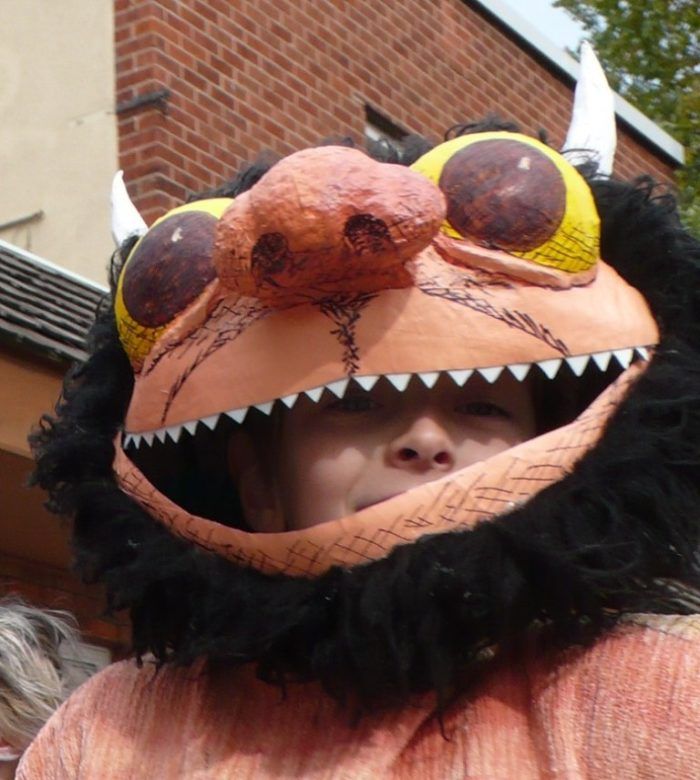 Two years ago my son wanted to be a Wild Thing, a particular Wild Thing, from his favourite book at the time, Where the Wild Things Are. He came to me, book in hand, a few weeks before Halloween and said, "Mom, I know what I want to be for Halloween!" He showed me the picture. My first reaction was that I was delighted he didn't want to be a Bionicle. My second reaction was that this could be fun.
I wanted to make the head out of papier mache, and because my son was early with this decision, I had time to do that. The head had to built up slowly and allowed to dry. Then it had to be removed from its form (a mixing bowl) and painted. It is "sewn" onto an old baseball cap using pipe cleaners. The fun fur hair covers all that.
I went shopping for appropriate, cheap fabric for the body and actually found it! The striped fabric wasn't exactly the right colour, but it was close. I used a thin wash of paint over the stripes to adjust the colours. The silver moiré fabric was the perfect base for the drawn on "scales". Paying careful attention to the reference picture in the book, I used blue sharpie to draw the scales onto the fabric and black sharpie to draw in the cross hatching all over.
For the feet, I made the pants long enough to be baggy and still cover a large pair of shoes (my old crocs) which are velcroed to the inside of the pant legs. Conveniently, and remarkably, my son's crocs fit perfectly and snuggly inside my crocs, so he could wear this big-footed costume very comfortably and run around safely. For the claws on the feet and on the hands I used craft foam. The teeth are also craft foam.
The whole thing is padded out with a pair of borrowed hockey shoulder pads onto which I sewed a pillow which I made from scraps of lining fabric and poly fill.
This costume got rave reviews from his classmates at school and from everyone who saw it while were out trick-or-treating. My son was so proud of it, and I was too. We were two years too early, though! Now with the movie out, everyone wants to be Wild Things.

My son in his school's Halloween parade, Oct 07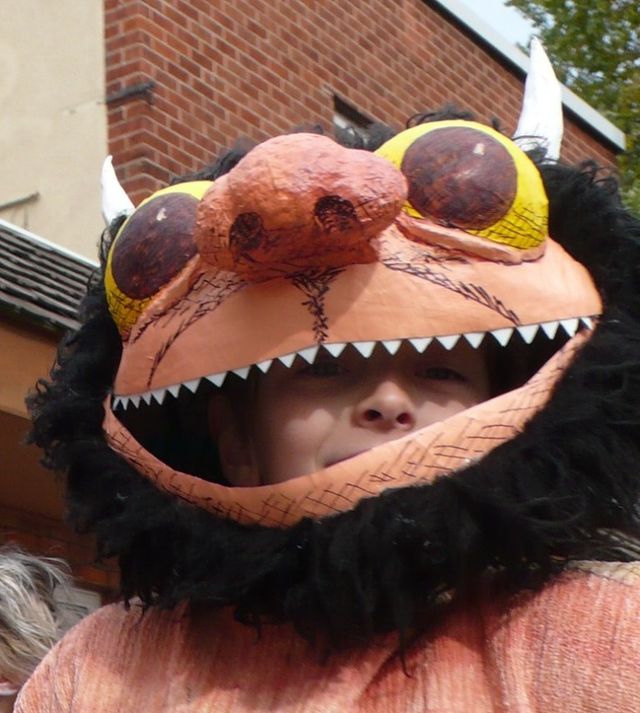 Close up of Wild Thing head.