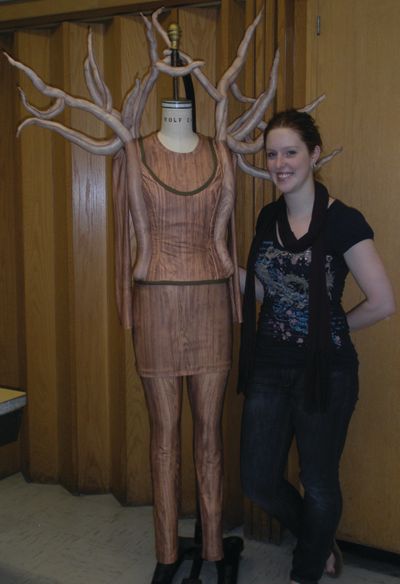 As I was walking around the House of Spandex, I spotted this woodgrain spandex fabric. At that moment I decided I was going to be a tree for Halloween. This was the MONDAY before halloween! The costume is composed of a pair of leggings, a dress with sleeves, and a corset. The branches appear a different color, but indeed are the same fabric as the rest of the costume, but the color lightens when stretched out. I made the branches first, by cutting long triangles of spandex and merrowing them close on the long side. I then cut 14 gauge wire the length of the branch, and twisted it to add strength. I bent the ends of the wire with pliers to prevent getting poked by sharp edges. I then stuffed these branches with fiberfill until they were extremely stiff. For adding the smaller branches, I cut a hole in the original brach and looped the wire from the smaller branch around the wire of the larger branch. The rest of the process remained the same except I hand stitched the fabric where the small branch meets the large branch. Wiring the branches proved significantly important as I wore this to work (I am a server) and had to bend the branches inward to prevent attacking my coworkers. The corset itself consists of many layers. It has a cotton lining, a heavy interfacing, a layer of cotil, and a top layer of the woodgrain spandex. I hand basted the layers together to be able to sew them all. I created channels along the seams and inserted spiral boning to help hold the weight of the branches. I created loops and attached them at the back for lack of time to get the corset grommeted. After the corset was finished, I added channels on the surface to slide the branches into. In 5 days, and many sleepless nights, this tree was born! I can't begin to tell you how many people stopped to take pictures with me and how much of a hit this costume was! I'm not sure how I will top this one next year!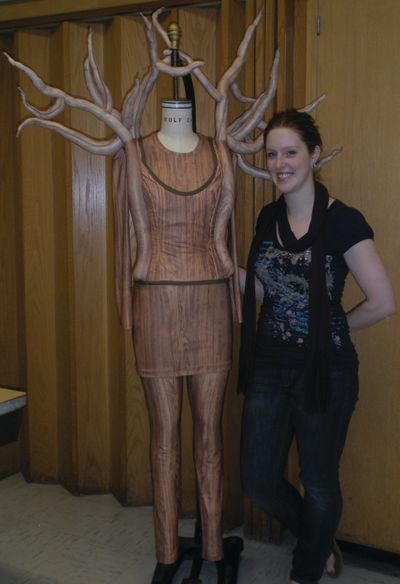 This is me standing next to my costume!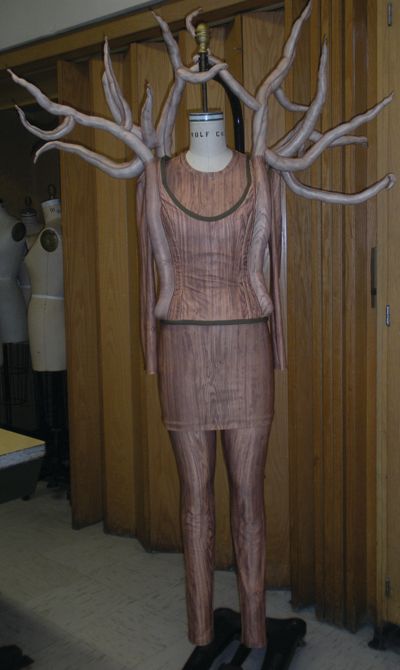 Front of the tree costume. It was EXTREMELY difficult not to poke those around me as the spread was nearly 5 feet!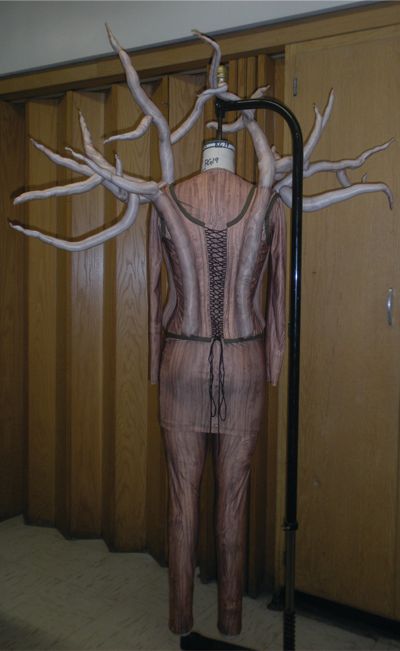 Back view showing corset opening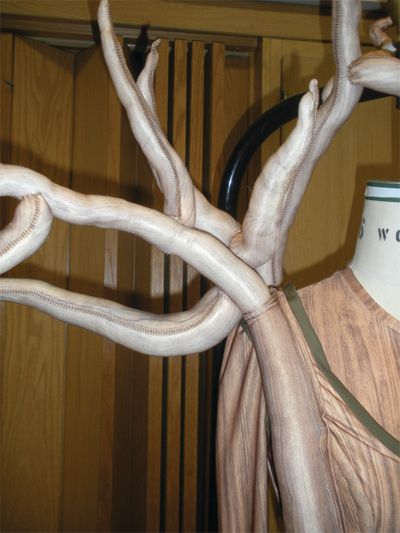 Detail shot of the branches. They took forever to make, but they turned out really realistic!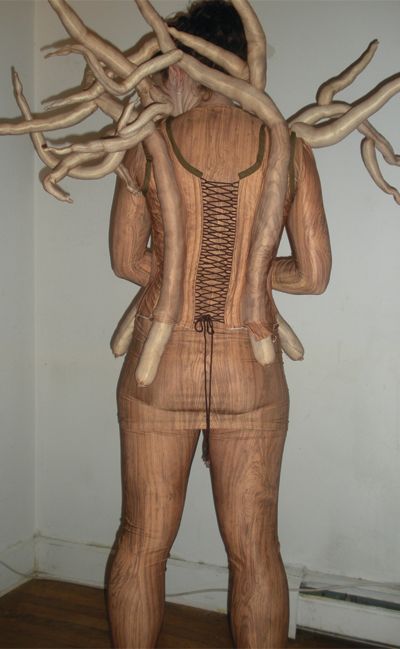 This is me actually wearing the costume on Halloween! I didn't quite finish the entire costume in time (the hem of the corset) but it still made quite a statement!!!