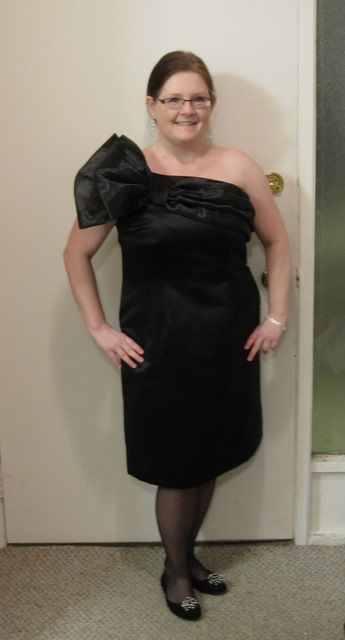 I made this dress using a vintage Pauline Trigere pattern. I love vintage patterns and needed something for a Christmas party; this pattern was perfect! I traced out the original pattern and then shortened, graded, and fit the dress to me.
The body of the dress is made out of polyester peau de soie, a lovely heavy-weight dull satin, and is fully lined with a lightweight polyester lining. The bow embellishment is made of polyester crystal organza with tulle interfacing. The tulle gives the crystal organza bow the extra shape it needs without adding bulk or weight.
Seams are closed with the sewing machine and non-graded fabric edges are serged to prevent raveling. The bow is hand-sewn onto the dress and tacked down at various points so that it keeps its shape.