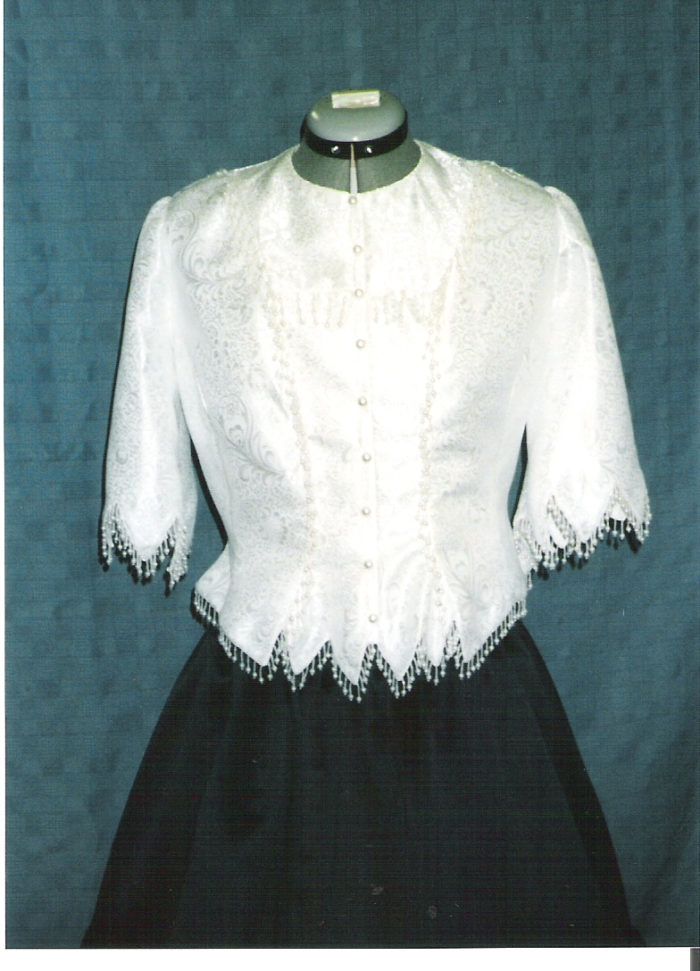 Unfortunately, my pictures hardly do this beautiful dress any justice. This is a dress (top/skirt combo) that I wore for my best friend's wedding in August. The top is a white satin brocade with pearl-beaded fringe. It is very fitted–I discovered that playing the violin wasn't as easy as I thought in this dress! The bodice alone contains 10 peices of fabric. I have a very small waist and this was the perfect pattern to show off my slender figure. 🙂 If you want fitted tops, always look for patterns with Princess seams.
This is the first time I have ever used beaded fringe, but it makes a world of difference and adds such elegance to any article of clothing. The top is lined and is supposed to have the fringe inside the lining to give it a nice finished look. I chose to sew it on the outside of the inside and it looks just as nice–I figured no body should be looking at that part of the blouse, at least not while it was on me. ! 🙂 It saved a lot of extra time.
The skirt is a beautiful midnight blue bridal satin. It is actually the bottom of a dress. I simply took the skirt part at the top and made an elastic waistband. Since the blouse is supposed to be on the outside, you cannot tell that there is elastic hidden underneath.
Both top and bottom are from the Civil War era. They are from two different patterns, but are both acurate examples of the style of clothing at that time. Technically, there should be undersleeves with cuffs under the zig-zag sleeves. Adding lace gloves, hat, and parasol, this is what a wealthy woman would have worn when she was out visiting or shopping. Unfortunately, neither the top nor bottom are in print although you may still be able to purchase them from Butterick in their out-of-print department (Top–B 6694; Skirt–B 3992).
I love sewing with satins! Since they are usually better quality materials, they seem to come out much nicer than other fabrics I have worked with. Even if you don't want something that is too shiny or noticeable, you can still get satin material with a duller sheen. Sometimes you can even turn a shiny satin inside out to give the garment a less "overdone" look.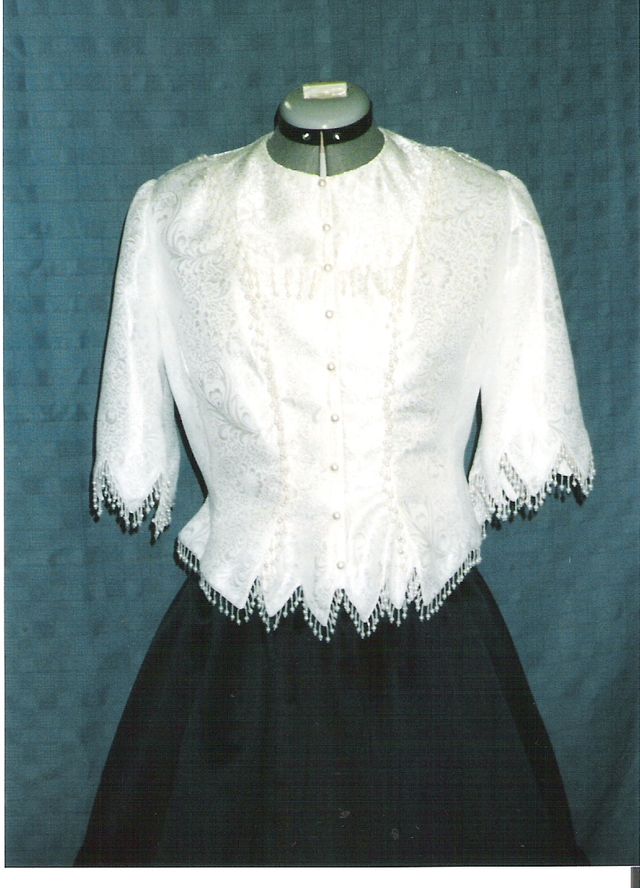 I love the "zig-zag" sleeves! I have never seen anything like them before.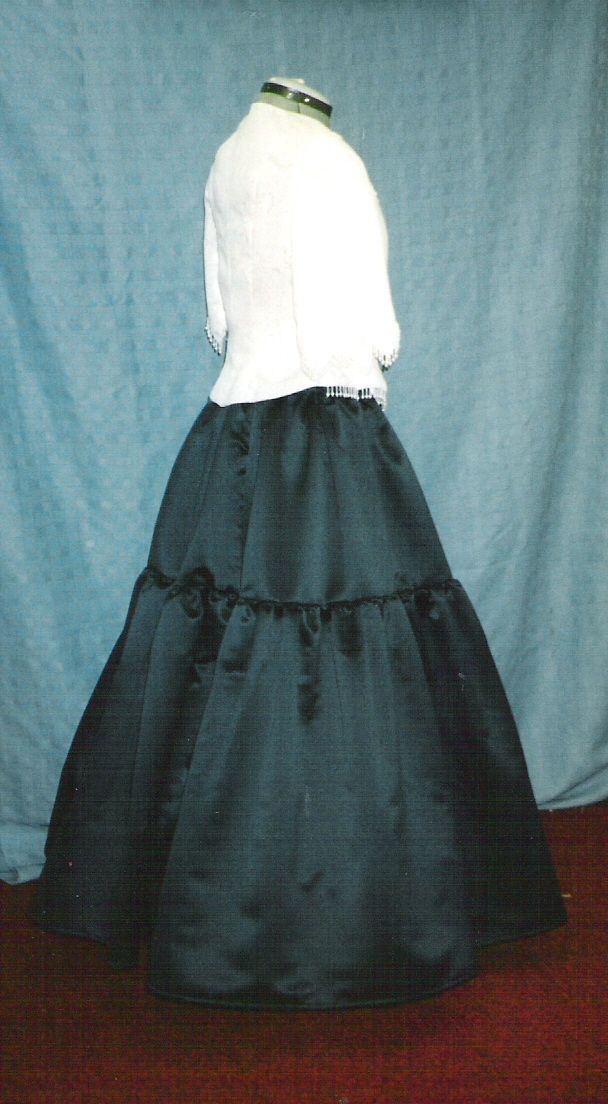 This is the side/back view.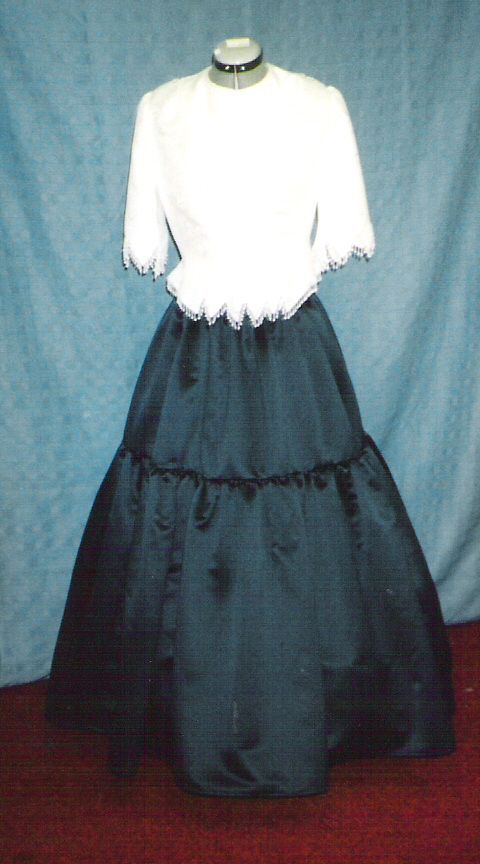 This is the front view with my two-tiered skirt.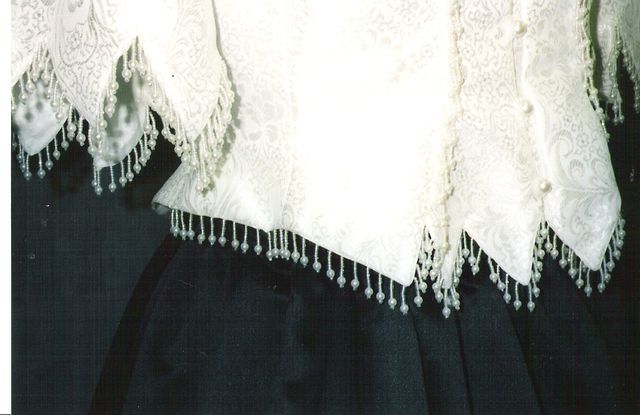 Close-up of the material and pearl beaded fringe. I fell in love with the fringe the first time I saw it. I got most of it on E-bay from Glory House. They have a wonderful selection of fringes to choose from!