Fancy Fabric Challenge My Project Runway Challenge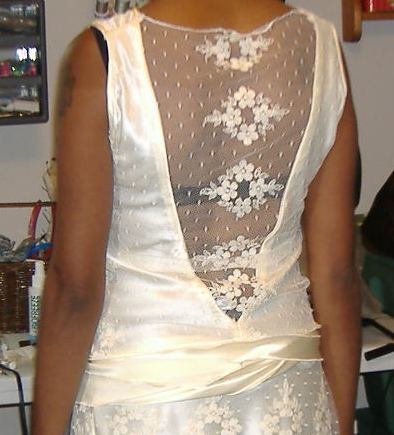 I live in Tennessee and my niece lives in California, One day she called me and asked me if I could copy this dress she saw at a boutique in Los Angeles. We had a couple of months where I made muslins and sent them to her for fittings. Then one day she called and said that she was in Nashville and that she had the fabric for the dress and that she was on her way. This was a real challenge for me. I did what I always do when met with such a challenge, I prayed.
I think the hardest part about making this dress was making the first cut. There was no room for error, she only had so much fabric, and I had to make it work. Plus it was very expensive fabric. She is so trusting.
She told me that the dress she saw had no darts and that it was very form fitting. Ok. I realized that I would have to cut the entire dress on the bias.
We had so many fittings, everytime I sewed a seam or made a change she was right there to try it on.
I told her we would work on this dress until it was done, no matter how long it would take. We finally finished it at 4AM.
She bought the fabric at Mood in LA. It is silk charmeuse with lacy overlay. The overlay is connected at the neck and armholes. Then I made a bias ribbon to go around the waist.
It is not the exact replica of the dress she saw but she was very happy with the results.
This dress was a real challenge for me, at first I did not think that I could do it. Then the fact that my niece came from LA to visit and have the dress made was such an honor I knew I had to do it.