Silk Christening Outfits for Twins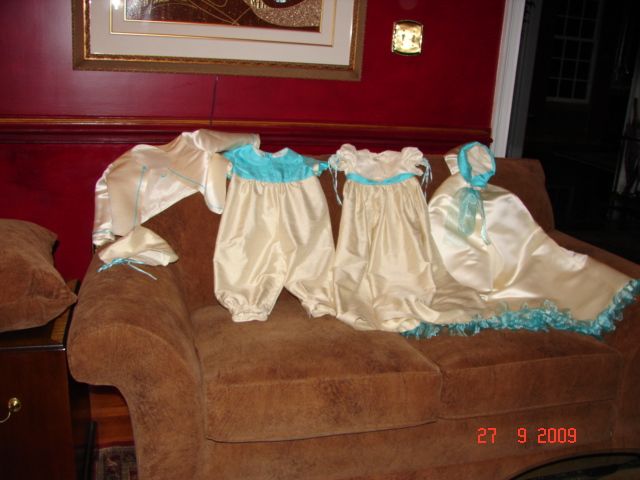 When my Husband and I asked very good friends what to get for thier new fraternal Grandtwins, his daughter (Mommy) asked me to make Christening outfits for them. Mommy just wanted me to use the leftover fabric pieces and scraps from her wedding gown and cape. She had one piece of silk satin large enough for the cape, many other pieces of silk shantung in both the blue and ivory, some beaded and unbeaded silk chantilly lace pieces, along with the blue ribbon and tulle. I used cotten lawn and china silk for the linings. I hand washed all of the fabric except the satin for the cape. It took a lot of layout planning before I could cut the first piece!
I chose Simplicity 4766 for the dress and cape. I added a box pleat to the back of the cape similar to Mommy's wedding cape. I also added a band of blue silk shantung to the inside of the hood so the hood edge could be turned back and show some color. To control the tulle I used clear 1/4 in. wide elastic to gather the tulle evenly at the hem. I used a match to seal the tulle edges to keep them from fraying. The cape is lined with cotton lawn. For the dress I used chantily lace over satin for the bodice and sleves. The sleeves are shorter than the pattern called for and I used a drawstring instead of elastic to gather the sleeve hem. The skirt is ivory shantung and the sash is blue shantung. A small bead medalion from some of the beaded silk lace was used at the cente of the sash.
Simplicity 5813 was used for the boys Christening suit. I added pleats and a cummerbund to give his romper a bit more formal look. His jacket and cap are silk satin lined in cotton lawn and trimmed with blue ribbon. His romper is silk shantung. I used a bias band of ivory shantung to hem and trim the edge of his sleeves.
French seams are used in all unlined sections. I used Seams Great for the sleeve seams. The bodice in both the romper and gown are lined in china silk. Most sewing was done with silk thread untill I ran out and just used good old Coats & Clark Dual Duty. The silk thread hides better than the Dual Duty, but I was working on the cape when I ran out and it was fine in that application.
This might sound like a lot of work, but I have not had so much fun sewing in a long time. Everytime I would finsh some small part I would run and show it to my husband. This was so fun I stopped worrying that Mommy and Daddy might not like my choices. Thankfully Mommy and Daddy where very happy. Unfortunatly I do not have pictures of the beautiful twins in thier outfits.