Ms. Pooh's Designers International Afrocentric Line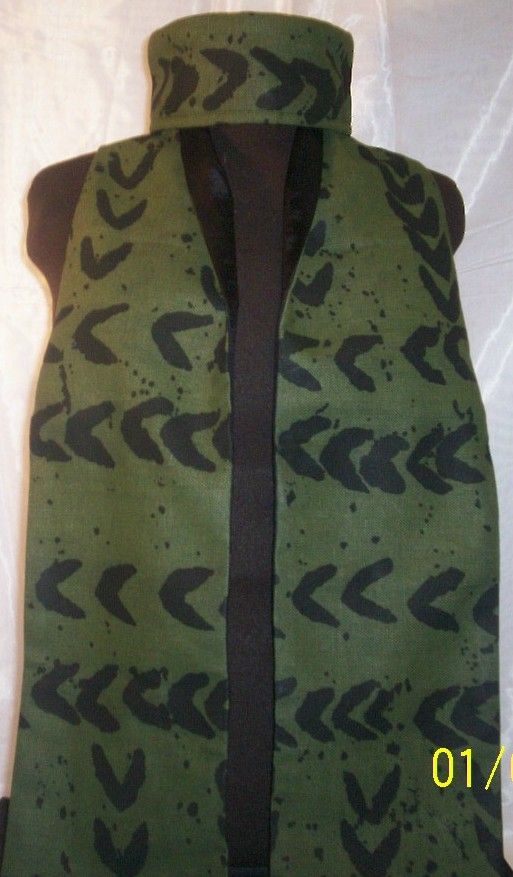 While doing craft shows I realized that I had nothing for the male audience which is why I came up with the men/womens line which include this scarf and kofi set, and the kofi and vest set.
The scarf can be worn with a suit to add flair but also looks great with a turtle neck or a plain dress and will dress up any style. The scarf and kofi are fully lined. The scarf is 57″ long and 7.25″ wide. The kofi comes in sml, med, and lg which is determined by the head measurement.
The trick with the kofi is to use a heavy stabilizer so the hat can keep it's shape during wear. The kofi is also fully lined and serged and topstiched on the inside to keep a neat look from the inside.
This multi fuctional vest and kofi ensemble is perfect with a suit to dress it up and is also quite at home with a pair of jeans. The vest is fully lined and the back is fitted with an elastic casting at the waist.
Now the anchor that lauched the afrocentric line… the tote and crusher ensemble. The tote is fully lined and has an outside pocket, an inside cell phone pocket and key ring loop. The crusher is a bucket hat which is also fully lined. And again the heavy stabilizer keeps the hat formed to keep it from losing its shape. The dimensions of the tote is 12″wide front, by 6″ wide side, by 11 1/2″ long. The straps are long enough to be worn over the shoulders. The Crusher comes in sml, med and lg which is determined by the head measurement.
And lastly, the short and long sling duffle. This duffle can be used for school or an overnight slumber party. I took it on a trip and was able to carry it and a large tote and packed enough for a whole weekend. The short sling duffle's dimensions are 26.50″ around, and 11.50″ long, with a 25″ strap and an outside pocket. The long sling duffle dimensions are 31″ around, and 17″ long with a 25″ strap. This duffle is so deep I later did have to place a pocket on the outside because everything small was getting lost on the inside. The duffles have an eyelet and draw string closure.
You can see the entire line at the website, www.mspooh.com. Because these are one of a kind designs the fabrics and colors my change often and may not be available at all times and may be changed or added. I also do book covers and eye glass cases that match. The bookcover are in paperbook back book and novel sizes.
Mudcloth Kofi & Scarf Set for Men or Women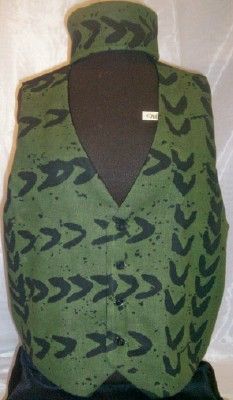 Mudcloth Vest & Kofi ensemble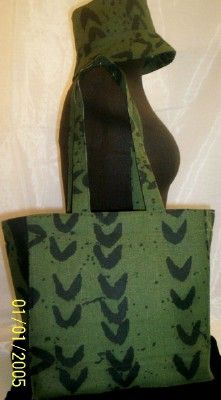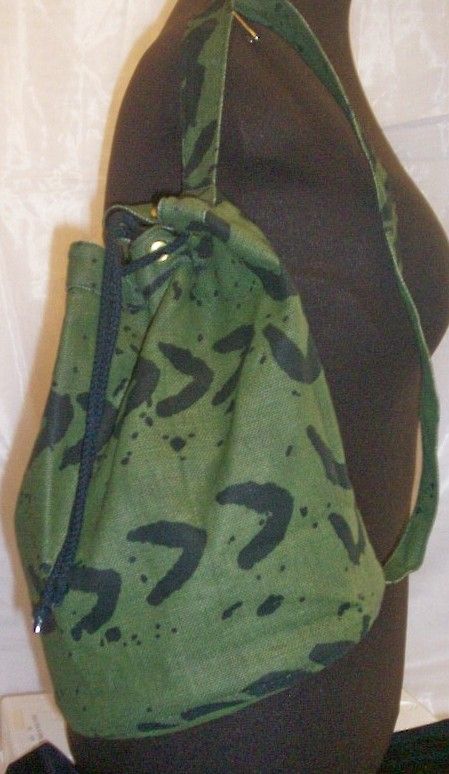 Mudcloth Short Sling Duffle