Red Poppy Appliqued Reclaimed Cashmere Scarf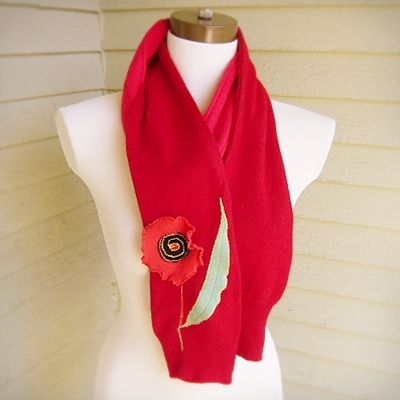 where sophistication meets bohemian,
…where consumerism meets environmentalism
….where luxury meets affordability
…..where east coast chic meets west coast grunge
……where comfort meets … bliss!
reclaiming the earth through cashmere…
100% cashmere reclaimed from sweaters
colors: shades of red with red poppy appliqué
scarf is 4 1/2″ wide and is double layer – no unfinished edges showing!
Although it may look like it is constructed from sleeves, the sleeves on most sweaters are not wide enough. To make a scarf that is consistently 4 1/2″ wide, use 5″ wide panels from the front and backs of sweaters. Sew the short sides of the rectangles together so that you have one long strip that is 5″ wide. Next, cut a 2″ circle for the outside petal color of you flower, and a 1″ circle for the inside color. Cut a leaf shape from a green scrap. Zigzag around the edge of the outer petal, gently pulling the fabric as you sew so it ruffles a bit. Attach the small circle to the center of the big circle using some sort of glue/fusible material. Attach flower and leaf using same glue/fusible material. Then, using free-motion embroidery techniques, sew the flower, stem, and leaf to the scarf. Have fun with it. The less perfect it is, the more life the flower will have! Then fold in half and stitch up the long side, leaving the ends open to turn the scarf right side out. Turn it right side out. Hand stitch the ends shut. Iron it flat with an iron on wool setting and high steam.