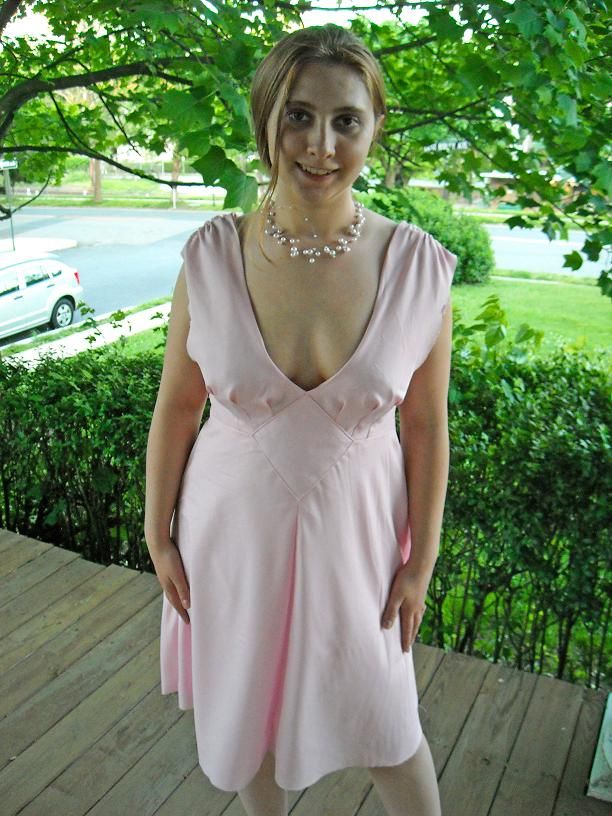 My roommate and I are beginning a design business, and when we saw this contest we knew we had to enter. I had been thinking about designing a dress with a diamond panel in front. When I started sketching out ideas, it developed into an understated cocktail dress reminiscent of the Art Deco era.
While looking for patterns, we came across Vogue 1158, which had the center front and back seams and the deep V front and back neckline that we wanted. We decided to base our dress on that pattern. At first we were considering making the dress in satin, but quickly discovered that all those pleats are quite the nightmare in a slippery material! We made a run to Joann's and found a gorgeous light pink fabric with beautiful sheen and drape – and the most suprising thing is that it is actually a lining fabric!
The Vogue pattern had to be modified drastically. We joined the back bodice and the back skirt into one pattern piece, added the back skirt darts, and let them open out on the back to echo the front pleats and to highlight the shoulder blades and lines of the back. We widened the shoulder pattern pieces and then gathered them gently. We also removed the side zipper, since the material was so light that it would have added bulk and drag to the lovely drape, and the dress can be pulled on comfortably over the head.
The front diamond was interfaced and then sewn as an appliqué onto the front bodice. To echo the front diamond, we added a diamond cut-out in the back. The cut-out was probably the most finicky part of the dress, and quite a scare for a few moments when I started cutting into the dress and realized that if I didn't get it right, we'd have to start from the beginning again!
The slanted front bodice pleats and bias skirt also complement the diamond shapes. However, we kept the rest of the dress's lines simple to avoid conflicts with the strong geometric elements. Since the material has no desire to fray on the bias and has such a fluid drape, we gave the dress a Bohemian twist and left the hem raw.