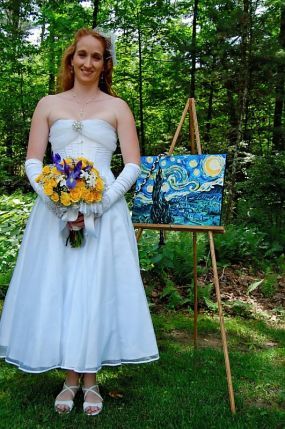 I made this wedding dress as two pieces. I used commercial patterns for both pieces.
Corset The top is a satin boned victorian-style corset lined with cotton. I used Laughing Moon's Dore corset pattern. This is the fourth corset I have made from this pattern, and is still quite a challenge to fit properly! The top of the corset is accented with chiffon which I held in place with a pin.
Skirt The bottom is a full skirt with a cotton bottom layer and an organza top layer. I used a costume pattern for the skirt, McCalls M6101. It is an easy pattern, and I created the two layers by cutting the pattern twice out of the two different fabrics and sewing them as two skirts. The two skirt layers were combined as one before I stitched them to the elastic waistband.
I did not make the petticoat or the gloves.
Two piece corset and two layered skirt wedding outfit.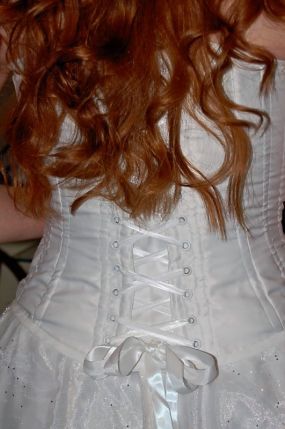 Detail of the back of my two piece wedding dress.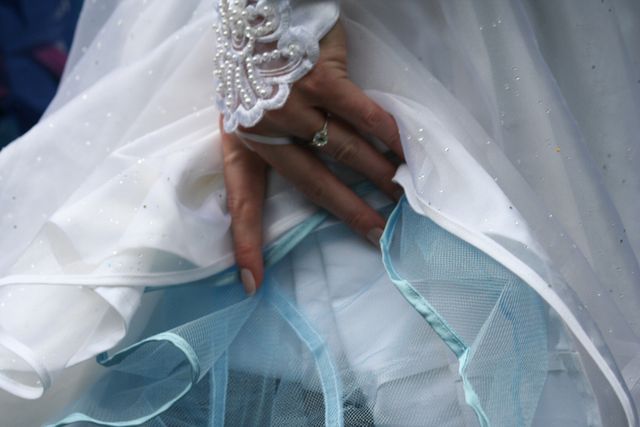 Detail of the skirt showing layers. The blue fabric is a petticoat.