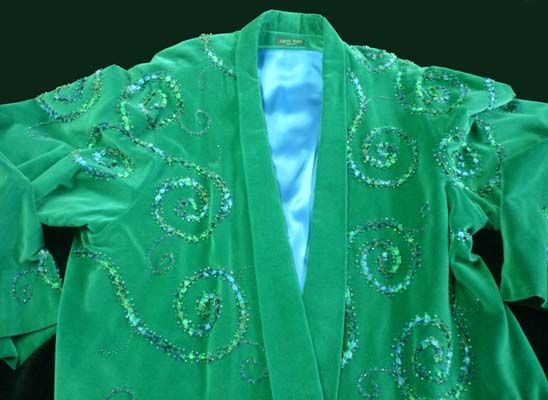 This is another jacket made from the same pattern I used for the red one in "Further Fortuny". That jacket, although unlined, has a structured look. This one is very soft and "scrunchy." The jade green velvet is from Crompton, a U.S. cotton mill in business, if I remember correctly, from the early 1800s until the late 1980s. They made some of the most luxurious velveteen and corduroy in the world. I still have one or two pieces of their corduroy in my stash, but this is the last piece of their velveteen I had.
The embellishment was added after the jacket was constructed. The free-flowing, asymmetrical spirals are couched rayon "eyelash yarn" with iridescent beads added. Smaller spirals and details are embroidery thread and smaller beads or beads alone. It is lined with bright blue charmeuse, also from my stash. After completing the embellishment, I found it was the only thing I had that would work. I've always been glad I did it, as bright blue is not a color I normally wear. It's a nice secret when I'm wearing it.
I made this on an impulse, with no finished vision nor special event in mind, about twelve years ago I think.