Sleeping Under the Stars of African Skies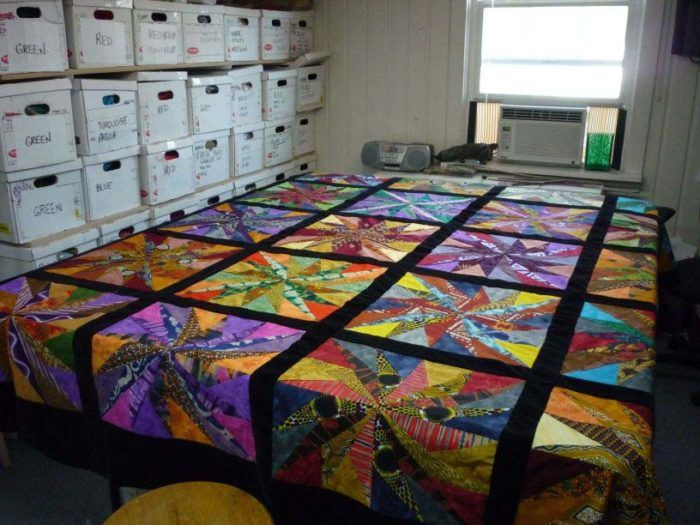 For many years I had a huge granny-square afghan with black joinings as a bedspread. I really missed it when it gave up the ghost, and tried to figure out a quilt that would have a similar effect. I began one pattern called "Confetti" but never finished it.*
When I visited Ghana in 2004, and brought back lots of wonderful West African screen prints, tie-dyes, and Dutch wax designs, I knew I had the beginnings of what I needed. (In addition to the yardage I bought, a dressmaker I visited let me help myself from bag after huge bag of accumulated scraps. Heaven!)
Then all I had to do was find a quilt pattern I could tolerate making. That was when I discovered paper piecing, and the free pattern you see here. I think it's perfect for these fabrics, mixed with standard quilters' monochromes. It took me about three years to cut, lay out, and piece, working on it from time to time.
I had to be especially careful and open-minded about the placement of colors, of course, and to not make too many in my "favorite" colors. I had completed four of the 25 blocks when I realized that to keep it balanced, I should make a chart of colors, tallying predominant, secondary, and "there's some of that color in it."
Those centers where 16 pieces come together – well, let's just say it requires some effort! But of course, it's worth it. The sashings are black velveteen, and it took me a long time to find that in the right weight and thread count. I adore velveteen anyway, and I just never saw any flat weave black cotton fabric that was black enough to do the job. I used black batting, and had it machine quilted.
So now we get to sleep under the stars of African skies, right here in Oregon. This is my first ever finished quilt, and probably my last.
* Anyone want a partially-sewn quilt top with over 3,000 pieces? Hey, I'm an all-or-nothing kind of girl!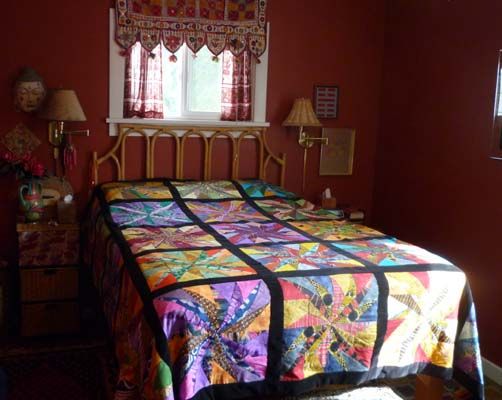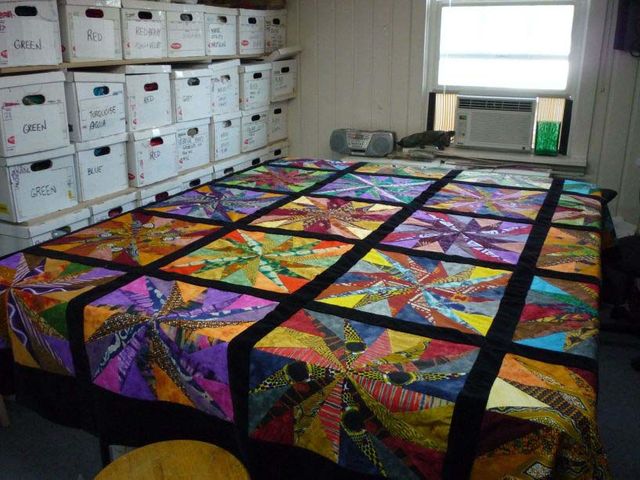 Finished Top in My Studio