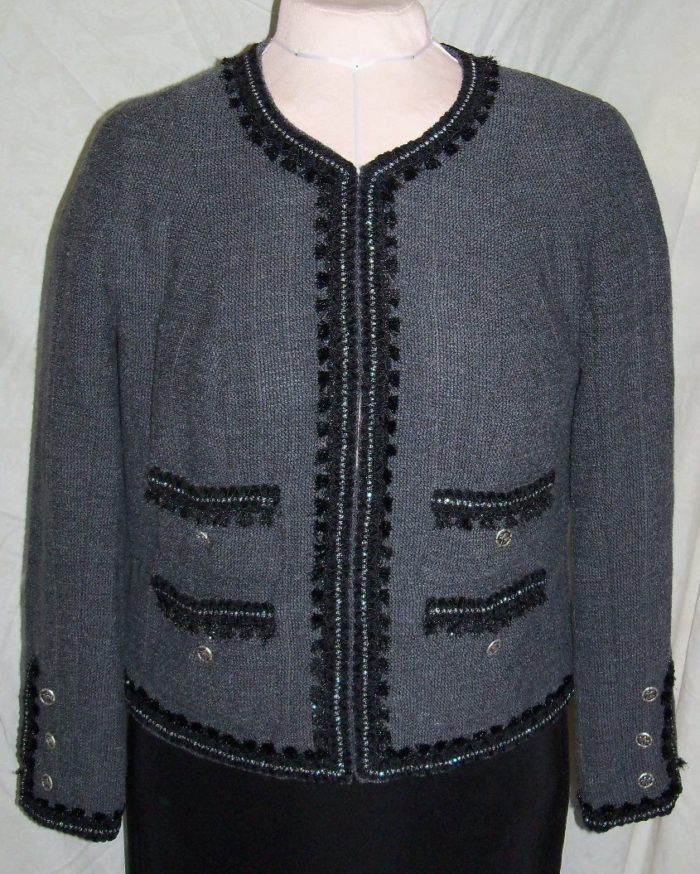 I learned to sew at a young age and was always fascinated by the gowns and suits that were worn by celebrities and models. As a teen I would sit for hours in our hometown library looking at Vogue, Harpers Bazaar and Seventeen magazines. My mother and grandmother encouraged me and I was able to try and create from those images. Coco Chanel's suits with all the braid were my favorites and I dreamed of making a Chanel Jacket.
Susan Khalje's Threads article "Inside a Chanel Jacket", Issue 121, Oct/Nov 2005 inspired me to seek her as a teacher and mentor. I was fortunate to be at the 2006 American Sewing Guild Conference where I was able to see her jacket and couture designs in person. This motivated me to prepare for my Chanel jacket; I read through all my past Threads magazines to look for more information on couture.
In October 2008 my friend Jan found the beautiful silk and wool blend gray boucle for my jacket. I purchased a gray silk charmeuse for the lining and didn't realize until later that it was an abstract print of gray tone fish. Keeping with a tropical theme, since I live in Florida, I purchaed pewter tone metal buttons with palm trees. I wasn't able to find my initials like Coco Chanel's CC but the buttons are in her style with the palm trees surrounded with a metal border.
In a seminar with Susan Khalje, I learned how a couture garment begins with a muslin, precise fitting and pattern preparation. I enjoyed every minute of the days it took to begin the jacket: fitting, cutting the fabric with generous seam allowances and quilting the jacket fabric to the lining. Finishing the jacket took many more days for me since all of the lining, setting the sleeves and the pockets were all sewn by hand.
For the trim I used three different braids, approximately 15 yards in all, for the jacket edges, pockets and cuffs. The pewter buttons are featured on the pockets and cuffs; the jacket closure is done with large jacket hooks hidden in the braid and lining. The finishing touch is the gold chain around the bottom of the jacket; Chanel added this chain to counterbalance the weight of the pockets, buttons and trim.
Thank you Susan Khalge and all the contributors and editors of Threads for all of your inspiration.
Sue McCollough, Florida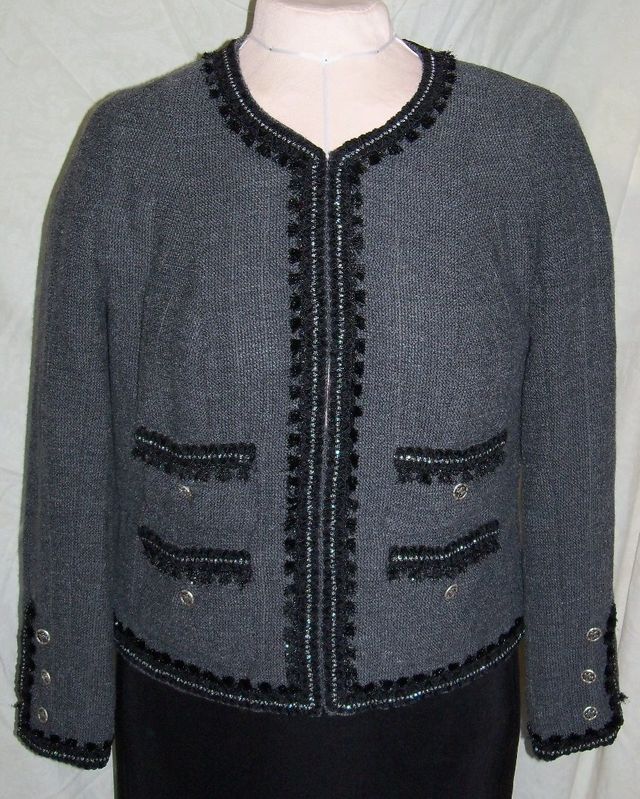 Silk Wool Blend Gray Jacket with Black and Silver Braid Trim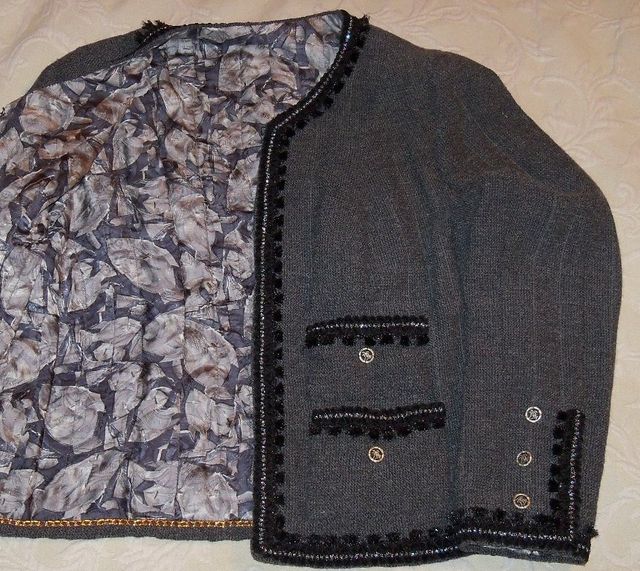 Jacket Lining Silk Charmeuse of Abstract Fish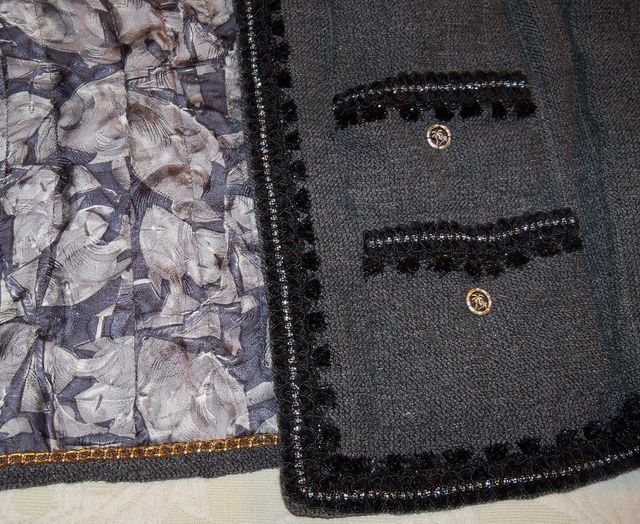 Close Up of Abstract Fish, Palm Tree Buttons and Chain