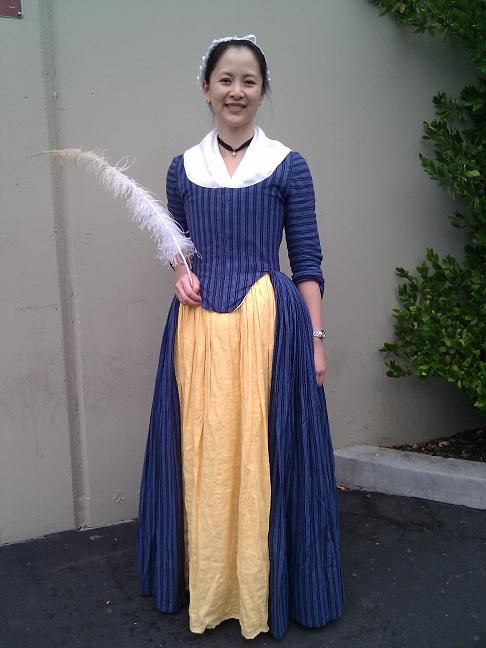 This year I went to work the Friday before Halloween dressed as Abagail Adams. I had the costume, and decided that I could be a historical figure that I greatly admire.
I made all the parts of this costume except the shoes and stockings, and each part is mostly to very historically accurate.
The gown is a typical English gown with an "en fourreau" back (pleats that are stiched down on the bodice and release into the skirt) and hanging cuffs. It's made from yarn-dyed striped cotton. It's mostly machine stitched, though I did any visible stitching by hand. Underneath I'm wearing three linen petticoats and fully boned stays (the 18th century version of a corset). Also underneath are a pair of pockets, tied around my waist.
Around my neck is a square, linen kerchief and a silver pendant on a silk ribbon.
On my head is a pleated cap made from cotton organdy.
My shoes are latchet type (but not straight lasted). My stocking garters I wove myself with a rigid heddle loom, from cotton embroidery floss.
The feather, of course, is the quill Abagail wrote her letters with.
Ladies in America would have worn something similar to this simple outfit during about 1750 to 1780. This style is so prevalent during this time period that I figured it's could have been something Abagail would have worn.
Pattern credits: gown and stays by JP Ryan; cap by La Fleur de Lyse.