The Art of Millinery: Hats Are Making a Comeback on ETSY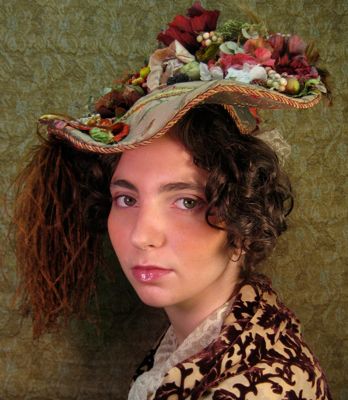 Thistle Cottage Studio Blog
The Art of Millinery: Hats Are Making a Comeback on ETSY – CraftStylish
The Art of Millinery: Hats Are Making a Comeback on ETSY
comments (0)November 9th, 2010 ShareThis

orsinimedici1951, member

Edit Post

Delete Post

Add Comment

Print
I recently joined the MOE team (Milliners of ETSY), where I will be celebrating my second Anniversary of selling online, on what is now THE hottest venue for artists of all mediums. As of yesterday, 11/11, I just hit my 111th sale, (should I take that as a sign of prosperity?), and fully expect to see a substantial jump in that number this holiday season! Hats still seem to stubbornly dominate my shop, despite my efforts to create a variety of qulaity handmade merchandise that everyone will want this season. Still, my bestselling Peruvian Inspired Folk Art Hats are the front runners, and I can't seem to make them fast enough. I have just shipped one last week to Tasmania, Australia, and last year, to Penang, Malaysia!! I have shipped all ove the US and Canada, and have even been invited by my very best customer, to visit her, as her guest in Glendale Arizona this winter. I wouldn't dream of going in ANY other season!!!
Our MOE Team has currently, 43 members and growing. We are a group of working milliners, young and some, somewhat more experienced–how's that for a euphemism!? We, as a group, share a passion for the history, and renaissance of the hat, as an accessory worthy of more than just being used as a necessity against the cold.
At the beginning of my membership, I half jokingly put forth the idea of a Project Runway for Milliners, and asked in a very tongue in cheek, off the cuff manner, if anyone knew Heidi Klum. Little did I realise that everyone would jump on the bandwagon, and now it has snowballed into a full blown project challenge. We will all choose a textile or fashion inspiration using another ETSY sellers' product, to produce a hat to coordinate with that inspiration. The entries will be judged, and although this project is just for fun, no speciific prize will be awarded, rather one of our members is in contact with ETSY's administrators, and the story, contest, and its' results will be featured on one of ETSY's top pages. As a group, we will all benefit from the SEO (search engine optimization) recognition that his event will produce. Just in time for the holidays!
I have never been much of a club joiner, and always think of Groucho Marx's famous quote when he said, "I wouldn't want to be part of any club that would have me as a member!" This time, I'm biting the bullet and stepping into the pool that is our FABULOUS group of amazingly talented hat designers and enthusiasts!! This group, we hope, will start the ball rolling, and bring the hat back as a permanent force to be reckoned with on the fashion scene again!! Hats seem to have lost their charm and popularity in the 60's, with hairstyles teased sky high, and hippy girls not caring much for fashion–except the "Woodstock" hat, which has become something of a leftover classic.
We in our group, all do a bit of a cringe every time we hear someone proclaim "I'm just not a hat person." My terse and sardonic reply to that usually is, "What exactly does that mean–you have a head, don't you?!" I think the problem is, that most people don't think of hats as a fashion necessity anymore, and those who wear them, make a bit of a spectacle of themselves, SO, it does take a special kind of person, and some courage to pull off wearing a hat these days. Sad but true!! Maybe the day will come, when the hat will see a revival, and worn as a means of self-expression, much the same as tattoos and piercings have done. I'm still scratching my hatted head over their popularity!!! I guess I'm still a product of the days when leaving the house without your hat, was tantamount to not being fully dressed. We're pulling for you, Madame Chanel!!
Do stay tuned for future updates on the MOE Project Runway Project.