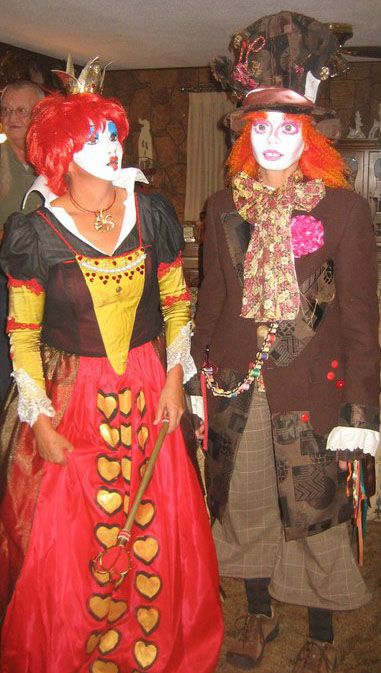 These are the Halloween costumes I made for my family.
For the Mad Hatter, I used an old suit jacket and added more fabric to it to make it longer. Sewed wood spools with different colored threads on and put scraps of fabric on it. Made a big long bow for the neck. I cut the same fabric as the extra tails on the jacket to sew the tall top hat and put wire in the edges to hold the shape, added hatpins and other embellishments.
For Lady GaGa, used some lace fabric I had for the skirt part and an old sweater that was gold glittery and cut it to make the underskirt. Made the big hat with an old hat and sewed it into a different shape and added feathers. Made the mask with more feathers and added the feathers to her ring.
For Carmen Miranda, I used some yellow fabric to make a wrap skirt and cut it so the front had rounded edges and added the ruffling below. Added a green sash that I made out of sparkly fabric. The headpiece was matching fabric and made by sewing fake fruit on top.
For the Flying Monkeys, I use fleece fabric to sew the tops, made the wings out of two bent wire coat hangers and fastened them together. Covered them with black fleece sewn on with yarn.