Thistle Cottage Studio Makes ETSY's Front Page!!!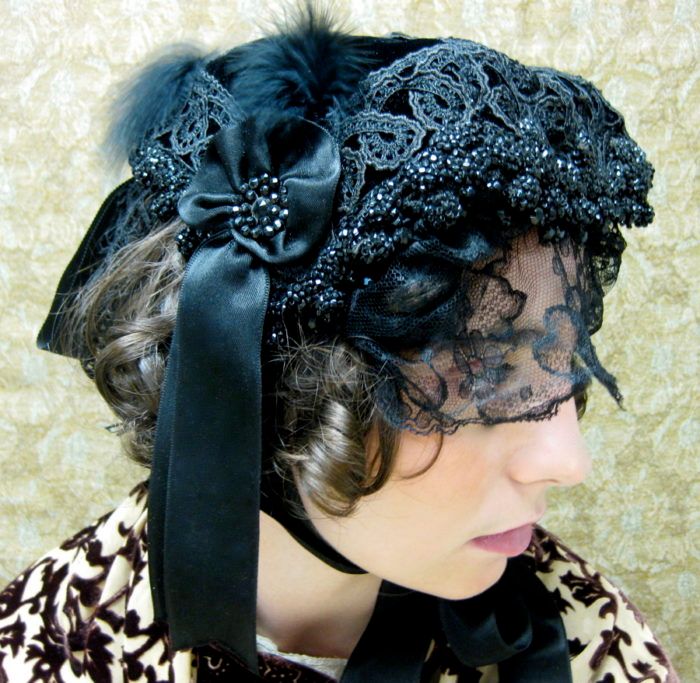 Thistle Cottage Studio Blog
MILLINERS OF ETSY (MOE TEAM) DETERMINED TO BRING HATS BACK!!!

Story by LeChapeau
Photo by
Millinery, the centuries-old practice of designing and making hats, continues to flourish thanks in part to the Milliners of Etsy (MOE) team. When team member Elsie suggested that MOE initiate a Project Runway inspired challenge, the milliners couldn't contain their excitement. Throughout the challenge, they've grown as artists and friends, creating some incredible work in the process.

Elsie didn't think her idea for the Milliners of Etsy would catch on like it did, but soon, everyone was abuzz. It was decided that each participant would create a hat inspired by a garment or fabric accessory they found on Etsy. Sewing machines began whizzing, hat blocking and hand-stitching abounded — the excitement was contagious. As the details fell into place, it was determined that December 1, 2010 would be the deadline for all submissions. Emily, our team captain, suggested that we present our creations in a special treasury (split into Submissions 1 andSubmissions 2), with each participant leaving a comment about their work.
But who would be our honorable judge? After thorough consideration, we emailed world-renowned milliner Amy Hamilton of Granville Millinery Co. Amy, whose work has been featured in Oprah andVogue magazine, readily agreed to work with us on our project. Though the competition will be judged, the emphasis will be on fun. As for the prize, In the words of Ralph Waldo Emerson: "The reward of a thing well done is to have done it."
Maggie Mowbray: "This challenge is amazing and stemmed initially from a few of us chatting about Philip Treacy's appearance on the TV program Project Runway. My inspiration for the challenge is a stunning 1930s style gown, made of silk satin and very luxurious. I'm working on two pieces, which will hopefully reflect its elegance and capture some of its Hollywood glamor."
From left to right: Velvet Dress by marbar13; Women's Black Straw Hat by Jennifer Whitmer.
Speaking of her found garment and hat design, Jennifer said, "I love the casual opulence, the deep, rich color, soft drape and details of this lovely velvet dress. A pattern of transparent chrysanthemums scattered across the shoulders at the back seem to float on the surface of the velvet." Jennifer felt a connection with the contemporary twist on the 1920s styling of the dress, an aesthetic similar to her own. "I imagined the silhouette of the hat right away and choose black parisisal straw. The pin tucks in the dress are echoed in the hat by circular pleats sewn into the straw. The edges are softened with more stitching to create an undulating waviness. The hat, along with the black lace stockings, finishes the look of this dress without competing with its quiet elegance."
From left to right: Draped Sack Dress by Jo Demontis; MOE Submission by Fedora.
"The positive buzz all the team members have shared has made this a really fun project," says Maria ofFedora. "The inspirational piece I discovered was a wonderful draped dress by Jo Demontis. I wanted to complement and continue the silhouette upward. What first came to my mind was a happy balance between a cocktail hat and a fascinator, perhaps in a neutral color anyone could wear confidently."
From left to right: Red Satin Ruched Dress by Momosoho; Headdress by Liason.
"Before I went into millinery, I was creating jewelry and selling at local galleries and boutiques. When my beautiful daughter was born, she was bald for the first two years of her life! As her hair started coming in, it grew into a mullet, long in the back and super short and fine on top! I didn't have the heart to cut it, so I started making headbands for her," Kat Swank, a.k.a. Liason, reminisced.
"My inspiration is a ruched gown from Momosoho. I used all vintage and antique materials to build a headpiece to match. For the front portion, I used a vintage beaded belt from the 1920s that was dry rotting from age. I had to re-bead the entire piece! I used velvet and organza florals from the early 1900s, as well as some modern and vintage feathers. I really love this piece — It will be hard for me to say goodbye to it when it sells."
From left to right: Great Gatsby Linen and Battenburg Blouse by Rosélani Jasmin; Heirloom Cloche Hat by Green Trunk Designs.
Jaya of Green Trunk Designs says: "Searching for an inspirational piece on Etsy was like making my Christmas wish list! It was so difficult to choose just one piece, but I finally decided on the lovely, Great Gatsby Linen and Battenburg Blouse by Rosélani Jasmin. My Heirloom Cloche Hat is made from vintage textiles, and is based on a 1920s pattern, similar to the styling of the blouse."


From left to right: Vintage Tiffany Blue Party Dress from The Private Party; Black Mini Skimmer Hat byBlack Gardenia Design.
"When I started working on this challenge, I was reading about 20th century millinery history and the progression of looks in headwear from the 1930s to the 1950s," explains Kat of Black Gardenia Design. "My inspiration piece is a beautiful yet understated shift dress from the 1950s. My hat includes a frame that would have traditionally been worn in the 1930s, fabric up-cycled from a 1980s dress and trim from many different decades!"
From left to right: Victorian Dress by Christine Hall Designs; Victorian Mourning Hat by Thistle Cottage Studio.
For team member Elise of Thistle Cottage Studio, the project inspired a historical reflection: "After the death of Prince Albert in 1861, Queen Victoria slipped into a deep depression, and was inconsolable with grief for the loss of her beloved husband. For the rest of her life, it is said that she would set a place at the dining table, and even lay out a fresh set of clothes each day for him, as if he were still with her. The wearing of black mourning jewelry was made popular because of her devotion to him."

Elsie faithfully executed her hat through in-depth research. "To make this piece, I used authentic Victorian passementeries and jet beadwork. I have paired the hat with a Victorian reproduction mourning gown, courtesy of Etsy designer and seller Christine Hall Designs."
My personal thanks go to my dear friend Joanne of LeChapeau, for doing most of the grunt work, and writing such a wonderful article, and making sure that this team got seen on the front page of ETSY!! No small feat!!! And PS–she make beautiful hats too!!!!!
Millinery classes are available and starting after the New Year!! Drafting I classes will also be forming for 1/14/11. Those interested in any classes should register at least one week before the start date.
Gift certificates are available!! Please call 401-231-4343.
HAPPY HOLIDAYS FROM THISTLE COTTAGE STUDIO!!!