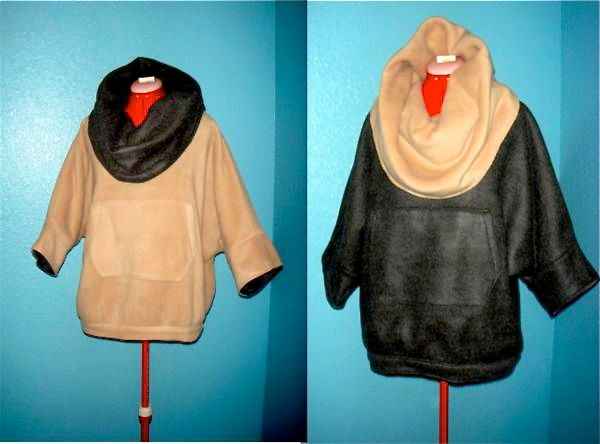 I saw this $1200 Jcrew reversible cocoon cashmere pullover sweater with a funnel neck and I just had to have it except I couldn't afford it. So since I know how to sew decently I knew I could pull this off (just not in cashmere), but as a sub for cashmere I used fleece in camel and charcoal.
C4 = chic camel & charcoal cocoon
I printed up a ton of pics and then got to work. I used the batwing top pattern on Burda as my base and went from there. I made my own kangaroo pocket and funnel neck pattern. The original had two different photos of the front pocket one with a kangaroo pocket and one with welt pockets, so I was not sure which to go for but as you see I did the exposed kangaroo pocket.The funnel neck is cut on the bias for a better drape and I made it bigger so I could pull it up as a hood if I need to. I was worried it would be to heavy, but I think it turned out pretty well for being fleece! Once I made both pieces I sewed them together and then sewed on the bottom waistband. There is an opening at the bottom side seam of the waistband on both sides so if I want to I can put a tie/ribbon through and tighten the bottom and tie a bow.
It is nice and toasty warm and very chic. I'm going to make it in different fabrics so it will be lighter and have a better drape.
I paired this pullover with my husbands blue/white gingham button up, Banana Republic crop pants, red cable knit socks, coral/orange lipstick, and Sonia Rykiel for H&M platforms. I tried to funk up the style a little, hopefully it worked. let me know 🙂