Bridal gowns are incomplete without ruffles and layers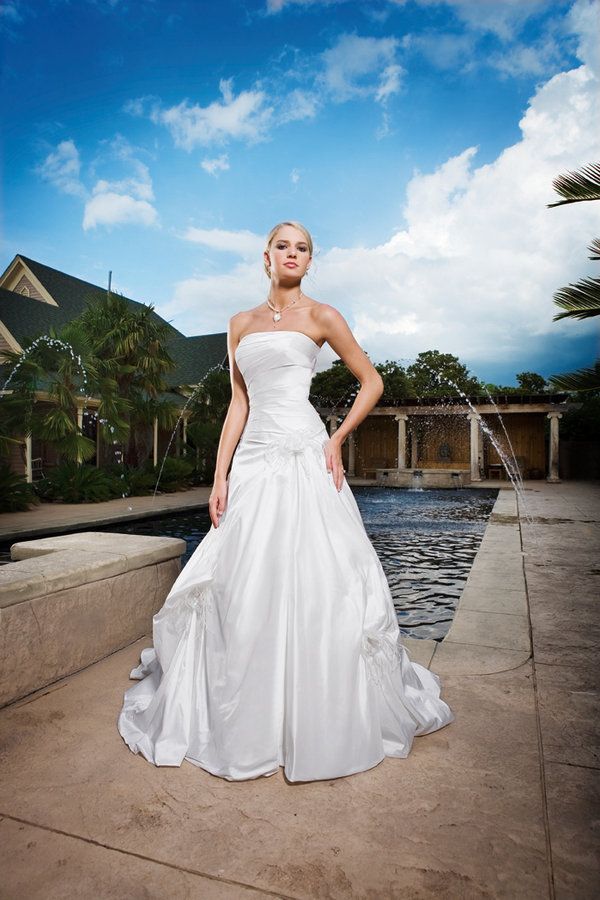 When you are getting married, one of the most important things for you to think about is the dress you will be in when walking down the aisle. Most brides will agree that the bridal gown is perhaps the most important component of your wedding. Finding a perfect and unique gown is something many brides spend months searching for.
A perfect should have subtle colors, one no longer have to restrict herself to just whites, ivories and creams, go pick mauve, pink, peaches, baby pink blushes, light aqua or combinations of red and white, violet and white. All the jitters one has to go through while selecting a gown is not a hidden. Whichever color that one choose, whether one wants to keep the gown extravagant or just a simplistic it has to have layers that follows the bride ceremoniously making her look elegant, beautiful and desirable. One particular aqua blue gown with ground kissing ruffles and long layers attached at the back make each step that one take appear elegant and delicate. Shades of pink, mauve, peach frocks studded with wine or olive colored stones on one shoulder strap or right below the bust area go well on a cotton dress. A fierce red and royal purple full-skirted a ruched bodice, well defined appliqués and frilly layered ends of the gown seem graceful.
Check out those traditional extravagant bridal gowns which were adorned by layers of laces, sport finely embroidered nets, and covers of soft frill, lightly studded with tiny diamonds or stones. They may look too heavy but aren't and when those frills flow with bride's body a magical moment is created. The finely embroidered hem and bust line on free flowing ruffles make sure that they are flaunted well making one enviable.
While the gowns which are made of satin or chiffon, silky taffeta look chic as they poise one's hip curve sweetly and flow loosely down to ground to kiss it. The laces and embroideries which adorned the traditional gowns may have made way for sequins and Victorian broaches that highlight the whole outfit, but long graceful ground kissing dresses are still prefer in the beach weddings too, this just goes to show that how charming a lady looks in the a wedding dress where a huge trail of chiffon or organza follows her smoothly her elegant steps that she takes with her father.
If choosing a satin wedding gown; make sure it falls from hip level only and from waist otherwise it'll make one look all flared up. Satin shapes legs sensuously and when it a leaves a trail behind one while strolling towards, it makes each of bride's move look so elegant and desirable that each men would wish that he was the one taking the bride home.
So while picking your dream dress to walk down the aisle to your dream man, make sure that not only are you picking the right color and style for your dress, but also a very teasing and alluring edges that only ruffles and ruched layers can give the bride.
With so many choices available, you can find a perfect elegant wedding dress and have a fairytale wedding!
Your are been suggested that it is a smart idea to bridal gown from china, you will not only get the high cost performance wedding dresses,fashion style, top quality cloth, VIP customization service will also expect the best impression on you!