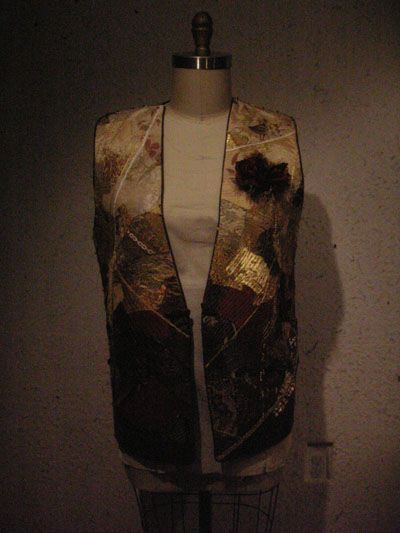 After discovering Kayla Kennington in the March issue of Threads, I located an old issue, Threads Jan. 2001 issue #92, and a quick run to her web site,( Kayla Kennington.com) and discovered Collage Fabric, made easy. I looked at the vest in issue #92 and went to work. I have made three in the past 2 months one in the reds, one in the blues, and the one posted., which is brown that blends to ivory.
The beauty of Kayla's method is misteak proof. Using fusible as your base,I used pellons easy knit for one vest  and and pellon soft shape on another.  Fusing all the pieces to the pellon, then using twin needles to fix the pieces, this gives the vest demension, and any emblishment you add is just iceing on the cake. Kayla recommends cutting your base fusible 3 to 4 inches larger than your garment pattern, this is a good suggestion as the twin needles draws the fabric up. I did not use a walking foot , but will try it next time.
I made mini piping of dark brown silk ,I  piped each piece meaning two fronts and one back . Lined each piece and used a stationary zigzag stitch to join the pieces, I then beaded over each stich. I used velvet, silks, taffetas,organdy, brocades, just about anything and everything.( There are NO collage police) I purchased a frog closure in brown and made a silk pin.  I applogize that the photos are so dark, but my computer and I were having a bad day.