"Neck Hug" – Pet's Soft E-Collars
I created a pet product to assist our furry little friends while they are recuperating from surgery or for pets that have a consistent problem such as paw chewing or hot spots. I didn't like the alternative which is a hard plastic cone that prevents them from eating, drinking, navigating through the house or going through a doggie door. I've also heard a few instances where the cone hurt the pet's shoulder/neck area, leaving cuts and bruises!
So I created a 4-sided round pillow (with end caps) that has velcro closures along the opening and at the neckline. I made it out of colorful cotton fabrics and lined each one with cotton muslin (to prevent the fiber-fill stuffing from working it's way out of the fabric). I also added a neckline that is made totally out of ultra plush velour and inside the neckline are loops (also out of the same velour) to slip the dog's collar through for added security to avoid the pet from removing it. I stuffed it with non-allergenic fiber-fill. The outer band is top stictched to prevent any seam pulling.
I named my product a "Neck Hug" and made a little label for it out of cotton bleached muslin and light transfer "iron-on" sheets you can get at any office supply store. I used pinking sheers around the label to give it a finished look. The iron-on transfer sheet created a no-fray surface so this worked out beautifully.
To save money, I used the roll of velcro and as I cut off the amount desired for each Neck Hug, I rounded the edges with the sissors so that there were no sharp edges.
I've tested my little product and found that it can be put through the washer and dryer repeatedly and comes out looking beautiful! Sizing was another hurtle because there are so many different breeds of dogs and cats that come in different sizes. As you know, if the inner diameter increases, so does the outer diameter. This was quite a challenge! So I took the most common sizes and made each one sizeable within an inch or two. So far I've had complete success with having the sizes I've established, fit comfortably.
So many people were asking me for my little design that I have launched a small business of my own, working out of my home. (I won't go into all the paperwork I had to file to protect my design and construction) but I now have several veterinarian clinics that have ordered the Neck Hug for their little patients and I've gotten nothing but rave reviews from everyone! Not only is it functional, it also makes every single pet look absolutely adorable!
All I can say is that I'm so very happy I LOVE to sew (I think in some small way, the doggies and kitties I help are also happy!)
Thanks for letting me share♥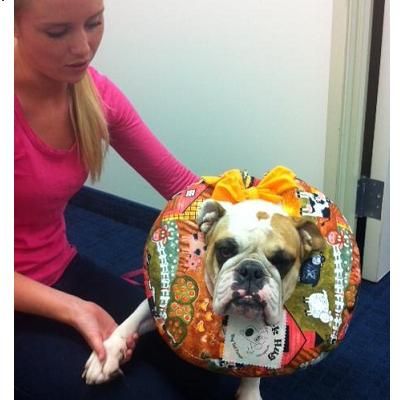 This is Miss Daisy Francine. She had a very bad ear infection and just loved her "Neck Hug" while she recovered!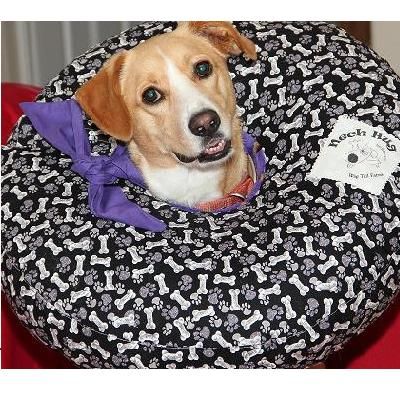 Molly can now do everything but chew her paws with her new "Neck Hug". She even lays down with the family in the evening to watch TV and brings her own pillow!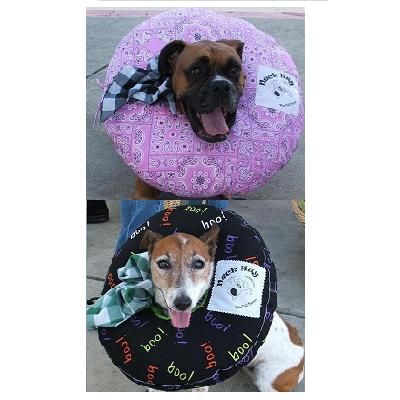 This is Oliver (top) and Maggie (bottom) who are Therapy Dogs. They volunteered to model their "Neck Hugs" at a special event where all Therapy Dogs were learning how to ride the public transist buses in order to better assist disabled persons.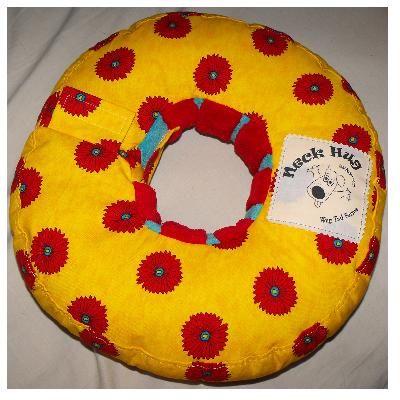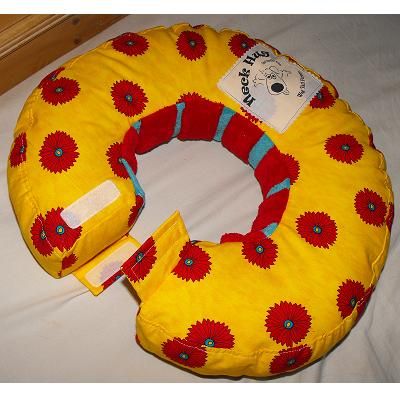 Get the latest including tips, techniques and special offers straight to your inbox.