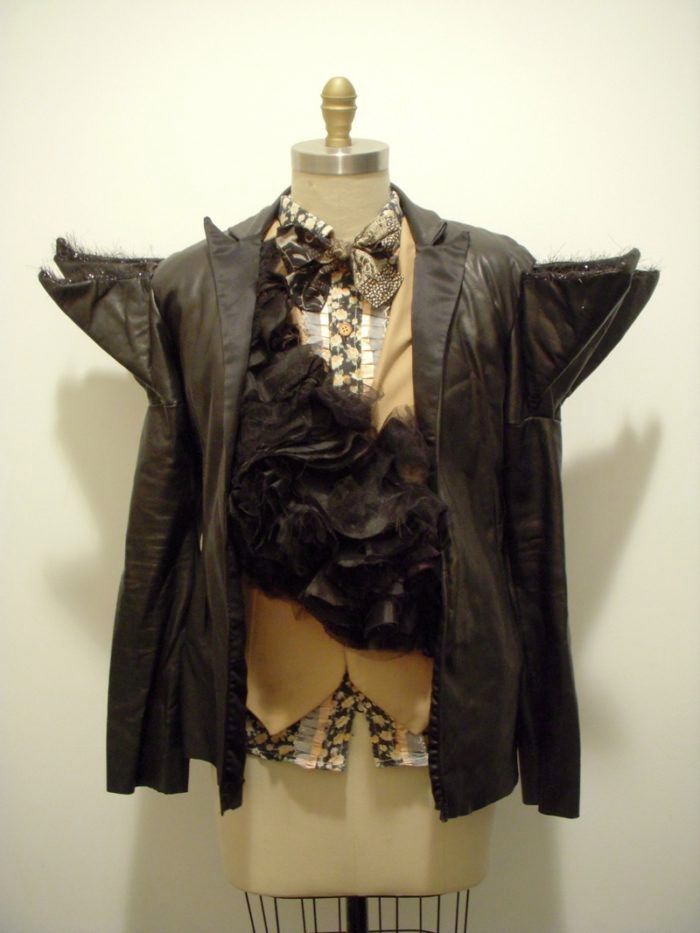 These pieces I made and styled together for a night on the town with friends here in New York City where I live.
The jacket is made of leather and lined in silk satin. Framed with a satin tuxedo lapel and origami inspired sleeves. I developed the body pattern by draping on my form and developed the sleeves by flat patterning. The sleeves themselves are constructed of 12 pattern pieces each, the vents are lined in a fuzzy mettalic fabric.
The vest was a lot of fun to work on. I constructed a classic men's vest from a pattern I drafted and used a cotton silk blend khaki for the front and black silk satin for the lining and back. To give it something extra special I added a cascading ruffle technique that billows down and across the front. I developed this technique using multi-sized circle pieces of fabric in satin, chiffon, tulle and organza. To achieve the ruffling i hand gathered the centers of the circles before tacking them in place. The vest closes with large snaps, which are covered and blurred by the ruffle technique.
The shirt is special to me because it was truly designed on a dime. The supplies were purchased at my local mom and pop fabric shop where the prices are right when money is tight. The cotton floral print fabric was $1.50 a yard, The ruffle trim was .79 a yard and the buttons were .10 each. I walked out of the store spending only $3.79, not too shabby. The pattern for the shirt I developed on my form. The sleeve cuff and button placket are top stitched with thicker thread for a classic men's shirt look. The collar and collar stand are on the thinner side for a crisper look. I think this piece really shows you can create chic garments without spending an arm and leg.
The bowtie is made of 7 different fabrics from quilting quarters I had laying around. Cutting squares and quilting them together I backed it in silk satin for a simple yet fun design
The bag is made of discarded broken hair accessories from a past job I couldn't bare to let be thrown away. I encased the gems with clear vinyl top stitched on and lined in silk satin. It closes with a flap of gems and zipper.
I wore these pieces with black skinny jeans and vintage black loafers. The complete look itself may be a bit outrageous for some but hey it's New York and I love it!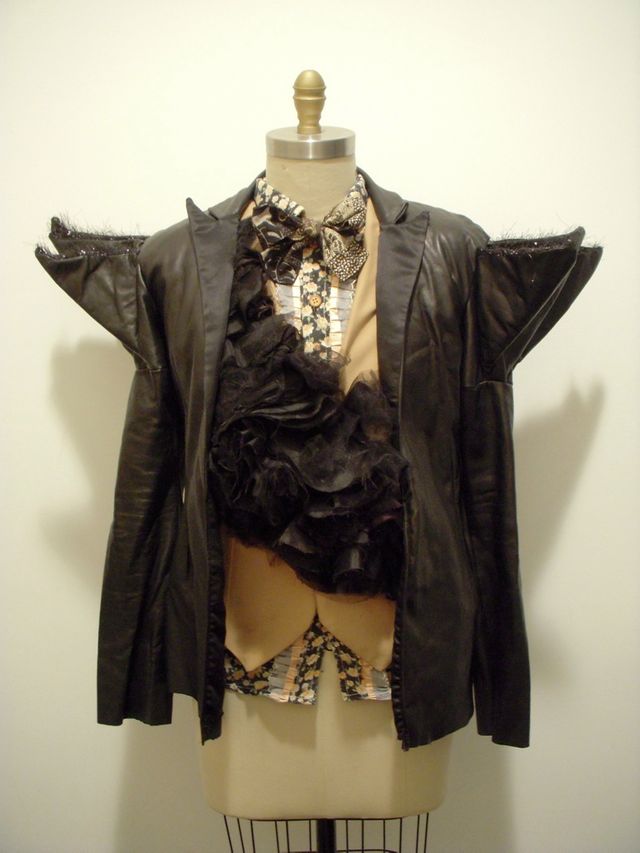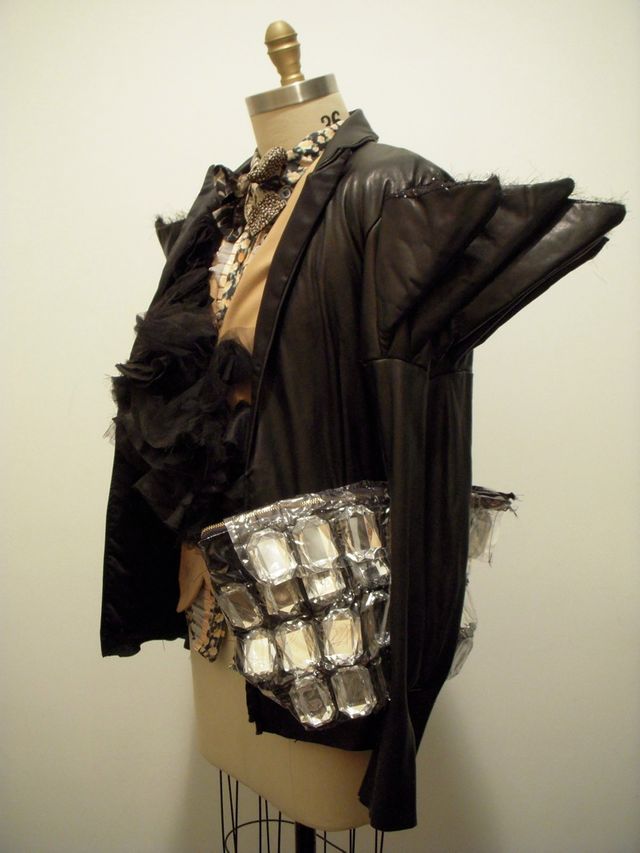 Ensemble Side Detail and Clutch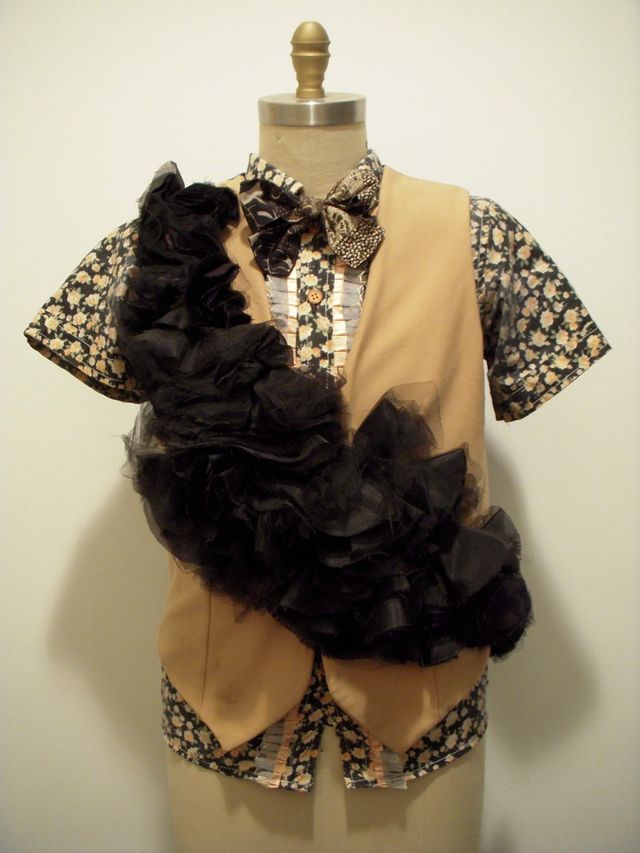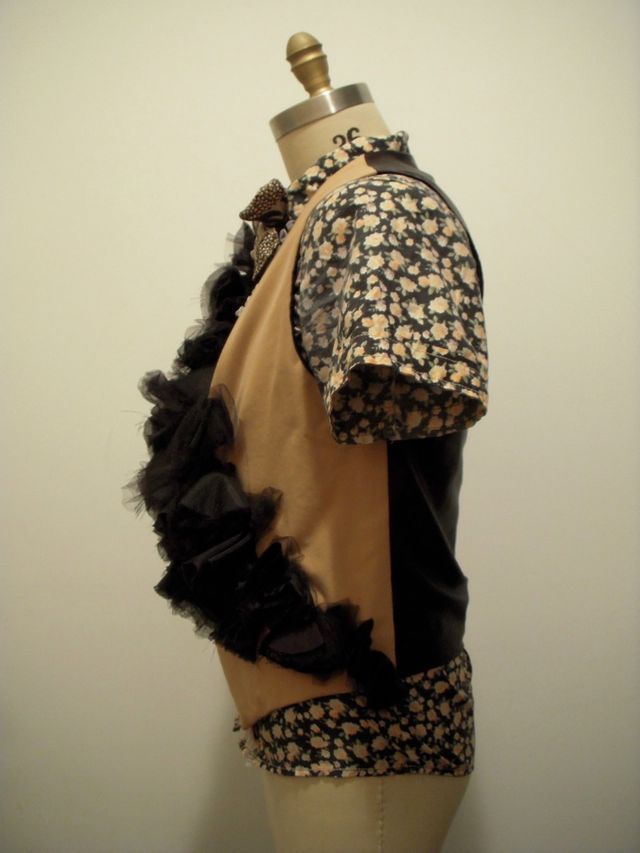 Shirt and Vest Side Cascade Detail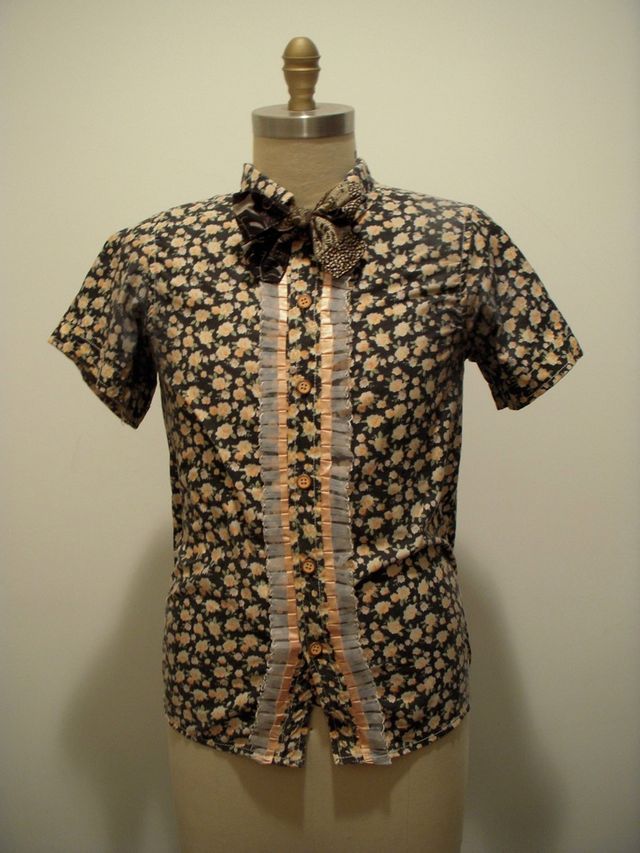 Get the latest including tips, techniques and special offers straight to your inbox.