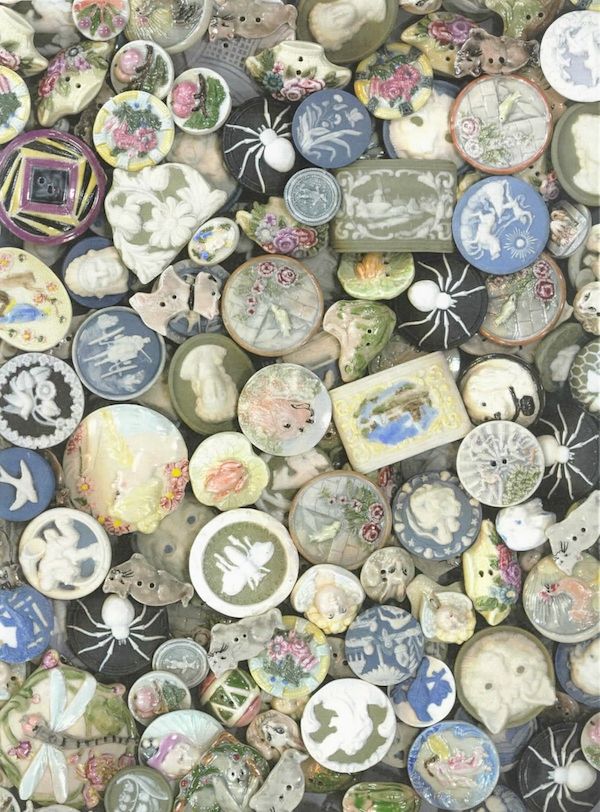 Along with sewing I enjoy making porcelain buttons. I taught myself how to make plaster molds of my antique button collection and buttons from designs I have made. Using antique books I found on china painting I taught myself how to china paint the buttons and I also learned how to do Wedgwood. My button art has been featured in Bliss Victoria 1999 and 1998 as well as 11 months in Sew News magazine during this same time period. Sew News also featured my jewelry made from my button designs and Bliss Victoria sold them at their store in Grand Central Station in New York.
I also do beading with my porcelain buttons and made my Native American hairpiece using my Lady Liberty porcelain button. I do custom work but took down my website because the Japanese companies were copying my designs using pewter!! How about that!! Jeepers!
Learning how to make the molds was the hardest part. Cleaning the porcelain, kiln firing it, then glazing and firing again and then several times more kiln fires for for the china painting; takes a good deal of time and skill. But when I adorn my sewing, bead or make jewelry with these buttons, I have a real treasure! I am now teaching myself silversmithing and will incorporate this into my jewelry and button designs! Too much fun!! I also do glass fusing for more fun buttons! I hope to have time to download one of my outfits with the glass buttons on it!
How do I find the time! I have a wonderful husband to helps out with cleaning the buttons and maintaining the kilns….well….ok, he is indentured for life. But he doesn't mind! :))