Classic Style Yet Fun Party Ensemble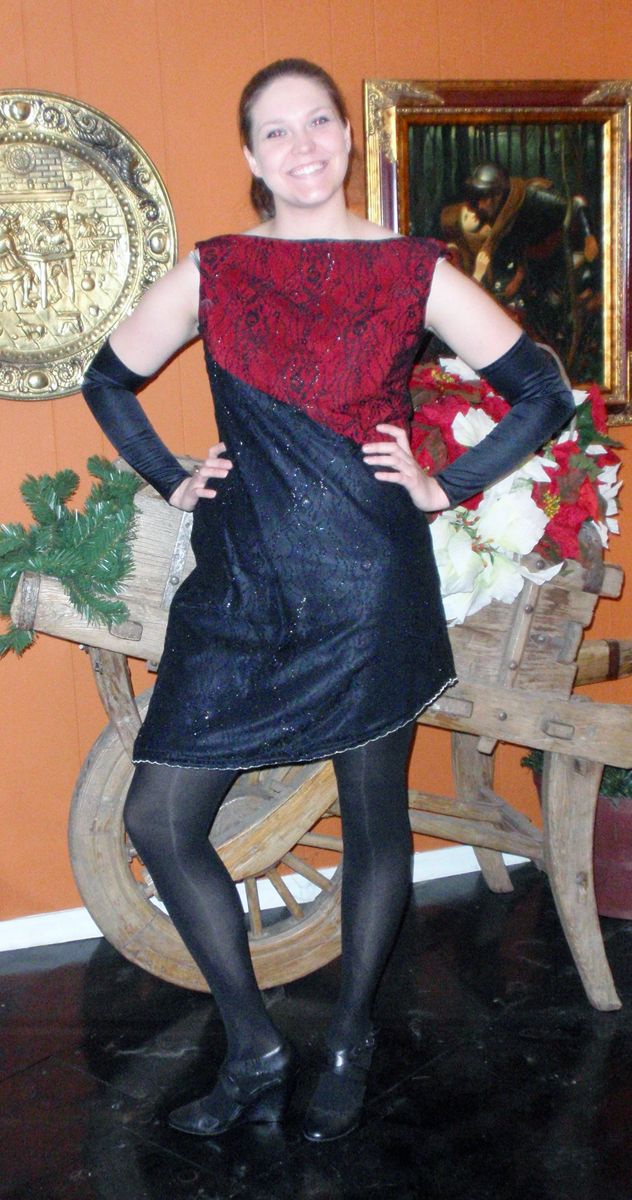 In designing this dress, I wanted to create something that was fun but had classic styling. I wanted to create something that could be worn at Christmas, New Year's Eve, or to virtually any party where special occasion dress was appropriate. I also wanted to use fabrics that are readily available and affordable to any seamstress.
This form fitting party dress has an overlay of black metallic lace featuring silver threads running throughout, over lightweight red and black polyester knit fabric. The lace was applied so that it gives the appearance of being draped across the back of the dress. The dress is fully lined with an invisible zipper in the right side seam. To ease in donning the dress, large snaps were sewn into the shoulder straps. This special occasion dress has an asymmetrical hemline with the lace overlay trimmed in scallops of metallic silver thread.
The dress is my own design, but was inspired by several patterns. While I did not use a pattern, the asymmetrical hemline was inspired by Vogue 1267, the shape of the red bodice was inspired by the bridal pattern, Vogue 1075, and the front neckline was inspired by Vogue 2218. The back neckline was simply inspired from memories of photographs taken in the 40's, 50's and 60's.
One unique feature of this ensemble is the detached sleeves. In talking with Karice, the young woman modeling the dress, she indicated that as a child, she loved the long gloves women used to wear, but she felt that gloves were so impractical as she wanted to have access to her fingers. She indicated that as a young girl she had designed something that looked like gloves but without fingers. The detached sleeves are my rendition of her description.
The special occasion clutch is the accessory that completes the ensemble and is made of the same red fabric and metallic lace overlay lined in the same black fabric as used in the dress.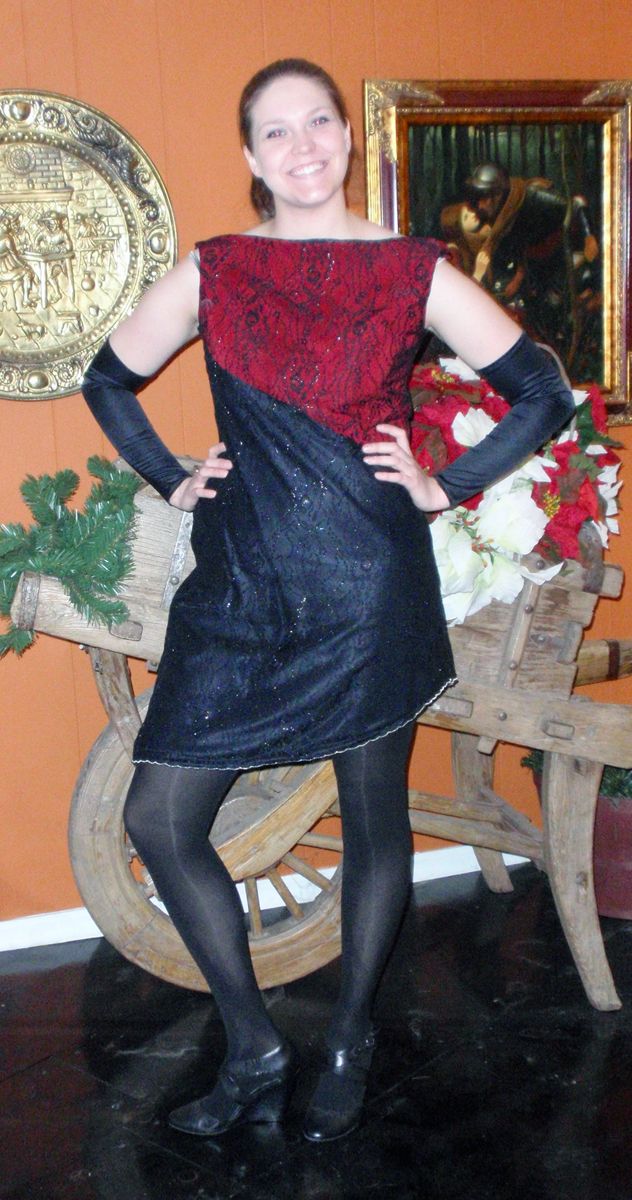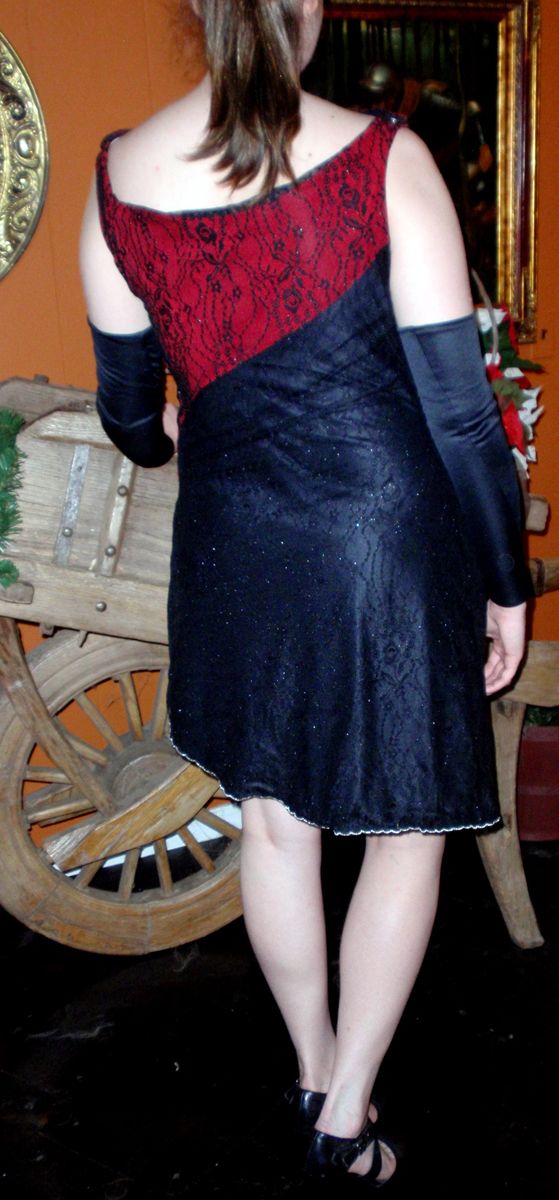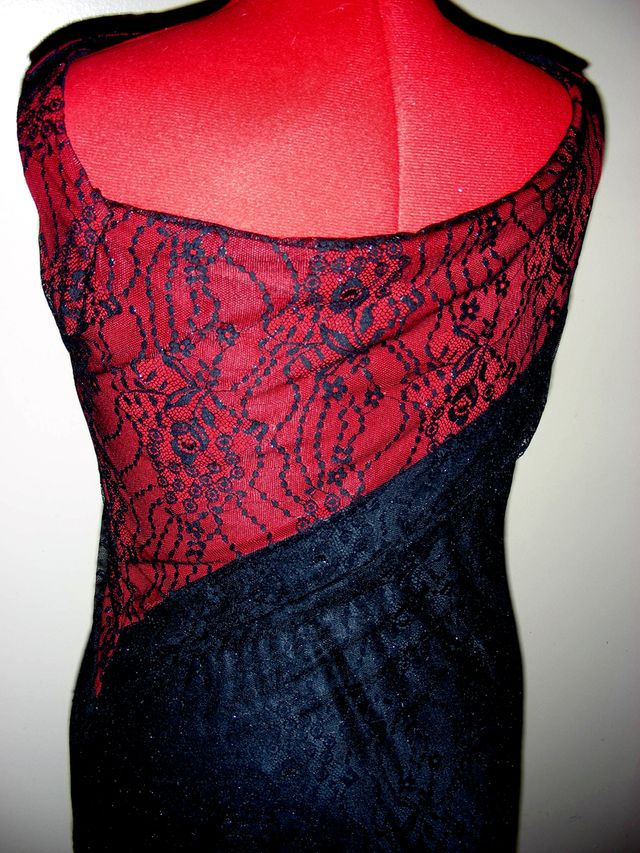 Close up view of back of the dress.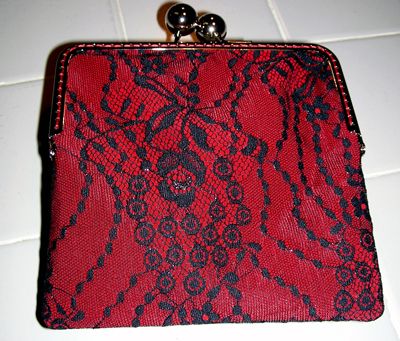 Special occasion clutch made of matching fabric.