Captain Hook and Peter Pan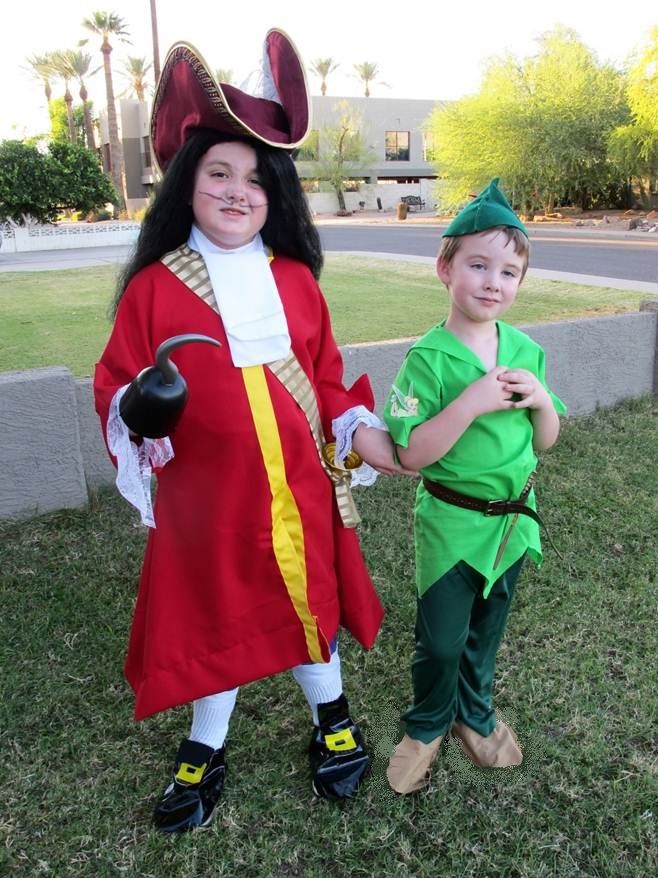 FOR CAPTAIN HOOK:
Materials needed:
Red gabardine fabric
Yellow ribbon
Gold fabric
Purple pants
White cravat
Black wig
White lace
Plastic hook
Plastic sword
Red hat with white feather
White socks
Black vinyl
Black eyeliner
For Halloween 2011, we did a Peter Pan theme. Our 8-year-old son chose to be Captain Hook and he was amazing!
To make his coat, I took bright red gabardine fabric. I never use patterns so I just laid him on the fabric and traced around his body. I made big bell sleeves extra long so I could cuff them up. I added yellow ribbon, sewn around the edge of the coat front. I added white lace to the sleeves.
I made the cravat out of white fabric and snapped it around the back of his neck.
The sash is made from gold fabric and I sewed a loop at the side for his sword to hang.
We found purple pants at a thrift store and we tucked them into his socks. I used white ribbon to tie around the top of the socks and bow in the back.
I drew a mustache using black eyeliner. We gave in and bought an official Captain Hook hat from the Disney Store.
He used a hook and sword to complete the outfit. It was perfect!!!
TOTAL COST: $25
TOTAL TIME: 3 hours
==========================================
FOR PETER PAN:
Materials needed:
Light green fabric (for shirt)
Darker green fabric (for pants)
Dark green felt (for hat)
Red felt (for feather)
Brown belt
Dagger
Tinkerbell patch
Light brown fabric (for shoes) or brown shoes
Our 5-year-old son chose to be Peter Pan and he was spectacular!
To make his shirt, I used bright green cotton fabric and traced around one of his t-shirts. I cut the zigzag design around the sleeves and bottom and I left a collar on the top.
For the pants, I took stretchy dark green fabric and sewed elastic in the top.
His hat is made from felt. Take two dark green pieces and cut a large enough triangle to fit the head. Then we glued the top two sides of the triangle together, leaving the bottom open for him to wear. I cut out a red felt feather and fabric glued that on.
I found a Tinkerbell iron-on patch at the store and added that to his sleeve (since we didn't have anyone dressed up as Tinkerbell).
He didn't have any brown shoes so I took brown fabric and made shoe covers. His look was completed with a brown belt and small plastic dagger.
PERFECT!
TOTAL COST: $8
TOTAL TIME: 1 hour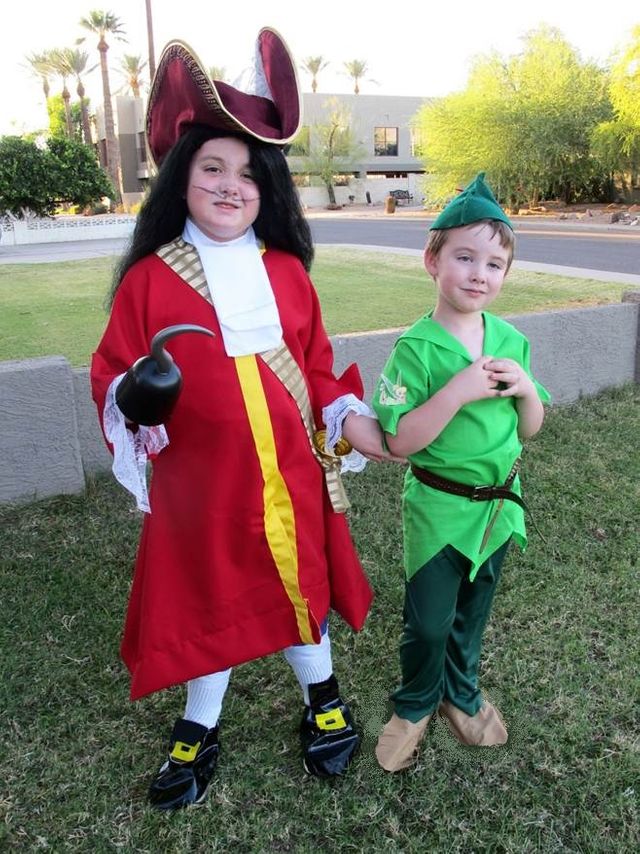 Captain Hook and Peter Pan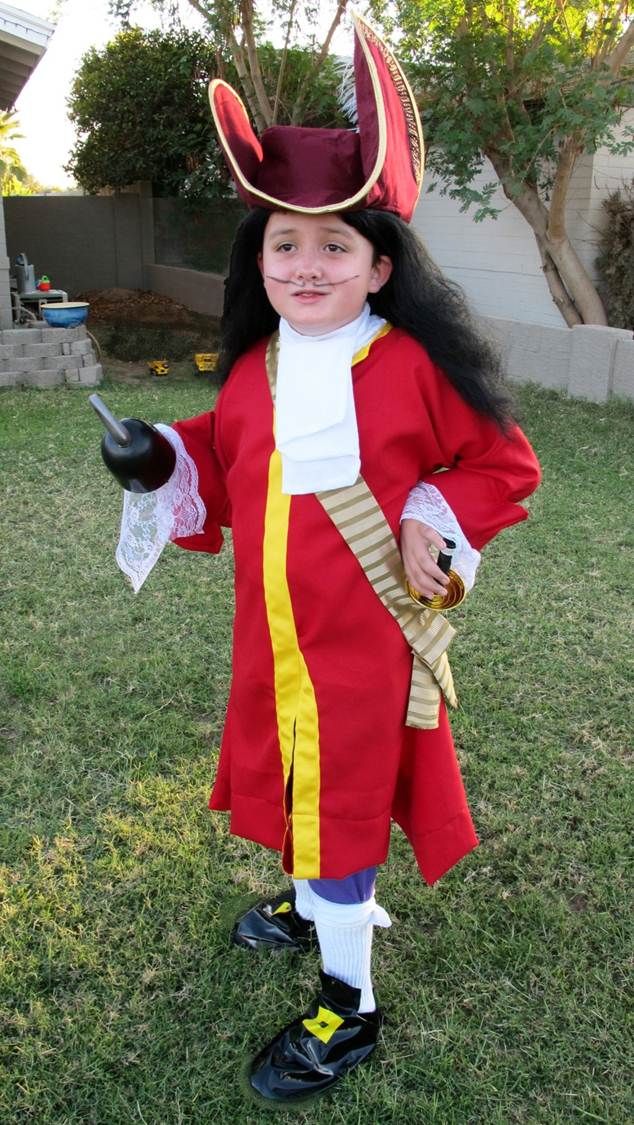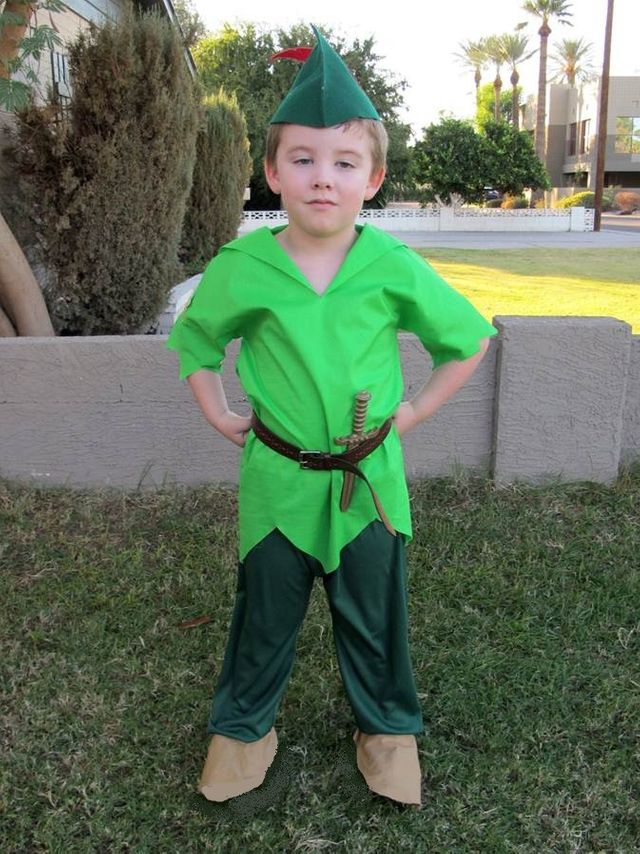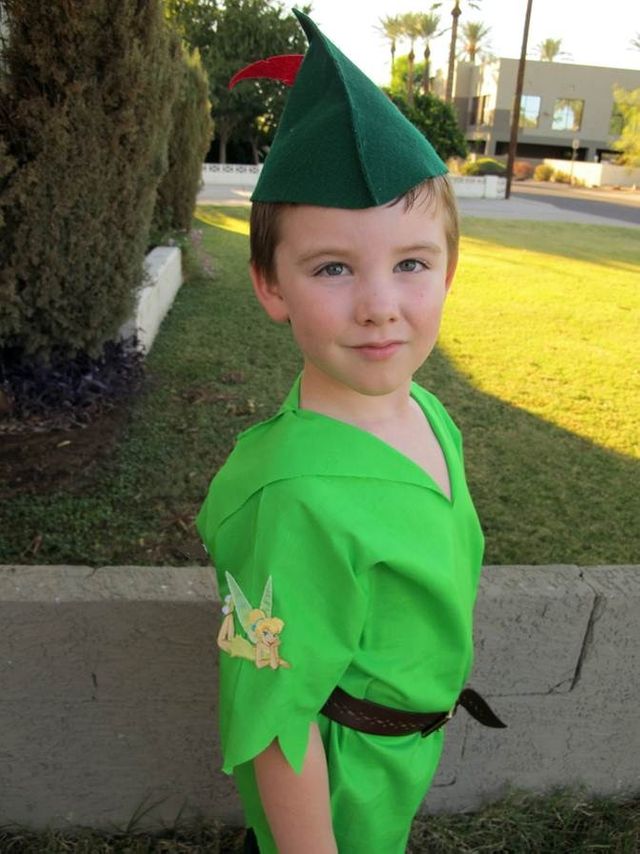 Peter Pan showing his Tinkerbell patch on his right sleeve.